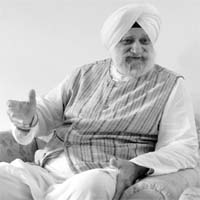 IT is a home-coming for Justice Kuldip Singh. Almost literally on two counts: one he is back in Chandigarh after completing the daunting task entrusted to the Fourth Delimitation Commission that he chaired and two, he is now all set to live up to his reputation of a "green judge" whose several judgements as a Supreme Court judge have done considerable good to the environment and helped undo the imbalance in the eco-system.
To follow his passion of improving the environment, he now proposes to set up an NGO or collaborate with an existing one that has a focus on Punjab's environment. He wants to spend his life to help rid its water of all impurities, restore forestation and curb industrial and all other forms of pollution. Excerpts from an interview:
What does the delimitation commission do?
Delimitation is a necessary process, as important as the elections themselves. There can be no election without delimitation because election that does not have true representation of the people serves no purpose for a democracy.
Delimitation is enshrined in the Constitution to take place after every census so that all parliamentary and state assembly constituencies are re-drawn on the basis of population.
Since the population keeps on shifting, it is necessary to readjust the boundaries of constituencies. Though, delimitation is supposed to take place every 10 years, in 1976 a parliamentary amendment prohibited further delimitation till 2001.
Since delimitation directly affects politicians in power, don't they resist their constituencies being altered?
The report of the delimitation commission is final and binding. No government can make any changes or choose to alter it. It cannot be challenged before any court either. Therefore, politicians can only make a legitimate request by appearing before the commission, but cannot force their way in any manner.
There must have been tremendous pressure on you from various quarters?
No. There were many politicians who came and appeared before the commission, but none dared to influence or browbeat me. Perhaps, they were aware of my reputation and background. We did a very fair job as a result of which many senior politicians lost their constituencies. some of these include Bolpur (Somnath Chatterjee), Latur (Shivraj Patil), Shillong (P R Kyndiah), Bulandshahr (Kalyan Singh), Bikaner (Dharmendra), Faridkot (Sukhbir Singh Badal), Dasua (Sachin Pilot), Shahjahanpur (Jitin Prasada), Agra (Raj Babbar), Tura (P A Sangma) and Gopalganj (Sadhu Yadav).
Union Minister Ram Vilas Paswan's Hajipur Lok Sabha constituency has got "de-reserved" as is Akbarpur in Uttar Pradesh, which was earlier held by Chief Minister Mayawati.
There have been three delimitation commissions in 1952, 1963 and 1973 before yours in 2002. How was your task different?
The country's population has increased 88 per cent in 30 years since the last delimitation. Constituencies almost everywhere (both assembly and parliamentary) have become uneven in terms of population distribution.
Besides, the number of seats in Parliament and assemblies have been frozen (we cannot increase or decrease them). Therefore, we had to take out areas from one constituency and add this to another. The population in the outer Delhi segment has increased to 38 lakh, while Chandni Chowk has only 3.5 lakh voters. So, we had to take out 20 lakh from outer Delhi and add 14 lakh to Chandni Chowk.
Each constituency in the country has to be monitored individually. In Punjab the total SC population has reached 38 per cent, so we had to reserve four parliamentary seats of Jalandhar, Fatehgarh Sahib, Hoshiarpur and Faridkot.
Has delimitation work been completed across the country?
We have submitted our report for 513 Lok Sabha constituencies out of 543. We have reserved 79 seats for the Scheduled Castes and 41 for the Scheduled Tribes. After holding 130 public sittings in 67 cities and towns across India, we have also completed the delimitation work in 3,726 state assembly constituencies.
However, four north-eastern states – Assam, Arunachal Pradesh, Manipur and Nagaland – and Jharkhand are excluded due to local resistance to the delimitation exercise.
While delimitation in Assam, Arunachal Pradesh and Nagaland has been stayed by the Guwahati High Court, the appeal of the Centre in respect to Manipur is pending in the Supreme Court. The plea of the local people is that since the census data available there is inaccurate, the delimitation should only be undertaken after authentic census data is available.
Do you feel satisfied with the job you undertook?
Absolutely. The first result of my exercise has come out clear in the recently concluded polls in Karnataka, where the poll process went on very smoothly. Now, the forthcoming polls in states like Delhi and the next parliamentary polls will further prove that we did a good job.
With your delimitation commission work over, what do you intend to do now?
I have been waiting for this time to go back to my passion for protecting the environment (Justice Kuldip Singh was nicknamed as "green judge" due to several pro-environment judgements as a judge of the Supreme Court. A practising lawyer in Chandigarh, he was directly inducted into the Supreme Court due to his legal acumen).
What exactly do you propose to do for environment preservation?
I am contemplating to start an NGO to work for the environment, especially in Punjab. I am also looking at the possibility of collaborating with an existing NGO working in this field.
Besides, I also intend to write some legal books with a special focus on the environment. My biography too has been waiting for many years. There are several concepts in my mind. I only need to give them a concrete shape. And, I will do this shortly.
Can you recollect some judgements where the judiciary helped conserve the environment?
Many. Starting from the Taj Mahal case, where the court forced the UP government to ban fossil fuel and switch to gas. It saved taj Mahal. Over 300 stone-crushers were successfully thrown out of Delhi. The closure of the hazardous industry in the national Capital, protected 40 acres of forest land from kamal Nath, saved the Beas from changing its course case involving tannaries in Tamil Nadu, switching to CNG for commercial vehicles in Delhi; examples are countless.
Being a former Supreme Court judge, what are your comments on the current national debate on judicial activism and judicial accountability?
The Constitution provides everything on the functioning of the judiciary. There is no harm in creating a body to look into charges of misconduct against judges, but this authority must primarily consist of members of the judiciary itself.
Any attempt to bring outside influence will erode the independence of the judiciary. A lot has been said about judicial activism, but I say that even if activism exists, it has only done good without bringing harm to anyone. So what's wrong with it.?
As a parting shot, what do you have to say about judicial system?
As far as improving the pendency of cases is concerned, there is a lot that needs to be done. With regard to the higher judiciary in India, I would say they are by and large very upright and judicious.
There is some problem at the lower level with regard to integrity and competence. For this I can only say that while appointing judges, only persons with integrity, competence and a good reputation at the bar should be considered.
Unfortunately, some appointments made on extraneous considerations like race, caste, connections, etc have been alleged. this, if true, must be prevented at all costs.