No hurry to sign N-deal, says Pranab
Tribune News Service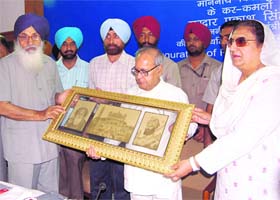 External affairs minister Pranab Mukherjee being honoured by Chief Minister Parkash Singh Badal and PPCC president Rajinder Kaur Bhattal in Amritsar on Saturday. — A Tribune photograph
Amritsar, June 28
We are not in a hurry to sign the nuclear treaty with the USA and there was no threat to the UPA government as we are taking all alliance partners into confidence over the India-specific safeguards.
This was stated by external affairs minister Pranab Mukherjee after inaugurating the regional passport office here today. He visited Dera Baba Nanak to inspect the Kartarpur Sahib gurdwara corridor project in Gurdaspur district.
Mukherjee said though there was a stand-off between the government and the Left over the signing of the 123 agreement with the USA, he was confident to win over the Left. The government was engaged in nuclear cooperation not only with the USA but also with Russia and France.
Commenting on the corridor to Kartarpur Sahib Gurdwara in Pakistan, the union minister said he had detailed discussions over the issue with his Pakistani counterpart. He would send an expert team to Dera Baba Nanak for making a detailed project report of the 4.5-km corridor to be submitted to Pakistan. The project would fulfil the long-cherished desire of the Sikh community and help boost confidence building measures between the two countries, he added.
He had taken up the issue of setting up of visa centres or consulate offices with his Pakistani counterpart during latter's recent visit to New Delhi. Talks were on for setting up these centres on a reciprocal basis to facilitate visits of the people of the two counties to religious places. The two sides had decided to expand the list of the pilgrim sites in India and Pakistan, he added.
Regarding blacklisted Sikh youths, the minister said it was under the domain of the home ministry. However, he said, his ministry was also cross-checking the antecedents of these youths.
Earlier, Chief Minister Parkash Singh Badal urged the minister to consider special economic package for the border areas. He also requested him to take up the issue of granting incentives to industries of the border region that had been affected due to similar concessions given to the neighbouring states.
Badal sought compensation for the farmers whose land fell beyond the fence on the border as they were unable to plough fields due to security restrictions.
President of the PPCC Rajinder Kaur Bhattal said the Centre would continue financial assistance to the state for various development projects.
Supporters of BJP MP Navjot Singh Sidhu were annoyed over the breach of protocol as he was neither given a seat on the dais at the inauguration nor allowed to speak. However, Sidhu said he did not wish to create unnecessary controversy.