Bandh hits essential services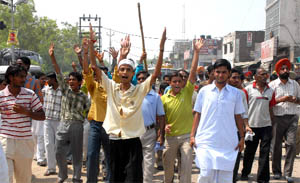 Abohar, July 3
This sub-divisional town observed a complete shutdown today as hundreds of youth brandishing swords, javelins, sticks and baseball bats marched through the markets. A van that was following them was warning, through loudspeakers, about the damage to be inflicted if shops were opened.

Activists of various Hindu bodies taking out a procession in Bathinda during the bandh on Thursday. — Tribune photo by Malkiat Singh

Protest march held in Barnala
Barnala, July 3
To lodge their protest against the J&K government's decision of withdrawing the order of allotting land to Shri Amarnath Shrine Board, the activists of Vishwa Hindu Parishad held a protest march in the city today.
Counselling session for students
Bathinda, July 3
The career counselling programme for class X students organised at Chakramsinghwala Government High School, to equip them with sufficient knowledge to select suitable courses for further studies as per their aptitude, intelligence, potential and financial position, turned out to be a big success.
Purity tests conducted
Milk samples fail to make the grade
Bathinda, July 3
The price of milk has skyrocketed in the recent past, but that has not ensured quality to residents as 47 out of 55 samples of milk failed the purity test today. The samples had a high percentage of water in them.
Woman found dead, husband held
Moga, July 3
A middle-aged woman was allegedly strangulated to death by her husband and three other family members of her in-laws at Boghewala village in this district last night.
Defying all odds, the show goes on!
Bathinda, July 3
Circus appears to be a dying source of entertainment today because of its poor financial health that owes itself to the less turnout of viewers. With the advent of cable television, the circuses across the country received a setback. Today, children, the target audience of a circus, are more interested in playing video games, watching cartoons and surfing internet rather than thronging the place to see the real McCoy.


Spectacular:

An elephant regales the spectators while an acrobat performs at the Asiad Circus, which started in Bathinda on Thursday. — Tribune photos by Malkiat Singh
Untreated canal water supplied in Abohar
Abohar, July 3
More than 1.5 lakh citizens were being supplied raw canal water for drinking for the last seven days, officials in the Punjab Water Supply Board (PWSSB) here reportedly confessed today.
Congmen block traffic in Fazilka
Fazilka, July 3
The Congress activists staged a sit-in at busy Malout roundabout here today against the alleged excesses by the BJP-SAD workers in the local civic body elections.
Baba Farid Institute to start engg, management colleges
Bathinda, July 3
The Baba Farid Institute of Foreign Sciences and Higher Learning has decided to open an engineering and management college from the current academic session with the 'best facilities, comparable with any reputed college in the region'.
Co-operative society embezzlement case
Staff of society arrested
Barnala, July 3
The Mehalkalan police arrested an official of the Cooperative Society Limited, Mehalkalan, for embezzlement here today. The official was found guilty in a probe conducted by the DIG, Patiala range.