Face Value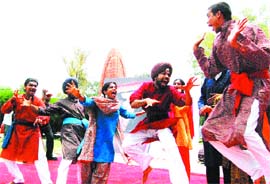 Artistes enact nukkad natak "Mohe Rang De" at the Jallianwala Bagh in Amritsar. —Photo by Vishal Kumar
Garments worth lakhs reduced to ashes
Amritsar, July 15
Garments worth lakhs of rupees were gutted in a major fire that broke out in two showrooms - Gorgi Gova and Ted Tabe Satkartar Exclusive - situated opposite Khalsa College here on Tuesday early morning.
Sultry summers: Power cuts add to residents' woes
Amritsar, July 15
Massive unscheduled power cuts have thrown life totally out of gear in both urban and rural belts of the border district.
Paddy Pat
NGO lauds agri minister for water-saving steps
Amritsar, July 15
A Joint Action Committee formed by 12 environment-related NGOs, including Mission Aagaaz, honoured agriculture minister Sucha Singh Langah, deputy commissioner Kahan Singh Pannu and chief agriculture officer during a programme on "save water save mankind" held at Virsa Vihar Bhawan here. The trio was lauded for their efforts in saving huge amount of water by implementing restrictions on sowing paddy before a fixed date.
Rodents tear into sewerage system
Amritsar, July 15
A large population of rodents have played havoc with the sewerage system in the Civil Lines area causing extensive damage to houses in posh colonies.
Pak national nabbed
Amritsar, July 15
A Pakistan national was nabbed by Border Security Force while he was trying to sneak into Indian territory near Daria Mansur post at around 2 am in the morning on Tuesday.
Campus Buzz
Admissions on for foreign language courses at GND varsity
Amritsar, July 15
Admissions to the one-year full time diploma course in the Russian language and one-year part time certificate courses in the French, German, Japanese and Russian languages are open at Guru Nanak Dev University. Department of foreign languages head Prof P.S. Sharma said the last date for receipt of application forms was July 18.