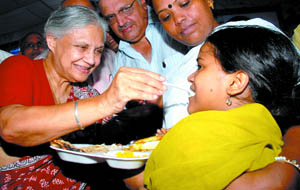 Delhi Chief Minister Sheila Dikshit offers food to a child at the inauguration of an Aap Ki Rasoi centre at R-Block, Mangolpuri, New Delhi. — Tribune photo

Alcohol consumption more in youths: Assocham
New Delhi, July 15
Believe it or not, while the majority of Indians above 45 years of age are giving up alcohol, those between 19 to 26 years, including women are taking to the bottle.
Woman's body found in drain
Noida, July 15
The body of a 23-year-old woman was recovered from the drain near Sector-82 in Noida Phase-II yesterday. The body could not be identified.
Rajya Sabha wants space in MCD's new office
New Delhi, July 15
The Municipal Corporation of Delhi today felt honoured after a delegation of Rajya Sabha secretariat officials led by its secretary general V.K. Agnihotri, called upon the chairman, standing committee Vijender Gupta seeking space for its offices in the MCD's new office coming up at Civic Centre on Minto Road.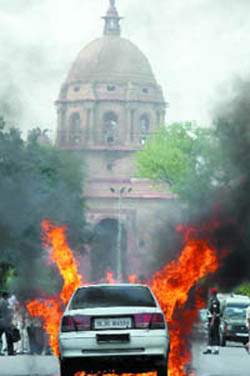 A running car catches fire in front of the Gate No.1 of the Sena Bhawan on Tuesday afternoon in New Delhi. — Tribune photo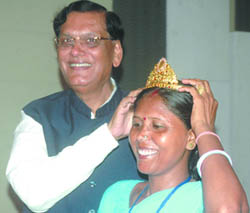 Bindeshwar Pathak, founder of Sulabh International, an NGO, helps Usha Chaumer, president of Shulabh International Social Service Organisation, wear a crown in New Delhi on Tuesday. The crown was presented to her by Vijay Nambiar, Chief of the Cabinet of UN Secretary-General during her visit to UN in New York on the occasion of International Year of Sanitation-2008. — Tribune photo by Mukesh Aggarwal
Mosquito breeding
MCD fines police stations, hospitals, govt bodies
New Delhi, July 15
The Municipal Corporation of Delhi (MCD) has fined police stations, hospitals, government schools and various other establishments for not taking appropriate preventive measures to control mosquito breeding.
MCD camp on building plans on July 25
New Delhi, July 15
The Municipal Corporation of Delhi (MCD) will organise a special camp on July 25 for the sanction of building plans, regularisation plans and issuance of completion certificates at its office behind Ambedkar Stadium from 10 a.m. to 5 p.m.
School kids plant saplings at Shikarpur city forest
New Delhi, July 15
Around 200 children participated in a large-scale plantation drive at Shikarpur under the Najafgarh block today where a city forest is being developed by the Delhi government.
14-yr-old sets Kathak record
New Delhi, July 15
Payal Mathur, a class IX student of Amity International School, Noida, today set a new record of staging a Kathak performance for continuous 24 hours. Payal danced from 6 a.m. on July 14 till 6 a.m. today (July 15) at the D Block Auditorium of the school.
Gyms provide first step to fitness
New Delhi, July 15
Pounding music, toned bodies straining on steppers or pumping iron, groups of people honing their aerobic skills — all this and more is visible at hundreds of small and big gyms that have mushroomed across the national Capital in the past few years.
Residents protest waterlogging
Faridabad, July 15
Hundreds of residents, mainly women of Subash Colony in Ballabgarh near here, today blocked Ballabgarh-Mohana Road for about two hours in protest against the indifferent attitude of the authorities to their civic problems.
Camp to detect gall bladder stone
New Delhi, July 15
Bansal Hospital is holding a six-day free camp to detect kidney-gall bladder stone at its centre in New Friends Colony here. The camp is open till July 19. In this camp India's renowned urologist and laparoscopic surgeons are conducting the necessary medical examinations of the poor patients to detect stones in kidney and gall bladder.
India has most closely knit society: Survey
New Delhi, July 15
India has the most closely knit society globally and Indians are most concerned about balancing their professional and family life, a survey conducted world wide has revealed.
Give appointment letters to resident doctors, court tells AIIMS
New Delhi, July 15
The Delhi High Court today came down heavily on the All India Institute of Medical Sciences (AIIMS) and asked it to furnish appointment letters over 100 senior resident doctors who were already working with the institute.
Court slams govt for sacking rly doctor
New Delhi, July 15
The Delhi High Court on Tuesday slammed the central government for initiating the process for and removing from service a railway hospital doctor without giving him a hearing, and termed it a case of "kangaroo court".
Firm to pay Rs 1.6 m to daughter of accident victim
New Delhi, July 15
A city court today directed an insurance firm that does not provide life insurance cover to pay Rs 1.6 million to the daughter of an accident victim.
Youth hammers father to death
New Delhi, July 15
Vipin Dua, 20, a resident of Geeta Colony in East Delhi was arrested for hammering to death his 50-year-old father Bhushan in their house yesterday night.
Property dealer shot at in Noida
Noida, July 15
A sensation was created in Noida Sector-20 last night when a property dealer rained bullets on another property dealer in F Block market of Sector-20. Some people quickly rushed the property dealer to the Kailash hospital in Sector-27 in a serious condition.
Truck knocks down bikers, one dead
Noida, July 15
Two students, Ankur Chawla, 25, and Punit Rana, 24, on a motor bike, were crushed by a dumper coming from the wrong side in sector 3 Noida. The dumper after hitting the bike head-on had ploughed into the motor bike in the wee hours of Sunday.
4 held for passing off used oil as new
Noida, July 15
Four people were arrested in Delhi's suburb Noida for selling used engine oil by re-packaging it in branded containers, the police said on Tuesday.