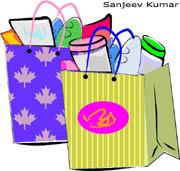 BAG a place in retail
The new retail management course at MDU will meet the manpower needs of this sector, writes
Sunit Dhawan
The enormous expansion in the retail sector during the past few years has thrown up a big demand for trained professionals in the discipline. This, in turn, has created a brand new genre of retail management.
Shopper Stop
With big chains making a foray into major towns, a course in retail management was the need of the hour, says Prof S.D.Vashishtha, head, Department of Commerce, Maharshi Dayanand University, Rohtak. Excerpts from an interview:
Career Hotline
Find cover in actuarial science
Q. What is the actual demand for actuaries in India? One keeps hearing of all sorts of figures. How many actuaries are there at present, and how do I become one?
— Deepali Verma


Careercature
Sandeep Joshi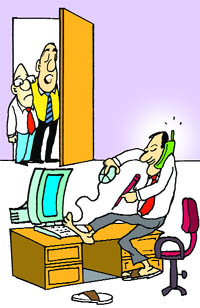 Sir, he's good at multi-tasking. He can receive calls, draft letters, edit proposals, make data and plan strategy simultaneously.

Credit entry
Public sector banks across the country are on a hiring spree and are likely to fill around 1,00,000 vacancies in the next one and a half years. It is estimated that around 24 lakh people applied for 20,000 clerical posts advertised by the State Bank of India showing that there are more takers for a career in banking. This is specially so as bank wages are likely to be revised by the end of the current fiscal, for which negotiations are going on between the unions, Indian banks association and finance ministry.
LONDON BRIDGE
Cambridge students travel to India
on Tata scheme
Four Cambridge students have left for India as the first participants of the Tata International Social Entrepreneurship Scheme (TISES), a programme which will allow them to get hands-on experience of working on social entrepreneurship and corporate social responsibility projects in India.
Raising global acceptability of
Indian degrees
A move is afoot to make degrees awarded by Indian universities more acceptable by foreign universities and the international job market, by making admission procedures for students uniform and streamlining selection criteria of faculty members.
Smart Skills
TEAM READER
There is a growing demand for HR managers with a background in organisational behaviour
Every story, every film is about relationships, and the ways in which people deal with negative and positive experiences, how people behave within groups, and how alliances can shift over time and through internal or external pressures.
Bits & bytes
Working managers' course opens at IIM-L Noida campus
IIM-Lucknow's Noida campus recently inaugurated its fourth batch of Working Managers' Programme (WMP). Dr. Devi Singh, director, IIM-L inaugurated the 2008-2011 batch.
Hiring on high
IT software major Infosys Technologies has said that it plans to recruit 10,000 fresh hands in the second quarter of this fiscal and and a total of 25,000 for the year. "Hiring has been planned and attrition is under control," T.V.Mohandas Pai, member of the Board and Head-HRD and Education and Research of Infosys, told newsmen in Bangalore recently.