Find cover in actuarial science
Pervin Malhotra
Q. What is the actual demand for actuaries in India? One keeps hearing of all sorts of figures. How many actuaries are there at present, and how do I become one?
— Deepali Verma
A. The demand for actuaries in India is expected to exceed supply for the next five years even as insurance firms face competition from other industries to retain actuarial talent.
In fact, the shortage of actuaries is a major problem.
India currently has 18 life and non-life insurance firms each and one re-insurance firm.
These insurance firms, which need actuaries to help develop products, assess profits, conduct valuation and reinsurance based on historic statistics, have barely half the number of specialists they need.
There are 225 actuaries in India at present against a requirement of at least 400, and many of them are close to retirement. Demand for the specialised talent will only grow as more and more Indians opt for insurance.
The Institute of Actuaries in India which has 6,500 members is growing by 30 per cent every year.
The institute expects to add at least 1,000 actuaries in the next 10 years. Many Indian firms are using the services of the actuaries of their foreign partners.
According to a Reuters report, there are 43,000 actuaries globally. In addition to the inherent shortage of actuaries, insurance firms also face competition from other industries and countries in attracting and retaining the specialised talent.
Many Indian actuaries move to other countries, especially West Asia and Africa where the demand is high.
Actuarial talent can also be used in other areas such as banking and environmental science where different actuarial models can be applied.
Many big companies abroad have their own actuaries to develop their own health insurance and pension products. A number of firms have an actuary as chief risk officer who works to either minimize or transfer risks.
To qualify as an Actuary, you must be a Fellow Member of the Actuarial Society of India, Mumbai. This involves clearing a series of exams conducted by the ASI.
Details: www.actuariesindia.org.
A master's in Maths/Stats would be an ideal qualification to enrol for the course.
Heart in Hindi
Q. I am a final year student of BA (Hindi). My friends say there is hardly any scope for Hindi students. I am very disheartened because my English is not very good.
— Nitesh Behra
A. Forgive your friends, for they know not what they speak!
In fact, Hindi is becoming a popular subject at the college level, even in prestigious campuses like Delhi University. You could either teach in a school (after doing your BEd) or join the print or electronic media as a journalist, web content creator, compere, announcer, newsreader, anchorperson or scriptwriter or travel guide.
The proliferation of the media -- 100+ TV channels and soon 300+ FM stations -- has spawned the need for youngsters who can communicate with style, ease and competence in Hindi (preferably bilingual).
If you have a way with words, you could also become a copywriter in an advertising agency, technical writer, public relations executive or join the tourism industry (Mahatma Gandhi Antarrashtriya Hindi Viswavidyalaya, Wardha (a Central University) offers a PG Diploma in Cultural Tourism Management. Details: www.hindivishwa.org .
An additional course in PR, journalism, advertising or mass communication would give you the necessary professional edge.
Familiarity with another language can open up avenues in translation amongst others. Several universities offer one-year diploma courses in translation for graduates.
Hindi translators are recruited by various government departments including the M/o Home Affairs and M/o external Affairs.
Institutions like the National Book Trust, the Bharatiya Gyanpeeth, the Sahitya Akademi, the Sangeet-Natya Akademi, the Central Hindi Directorate, the National School of Drama and the Bureau of Translation also support talented and upcoming translators.
They are also required in foreign embassies, banks, print and electronic media, theatre, film industry, advertising and PR and travel agencies, MNCs, etc.
The typical eligibility required is a Master's degree in Hindi/English with English/Hindi as a compulsory subject and as an elective subject at the bachelor's level or a bachelor's degree with Hindi & English as the main subject.
There is also a large requirement for people who can do DTP work in Hindi. Knowledge of computers and good typing skills would be very helpful in this area. Domestic call centres, particularly in the North, also require people with good spoken Hindi.
Hindi being our national language, there are several jobs at the clerical level and for typists and stenographers in banks and government offices.
You can also opt for teaching at the higher level there are a lot of universities and colleges perpetually short of faculty.
And if that's not enough, there is a need for Hindi language teachers even in the US!
Content creation
Q. What exactly does a web content developer do? What are the skills required to go into this line?
— Kriti Kasniwal
A. A Web Content Developer/Creator prepares information, articles and features that go on to a website, as per the requirement of the client. Close on the heels of the BPO industry, outsourced web content development is emerging as one of the biggest employers in the field of offshored work.
Depending on the nature of the website or portal, specialist knowledge of a field/subject may be required but the key skills needed are:
The ability to write well as well as edit, re-write or polish contributions from other writers, and the ability to think of new and innovative features and "columns" for the website.
A few general guidelines for all budding web writers like you: Remember, writing on the web is somewhat different from writing for print. It's best to present the information in easy-to-digest chunks that allow browsers to dive straight in and locate what they require.
A content developer co-ordinates with the web designer and other members of the editorial team, meets people and keeps up-to-date with relevant news and developments.
Plenty of such opportunities exist in media, web development and online publishing firms, Check out some of the leading jobsites.
There is no tested specialist course for becoming a content developer. A college degree with fluency in writing, and preferably some experience at the copydesk or reporting in any media would suffice. Thus, a course in linguistics, journalism, mass communication, English, etc would be a good bet. Specialist knowledge as of law or technology would be an asset if you are creating content for a legal or technical website. Familiarity with computer basics is of course mandatory.
Trust me, this field is booming and job opportunities abound. You can start out as a content writer or ID to a Senior ID, analyst and finally specialist as you move up the ladder.
Finance field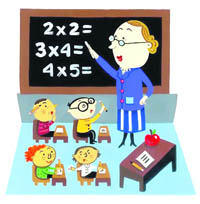 Q. I have done a PGDIM from IGNOU and have been working in a state finance corporation for the last 6 years. But my career doesn't seem to be going anywhere. Pl advice.
— Randheer Chaube
A. The most valuable pointer I can suggest is to first work out a written career plan for, say, the next 5 years, including your realistic yet ambitious goals, and make an honest assessment of your strengths and shortcomings. Without such a plan, it is impossible to plan your career growth successfully.
Once you have drawn up your 5-year career plan, assess the opportunities available for someone with your qualifications, skills and experience. The third step is to marry the two, namely your goals and the opportunities available.
Thus, for instance, considering your experience, you might wish to become a top-flight finance professional. In which case, you might like to consider a switch from your present job to some other, faster-growing company in the financial services sector, which is currently booming. Or, is it that the company you currently work for is not growing fast enough to provide you sufficient growth opportunities?
In a nutshell, work out your goals. The action you need to take will then automatically be evident.
The writer is a noted career consultant
Please send in your query, preferably on a postcard, along with your full name, complete address and academic qualifications to: Editor, Jobs and Careers, The Tribune, Sector 29, Chandigarh-160030, or at careers@tribunemail.com