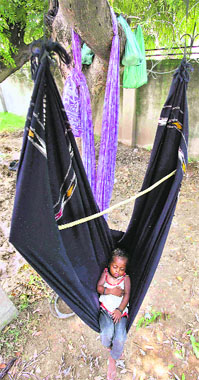 A child sleeps on a makeshift hammock as his mother works at a roadside in Jammu on Tuesday. — Reuters

Parties in no mood to forge pre-poll alliance
Jammu, July 22
Even as the coalition politics seemed inevitable in the state, none of the key political players has taken any initiative for forging a pre-poll alliance as of now.
Cong launches campaign to gain sympathy for Azad
Udhampur, July 22
The Congress has stepped up an aggressive campaign in Bhaderwah, hometown of former chief minister Ghulam Nabi Azad, to gain the people's sympathy who are not happy with the way Azad was forced to resign from the post of chief minister.
'Power for Jammu', BJP's main poll plank
Jammu, July 22
Maintaining that it would play a key role in the formation of the next government in the state, the BJP today announced that it would contest the forthcoming Assembly elections on the plank of "political power for the Jammu region."
Vohra committed to hold free, fair elections
Srinagar, July 22
Governor N N Vohra has reiterated his commitment that the state administration would be fully geared up to ensure free and fair elections and underscored the need for creating a stable security environment for smooth conduct of all activities relating to elections.
Son: Lone's killing political conspiracy
Jammu, July 22
Accusing former chief minister Mufti Mohammed Sayeed, PDP president and sitting Lok Sabha member Mehbooba Mufti and former party MLC Basharat Bukhari as the "real culprits" behind the killing of former minister of state for education Dr Ghulam Nabi Lone, his son Shoaib Lone today alleged, "The CBI probe ordered by the then coalition government on January 14 on the floor of the House was just a face saving attempt."
PDP hits out at BJP
Srinagar, July 22
The PDP has condemned BJP leader Nirmal Singh for making "irresponsible" statement of asking tourists from various parts of the country not to visit Kashmir. In a statement, a PDP spokesman said such pronouncements of the BJP leaders demonstrated their intrinsic prejudice against Kashmiris.
State remains peaceful overall
Srinagar, July 22
After four major incidents of violence since Friday last at several places in Jammu and Kashmir, overall situation in the state remained peaceful since yesterday while the police and security forces have arrested three militants with arms and ammunition.
CET exam on Aug 2-3
Jammu, July 22
The Common Entrance Test (CET) for students of medical and engineering streams would be conducted on August 2 and 3.
Water Shortage
Scholars threaten to resign
Jammu, July 22
Due to an acute shortage of water in the Jammu University (JU), as many as 50 research scholars today threatened to resign from their work, which they said had been crippled in the present scenario.
Militants' hideout busted
Rajouri, July 22
With little less than a fortnight left for the commencement of the annual Buddha Amarnath Yatra (pilgrimage) in Mandi area of Poonch district, the Army today busted a militant hideout along its route on the Jammu-Poonch National Highway at Bhimber Gali in this frontier district.