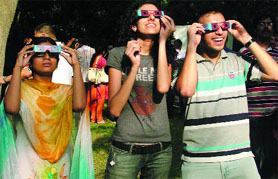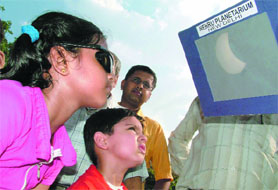 Students watch partial solar eclipse from Nehru Planetarium in New Delhi on Friday. Tribune photos: Mukesh Aggarwal
BJP scouts for candidates for assembly poll
Inflation, sealing, demolition to be main issues
New Delhi, August 1
Three months are left for the assembly elections in Delhi, but the BJP has started the process for selecting candidates for the same, sources said.
Mob goes on rampage in UrjaVihar
Protest against loadshedding
New Delhi, August 1
A mob of around 150 persons today intruded into the colony of BSES employees, Urja Vihar in East Delhi, and went on the rampage, damaging two-wheelers and other vehicles. No one was reported injured.
'Vivaha 2008' celebrates grand Indian weddings
New Delhi, August 1
There may not be any grand weddings during the next two months as the stars are not right but an exhibition here unfolds just how magnificent the big day can be once the marriage season kicks off in October.
World Breastfeeding Week
Mother's milk best for infants: Mayor
New Delhi, August 1
Mayor Arti Mehra today called upon the mothers of newborn babies as well as expecting mothers to start breastfeeding their infants within one hour of the birth.
Heart camp at Moolchand
New Delhi, August 1
Moolchand Heart Hospital (MHH) will hold a two-week mega heart camp from 8 am to 4 pm daily from August 14, wherein patients can avail themselves of the facility of free consultation from senior cardiologists regarding ECG and colour doppler echocardiography. Angiography that generally costs Rs 20,000 would be done for Rs 4,999.
Threat letter keeps cops busy
New Delhi, August 1
An anonymous letter threatening serial bomb blasts in the Patiala House district courts complex today was received by a magistrate court, prompting the police to further beef up the security arrangement to foil subversive attacks.
Jamia tries to recreate city's poetry culture
New Delhi, August 1
In a major attempt to build poetry culture in the city, once renowned for its poetry and poets like Ghalib, Jamia Millia Islamia University in association with the Delhi Poetree recently announced the launch of poetry session 'Mon Poetree Jam'.
Ban sought on 'Singh is Kinng'
New Delhi, August 1
The Delhi Sikh Gurdwara Management Committee and president of the Shiromani Akali Dal Paramjit Singh Sarna today demanded from the government to ban the film 'Singh is Kinng'. Sarna said that the film lampoons the religious identity of the Sikh community.
CM urges children to respect freedom
New Delhi, August 1
Chief Minister Sheila Dikshit today asked children to respect the freedom earned by the country after a long struggle and to follow the path shown by the great leaders.
Panel opposes Akali-BJP poll pact
New Delhi, August 1
The Shiromani Gurudwara Sewadar Committee today appealed to the Akali Dal to not have alliance with the BJP in Delhi assembly elections to be held in November.