Security sought for Muslim Gujjars
Jammu, August 4
Hindu Gujjar leaders of Rajasthan have appealed to the majority community in the Jammu region to protect Muslim Gujjars as they were feeling insecure in the present scenario.
HC: Treat press I-cards as curfew passes
Jammu, August 4
The Jammu and Kashmir High Court today directed the district administration to treat press identity cards as curfew passes and ensure that the cards were honoured by curfew enforcing agencies, including the Army.
Protesting 'musical' way
Jammu, August 4
Residents of Jammu have resorted to a different form of protest - musical demonstrations - as their movement has been restricted in the wake of curfew and heavy deployment of the Army and paramilitary forces.
Attack on mediapersons condemned
Jammu, August 4
Various religious and political organisations in Jammu have strongly criticised the attack on mediapersons and banning of the local cable network here.
Jammu residents sore over Centre's policy
Jammu, August 4
The Centre's indifferent attitude towards the turmoil going on in the region has left the people here questioning, "Had it been Srinagar, would the government had adopted similar approach?"
One killed, 20 hurt in clashes
Hurriyat bandh hits life in Kashmir valley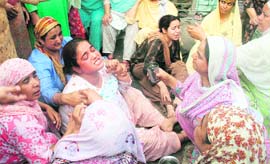 Srinagar, August 4
One person died and at least 20 others, including 11 police personnel and three CRPF men, were injured, two of them seriously, in clashes between angry demonstrators and the security forces, with the police lobbing tear gas shells at several places here today.
Wailing relatives of Asif Mehraj, who succumbed to his injuries sustained in teargassing at Srinagar on Monday. — Tribune photo by Mohd Amin War
Muslims make Pandit's wedding a family affair
Srinagar, August 4
Unrest in Jammu and Kashmir over the Amarnath land transfer order might have assumed violent overtones, but Muslims sang wedding songs for a Kashmiri Pandit girl, in a declaration of genuine neighbourly love.
Yasin Malik begins fast today
Srinagar, August 4
JKLF chairman Mohammad Yasin Malik has decided to launch an indefinite fast from tomorrow in protest against the alleged attacks on Kashmiris in the Jammu region. Addressing a press conference here today, Malik held that Kashmiris were being targeted in Jammu even as the people of Kashmir had observed utmost restraint.
'Paddy Blast'
Farmers told to follow spray schedule
Srinagar, August 4
The Agriculture Department has asked the farmers to strictly follow the spray schedule to check the spread of 'paddy blast' disease reported from several parts of the Kashmir valley so far.
Normal supply of essential commodities resumes
Srinagar, August 4
The supply of essential commodities in the Kashmir valley, that was hit by the blockade on the Srinagar-Jammu national highway due to the ongoing trouble in Jammu since the past few days, is now stated to be satisfactory.
Lok Adalats settle 365 cases
Srinagar, August 4
Encouraged by massive response, two Lok Adalats were held in the Kashmir valley, in which 365 cases were settled amicably among the parties, an official spokesperson said on Thursday.
Prayers held for peace along LoC
Uri, August 4
Anxious over the recent skirmishes between India and Pakistan along the Line of Control in Jammu and Kashmir, students of an Islamic seminary along with local residents took part in a prayer meet for peace and tranquillity in the state.
Mission Clean Dal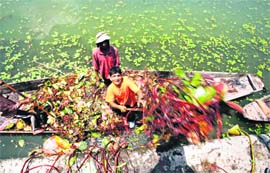 Srinagar, August 4
With a view to restoring the pristine glory of the world famous Dal Lake, the authorities have divided the lake into 10 zones to speed up the execution of all components of Dal conservation plan approved by Centre.
A Kashmiri worker unloads weeds from his boat removed manually from the polluted Dal Lake. The lake, which once was spread over 30 sq km, has shrunk to half the size over the past four decades.— Reuters photo
Cong men support samiti
Jammu, August 4
Despite being instructed by PCC president Prof Saif-ud-din Soz and former Chief Minister Ghulam Nabi Azad to play a neutral role in the current turmoil, Congress leaders in the Jammu region, including former legislators, are under tremendous pressure from their supporters to support the stand taken by the Amarnath Sangharsh Samiti.
Vohra visits Baltal area
Srinagar, August 4
Governor N.N.Vohra today visited the Baltal area to take stock of the facilities for the Amarnath pilgrims. This was particularly in view of the damage caused to the tented accommodation and temporary shops at the holy cave following a cloudburst last week.
2 youths died in gang rivalry, claims I-G
Jammu, August 4
Close on the heels of death of two youths, allegedly in police firing in Samba on August 1, K. Rajendra, I-G, Jammu, has claimed that they had died due to gang rivalry and not in police firing. The town witnessed big demonstrations on August 1, forcing the police to fire several rounds.