M A I N N E W S
His perseverance paid, says Dhillon
Jangveer Singh
Tribune News Service
Chandigarh, August 11
For a shooter who did not betray his emotions even after scaling the pinnacle of Olympic glory, Abhinav Bindra's nerves were not always made of steel. Perseverance and the right guidance created the Olympic champion who in his initial phase of training was prone to self-doubts about his abilities.
Abhinav was brought to renowned shooter Col (retd) JS Dhillon by his father A.S. Bindra who wanted him to take up shooting as an extra curricular activity when he was in class six." As a young shooter starting off with his training there were times when Abhinav threw his ammunition saying I won't shoot further", says his first coach and mentor. "However careful handling and inspiration worked the magic", says the former shooter who immediately took Abhinav to his drawing room and showed him his collection of medals as well as photographs and newspaper cuttings. Abhinav, a child then, asked his coach innocent questions like 'Will I also get a medal? Will my name also be in the newspapers? Will people also come to meet me?' Col Dhillon says that was the day when I saw a complete change in his temperament and nature, which was the stepping-stone for today's success.
He says this the trait of complete focus on the task at hand as well as determination was responsible for the Olympic gold. He said what the media or the public was saying never distracted Abhinav. "He did well in Athens but could not end up in the medals. Later his score also dipped and he also suffered a back injury. But in all this he never lost focus of his goal and showed remarkable perseverance to ride out of the rough patch", the former shooter said. The coach says the qualities imbibed in Abhinav at an early stage stood him well in the long run. "He did not become emotional even after winning the medal. This is because he believes in the creed that if you do well the results will follow".

Doscos salute their hero
Jotirmay Thapliyal
Tribune News Service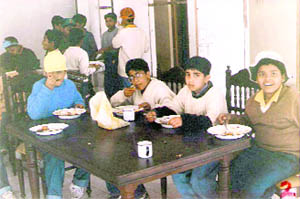 Young Abhinav Bindra (third from right) enjoys a meal with fellow Doscos
Dehra Dun, August 11
It was time to rejoice at Doon School. Very few know that Abhinav Bindra's shooting talent was recognized in this school where he studied for two years.
DC Bhatkoti, who was the housemaster of Foot house at the school, remembers Bindra's sporting talent. He came to the school in 1993.
It happened by chance. Bhatkoti gave an air gun to Bindra during one of the sports classes and found that the boy had inherent talent in shooting.
Bhatkoti asked Dr AS Bindra, father of Abhinav, to explore his son's talent. On Bhatkoti's advice, the elder Bindra brought two air guns for his son from Singapore and, thus, began Abhinav's love with the sport.
Abhinav also excelled in academics and was a well- mannered student, recollects Bhatkoti, overwhelmed at his success at the Olympics.
"Abhinav studied at Doon School long back but it is a proud moment for us today as a member of the Dosco family has brought glory to the nation", said an excited Adhiraj Thakran, a Class VIII student.
The Bindra family is well-known here and the Bindra farm at Haridwar road a known address.
Uttarakhand Governor BL Joshi and Chief Minister BC Khanduri have congratulated Bindra on his achievement.