BJP's 'Jail Bharo Andolan': Delhi Pradesh Bharatiya Janata Party president Harsh Vardhan (Left) and activists (Right) try to jump police barricade at Parliament Street during the 'Jail Bharo Andolan' launched by the party against the revocation of land transfer to the Shri Amarnath Shrine Board, in New Delhi on Monday. — Tribune photo by Manas Ranjan Bhui
Special security sought for markets for I-Day and rakhi
New Delhi, August 11
The Associated Chambers of Commerce and Industry of India (ASSOCHAM) has called for immediate installation of CCTVs and metal detectors at all crowded and popular NCR markets especially at Noida, Faridabad and Ghaziabad to ensure security and safety of market goers especially on the occasion of Independence Day and Raksha Bandan.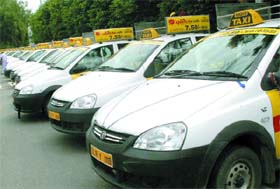 They are cheaper: The Radio Taxi Quick cabs that were flaged off by Chief Minister Sheila Dikshit at Delhi Secretariat on Monday. — A Tribune photograph
Tummy pain could signal heart problem
Aortic dissection is a potentially life-threatening condition
New Delhi, August 11
Abdominal pain may not always be from the abdomen. It could often be an alarm from your heart to get your attention. For some, a pain in the abdomen is a common symptom of indigestion; for others it heralds the beginning of a trip to emergency surgery.
Abadi Land Issue
Permanant solution sought
Noida, August 11
The Noida Board in a meeting held today, discussed the controversial Abadi land issue. Mohinder Singh, CEO of the Noida Authority said that the issue needs patience and vision. Singh said that the Noida Authority was trying to evolve a permanent solution to this problem.
Farmers duped of land compensation
Greater Noida, August 11
Farmers of the area, who have recently received huge money as land compensation, have become the target of fraudsters. Posing as insurance agents, these cheats are trying to dupe farmers of their money.


16-year old held for murder
New Delhi, August 11
With the arrest of a 16-year-old boy, the outer district police has claimed to have solved the murder case of Rita Dubey. One country made pistol was also recovered allegedly on the instance of the boy.



The three held for running a fake currency racket in New Delhi on Monday. —A Tribune photograph
She lives in 5 avatars after death
New Delhi, August 11
The Army Hospital (Research and Referral) here has successfully carried out the 10th multi-organ donation and transplant. According to the hospital, Usha Tanwar, mother of Lt-Col Dinesh Tanwar, was admitted to the hospital after a massive brain haemorrhage on August 9.
Brother-in-law, wife held for trader's murder
New Delhi, August 11
The North East district police has claimed to have solved the murder of a businessman who was found dead in his house. His wife Shaista and her cousin Abdul Naseem have been arrested in this connection.
Noida to have sports city
Noida, August 11
The Noida Authority has planned to set up a state-of-the-art sports city for Noida. Spread over an area of 311 hectares in sectors-101, 102, 104, 107, 76, 78 and 79 on both sides of DS Road, the Noida Sports City will have facilities of international standards including flood-lights and electronically controlled latest equipments and facilities, which will ensure 24-hour sporting activities.
Citizens cautioned against fraudsters posing as MCD staff
New Delhi, August 11
Municipal commissioner K. S. Mehra today cautioned citizens against fraudsters issuing fake notices in the name of the Municipal Corporation of Delhi (MCD) to people carrying out unauthorised constructions. Mehra appealed people to inform the MCD as well as the local police about such fraudsters.
Girl falls from school building, dies
Faridabad, August 11
A class XII student of Modern Vidya Niketan (Aravalli) School today died as she fell off from the fourth storey of the school building. She was taken to the Sarvodaya Hospital where she was declared brought dead.
2 get death for killing tourist
New Delhi, August 11
Two persons have been awarded the death sentence for murdering Australian tourist Dawn Emilie Griggs by a Delhi court. Additional sessions judge Vinod Kumar declared taxi drivers Jyotish Prasad and Ashish Kumar culprits of gangrape, robbery and destruction of evidence and common intention.