Artscape
Romantic comedy by differently abled director
Ravi Bhatia
Tribune News Service
New Delhi, August 3
Radisson Hotel here presented a hilarious romantic comedy play- 'The Melody of Love' last week. The play was directed by Divya Arora, country's first and only physically challenged commercial actress to undertake theatre on a wheel chair. Star cast included Divya Arora and TV artist Mantra in the lead pair along with Tom Alter, Arjun Khera, Surabhie Chadha and Nakul Bhatnagar
'The Melody of love' is an adaptation of 'Le jeu de l'amour et du hazard' —a French piece of literary work by Marivaux, a supreme French playwright of comedies. 'Melody of love' is originally a play relevant not only to its own time but also to the social system today. Falling under the genre of romantic comedy, the play is about two young couples that wish to carefully examine their future life partners. To test their partner's heart, the couples operate under a masquerade, portraying what they are not. With time, love becomes strong and deep for each couple. Slowly the masks fall as the dupes themselves get duped.
This romantic comedy in a most entertaining manner also educates with the message on disability awareness and sensitizes to gracefully accept the differently abled as equal human beings, hereby supporting the cause. Like each one, they also have the right to be loved and love…not just on stage but also the same to transcend into real life society.
The Hotel also hosted a musical evening of magical performance by 'Gautam Ghosh Collective' —the renowned nu-age, free form jazz based world music band.
Gautam Ghosh Collective in its concerts showcases the collective's unique soundscapes that are both transcendental and extempore. Playing unrehearsed and in real time, the band digs into its collective memory of sounds and textures from all over the world and weaves in splendid patterns and images fused with the energy of ethnic and tribal colours. The members of Gautam Ghosh Collective include Gautam Ghosh , Siddartha, Amit and IB Singh.
Works of poetic intensity
"My heart is not enough…" a solo show of recent water colours by V. Ramesh is being held at the Gallery Threshold here from August 8 to August 30.
In this body of work, V. Ramesh, instead of his usual oils has worked on large format paper with gouache and water colours. His longstanding interest and engagement with the idea of ephemeral and transcended aspects of the human self continues in this body of work as well where he alludes to them by the recurrent use of lines from medieval bhakti poetry along with a metaphorical usage of imagery hinting at the importance of the human body. Juxtaposing broad areas of washes with delicate and decorative linear elements, he manages to create works of great fragility as well as poetic intensity, say critics.
V. Ramesh was born in Andhra Pradesh in 1958. He graduated in Fine Arts from M S University, Baroda, following it with postgraduation in Fine Arts from the same university.
Exhibition of sarees and dupattas
Utsav is presenting "Rang Alive", an exhibition of finely handcrafted sarees, fabrics and dupattas from August 7 to August 9 at the Aga Khan Main Hall on Bhagwan Das Road here.
Rang Alive celebrates the potent symbolism of colour in India, especially expressed through its vibrant textile traditions of weaves and prints in cotton and silk.
From time immemorial, colours in India have been linked to religion, seasons, festivals, special occasions and rites of passage.
These colours have been interpreted in traditional handloom weaves specially created for Utsav from India's heritage weaving centres. Several of these weaves have also been specially hand block-printed in unique colour variations to bring their Rang Alive!
For over 15 years, Shashiv Chandran has plodded through the villages of Andhra Pradesh and Tamil Nadu offering a vital lifeline to handloom weavers who create magical sarees on ancient looms.
Chandran's Utsav was founded to link these weavers with an urban clientele. Utsav educates the weavers on colour and design and encourages them to be creative within the matrix of their own native traditions. 
Santoor recital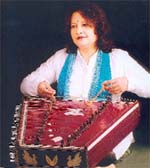 The India International Centre (IIC) here is presenting a Hindustani classical music santoor recital by Shruti Adhikari from Bhopal in its auditorium on August 7. Shruti, who heads the department of music in the NCERT's Regional Institute of Education in Bhopal, Madhya Pradesh, is a disciple of the famous Shiv Kumar Sharma.
Shruti Adhikari from Bhopal will present a santoor recital at the India International Centre in New Delhi on August 8.
Seminar on Arts and Culture
Kalaikoodam-Komala Varadan Institute of Art in collaboration with the India International Centre here held a three-day national seminar on Arts and Culture For Indian Resurgence from August 1 to August 3. A large number of experts presented their views during the seminar which was organised to celebrate the founder's day of the institute. Dr Bharat Gupt, associate professor, Delhi University, was the seminar director.