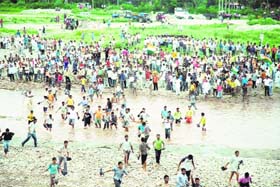 Agitators cross Tawi river near Phallian Mandal on Tuesday to reach Jammu for staging demonstrations. — Tribune photo by Anand Sharma



Protesters hurl stones at the police in Srinagar on Tuesday. — Reuters photo
They defied curfew to supply food
Srinagar, August 12
People at the high security Sonawar area defied curfew restriction for a noble cause - to provide food to patients and their attendants at the G.B. Panth hospital at Batwara cantonment here.
Centre blamed for violence in Kashmir
Jammu, August 12
Blaming the Centre for the fresh violence in Kashmir, the Panthers leadership has said that the delay in settling the land row gave an opportunity to the Jammuites to prolong their agitation and those in Kashmir to respond to the call, given by the separatists and the PDP for "Muzaffarabad chalo" rallies.
Govt allowed tension to build up: BJP
Jammu, August 12
The BJP today accused the authorities of "virtually engineering opposition" to the land transfer in the Kashmir valley. "The opposition to the land transfer in the Kashmir valley was allowed to build up by certain vested interests after May 20 when the state government ordered the diversion of land to the Amarnath Shrine Board.
Media as teaching medium
Jammu, August 12
With curfew on and educational institutions closed for the past over a month, the studies of students, particularly that of class 10 and 12 students, has suffered a lot. The delay in covering their syllabus in time will have a direct impact on their preparations for competitive exams, which they have to face in June-July next year.
'Shortage' of commodities in Rajouri, Poonch
Rajouri, August 12
Even as the Kashmir valley continued to simmer under "economic blockade," the residents of Rajouri and Poonch districts alleged that they were also facing acute shortage of essential commodities and medicines.
Ensure free flow of traffic: Vohra
Srinagar, August 12
With the Srinagar-Lakhanpur national highway fully sanitised with convoys carrying fruit and supplies under heavy police escorts, Governor N.N.Vohra has asked the chief secretary to monitor and ensure uninterrupted traffic movement.
Amarnath Land Row
Protests may hit I-Day celebrations
Jammu, August 12
Unabated protest demonstrations over Amarnath land row may cast a shadow on Independence Day celebrations as people have decided to organise parallel functions across Jammu region.
Land row: 'Regroup' time for militants
Jammu, August 12
The ongoing crisis in Jammu and Kashmir over the Amarnath land transfer issue, according to intelligence inputs, has provided an opportunity to various militant outfits operative in the state to regroup and recharge their fast depleting resources.
Displaced families await rehabilitation
Sarya-Jhangar (Nowshera), August 12
Vijay Kumar, in his sixties, is a distraught man. Tears well up in his eyes when he thinks of his home. Vijay's family has been dislocated four times ever since the country was partitioned in 1947. He, now, lives along with his family in this border village, which lies in the firing range of the Pakistani army.
Kishtwar flareup a conspiracy, says Samiti
Jammu, August 12
Reacting to the media reports that the Centre may soon invite it for talks to resolve the Amarnath land row, the Amarnath Yatra Sangharsh Samiti said today that it had not yet received any formal invitation for talks.
Jammu West reels under power cuts
Jammu, August 12
The residents of Jammu West, particularly in localities like New Plots, Janipur, Sarwal, Upper Lakshmi Nagar, Bakshi Nagar, Rehari Ban Talab, Durga Nagar, Muthi and Purkhoo, continue to face rampant power cuts ranging from 12 to 18 hours.
Complaints to BSNL unresolved
Jammu, August 12
A number of complaints registered by the landline telephone subscribers of Bharat Sanchar Nigam Limited (BSNL) remained unattended for days together during the ongoing massive protests on Amarnath land row, followed by bandh calls and enforcement of curfew in the region.
'Anti-national' Statements
Jammu Bar to sue Mehbooba
Jammu, August 12
Taking strong exception to the reported 'anti-national' statements of PDP president Mehbooba Mufti in the backdrop of Amarnath land row vis-à-vis violent protests in the Kashmir valley, the Bar Association of Jammu (BAJ) has demanded that the administration should register a criminal case against her.
India lodges protest with Pak
Jammu, August 12
India today lodged a strong protest with the Pakistan army authorities for ceasefire violations resulting in cross-border firing at Indian posts along the LoC in Poonch district.
Infiltrator killed
Jammu, August 12
The BSF shot dead a Pakistani infiltrator along the Indo-Pak border in Samba district of Jammu and Kashmir, defence sources said today.
Teachers to donate day's salary to Samiti
Jammu, August 12
The Jammu University Teachers' Association (JUTA) on Tuesday decided to donate one-day's salary to the Shri Amarnath Yatra Sangharsh Samiti, spearheading the agitation across the Jammu region, over the Amarnath land row.