People throng parallel I-Day function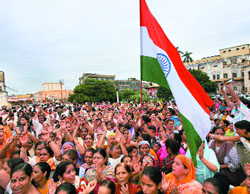 Jammu, August 15
Even as the official Independence Day function at Parade Ground turned out to be a lackluster affair, thousands of people converged at Mubarak Mandi to celebrate the occasion at a parallel function under the banner of the Amarnath Yatra Sangharsh Samiti here today.
Supporters of the Shri Amarnath Yatra Sangharsh Samiti hold the National Flag during the Independence Day celebrations in Jammu on Friday. — Reuters
Samiti shadows official functions
Udhampur, August 15
The Amarnath Yatra Sangharsh Samiti, spearheading the 47-day-long agitation over the Amarnath land row in the Jammu province, upstaged official Independence Day functions in Udhampur and Reasi districts.
Amarnath Land Row
Shun do-nothing policy: Advani to PM
Jammu, August 15
Leader of Opposition L.K. Advani has shot off a missive to Prime Minister Manmohan Singh, urging him to recognise the gravity of the situation in the state, in the aftermath of the Amarnath land row and take a fair decision, rather than adopt a "do-nothing policy."
Discrimination With Jammu
Dogra sabha seeks panel
Jammu, August 15
Claiming that the Amarnath land row has created "90s-like atmosphere" in the strife-torn state, the Dogra Sadar Sabha today urged the Centre to take immediate steps to resolve the issue.
Closed markets dampen Rakhi
Jammu, August 15
The closure of markets in Jammu has played spoilsport for many women who had been eagerly waiting for Raksha Bandhan, which falls tomorrow.
Land row: Militants told to keep low profile
Jammu, August 15
Intelligence sources have revealed that agencies across the Line of Control (LoC) had instructed militants, operating in the state, to keep a low profile during the ongoing turmoil.
Fear forces 'Durbar Move' staff to flee valley
Jammu, August 15
A day after the "Muzaffarabad march" over 300 "Durbar Move" employees belonging to the minority community fled the Kashmir valley and reached here. Some of these employees told The Tribune that "on August 12, a day after the 'Muzaffarabad chalo' call, certain fanatics made announcements and asked non-Muslims to leave the valley immediately." Following these announcements over 300 employees fled the valley in 15 SRTC buses on the intervening night of August 12 and 13, they added.
Police escorts 238 persons home
Srinagar, August 15
As many as 238 persons stranded in Baramulla during the Muzaffarabad-chalo march on August 11, were ferried to their homes by the police with the help of three civilian vehicles, police sources said today. These civilians had got stranded after they returned from Chahal, Boniyar, as curfew was clamped in Baramulla.
Gujjars of Taryoti Khud await relief
Jourian, August 15
Six-year-old Sayda Ali, daughter of Fazal Din, is too young to understand the tragedy that struck her family. But it indeed has left her traumatised.
Muslims repair temples
Udhampur, August 15
Muslims came forward to give protection to their fear stricken Hindu brethren in Gandoh tehsil of Bhaderwah, who were planning to migrate to Himachal Pradesh after two of their religious places were ransacked by some miscreants.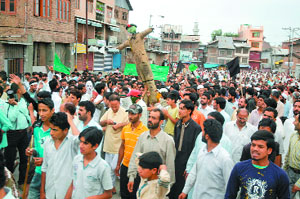 22 hurt in Srinagar violence
Srinagar, August 15
After a day of relatively peaceful demonstrations, things flared up in the evening at Habakadal in Srinagar as at least two persons received bullet injuries when security personnel fired at a raging crowd.

Muslim protesters take out a march in Srinagar holding aloft an effigy of a security personnel on Friday. — A Tribune photograph
Farooq's remarks draw flak
Jammu, August 15
National Conference patron Farooq Abdullah's alleged remarks on a television news channel have drawn flak from a cross-section of the society here, with people saying Farooq should respect the 'religious sentiments of every community'.
Exercise restraint, BJP advises Farooq
Jammu, August 15
Advising National Conference patron Farooq Abdullah to exercise restraint and not make threatening statements, the BJP today asked him and other Kashmir-based "communal leaders" to retrospect and review their whole stand on the Amarnath land row.
'Centre ignored our suggestions'
Srinagar, August 15
Referring to Prime Minister Manmohan Singh's address at the Red Fort, Hurriyat Conference chairman Mirwaiz Umar Farooq said, this would not have been the situation in Jammu and Kashmir in case the Centre had thought over the APHC leaders' suggestions on resolving Kashmir.
NC demands free ration for daily wagers
Jammu, August 15
The National Conference has expressed serious concern over the miserable condition of daily wagers, street vendors and others because of the present turmoil.
Two LeT ultras arrested
Jammu, August 15
Two Lashkar-e-Toiba (LeT) militants were arrested, along with two grenades, in Doda district, official sources said here today.
Jawan killed in accidental blast
Jammu, August 15
A jawan was killed in an "accidental" grenade blast in Rajouri district of Jammu and Kashmir today, prompting the Army to order a court of inquiry.