pride of INDIA
M.S. Unnikrishnan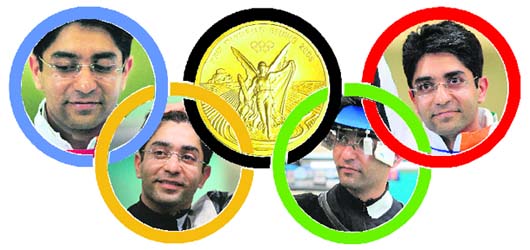 AT long last Indian sport has a truly golden boy. Abhinav Bindraís Gold in the 10-metre air rifle event in the Beijing Olympic Games is an unparalleled achievement recorded by any Indian sportsman. Itís not that Viswanathan Anandís World Chess crown, Kapil Devís Prudential World Cup ODI triumph, Prakash Padukone and Pullella Gopichandís All-England Badminton trophies, and the Grand Slam wins of Leander Paes and Mahesh Bhupathi, were lesser in their time.



ABHINAVíS JOURNEY
AB: Ace of brands
Shiv Kumar
IN the mad ad world, sponsors are always on the lookout for saleable icons. Sachin Tendulkar was dethroned long before Pepsi unceremoniously dumped him. Neither Vishwanathan Anand nor Narain Karthikeyan could hold the spotlight long enough to be labelled as youth icons. The pinnacle was rather empty with a nation of a billion plus people throwing up just one flamboyant Mahindra Singh Dhoni who gave company to the glamorous Sania Mirza at the top.
A family affair
Akash Ghai
AMID celebrations that immediately kicked off at the palatial house of Abhinav Bindra on the Patiala-Zirakpur road, near Chandigarh, it was indeed difficult to pin down the proud parents for a tÍte-ŗ-tÍte. Beats of dhol permeated the Bindra house with relatives and close friends shaking a leg or two. The Bindras personally welcomed every visitor trooping in to congratulate them. However, amid the festivities they did not disappoint any media person.
Confessions of a Ďsmallí crook
Jonathan Brown
PACING around the front room of his terraced house, with the family Jack Russell yapping at the door, Lee Kildare appears agitated, rolling up his tracksuit trouser leg to reveal the grey plastic electronic tag that will ensure that he remains confined to his house as per court orders. "I've got to wear this for four months," he said. "I can't leave the house after 8 at night or before 7 in the morning. It is annoying. The summer is on and all my mates are outside drinking."