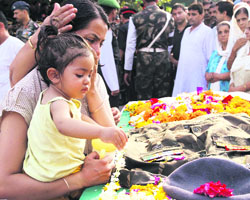 Son of Major Padmanabhan offers flowers petals on his father's coffin during the cremation ceremony in Jammu on Sunday. — A Tribune photograph
BJYM chief held, let off
Udhampur, August 17
Tension flared up in Udhampur town and adjoining localities when the police arrested Pawan Khajuria, president of the state Bharatiya Janta Yuva Morcha (BJYM), and some other activists while staging a demonstration in support of the demands of the Shri Amarnath Yatra Sangharsh Samiti.
Land row hits Buddha Amarnath yatra
Mandi (Poonch), August 17
The agitation over the Amarnath land row has seriously affected the flow of pilgrims to the Buddha Amarnath yatra this year. The Buddha Amarnath pilgrimage is considered the equivalent of the Amarnath yatra in its religious sanctity.
Land Row
Set up judicial panel: Bhim Singh
Jammu, August 17
Demanding a judicial commission to probe the circumstances that led to the Amarnath land conflict, Panthers Party chief Bhim Singh has appealed to the Kashmiris to keep at bay 'busy bodies and political hawks' from their movement for peace and justice.
Open talks, PDP urges Centre
Srinagar, August 17
The PDP has urged the Centre to renew, with a sense of urgency, the peace and resolution process through a purposeful dialogue with all sections of society, including the separatist Hurriyat Conference. This was resolved at a meeting of the political affairs committee presided over by PDP patron Mufti Mohammad Sayeed, which also expressed grief over the loss of human lives during the recent protests across the state. PDP president Mehbooba Mufti and other leaders, Abdul Aziz Zargar and Tariq Hameed Karra, were among those who attended the meeting.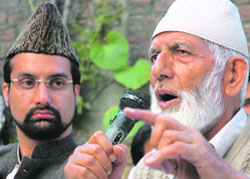 Hurriyat suspends general strike for 3 days
Srinagar, August 17
The coordination committee comprising separatist and other organisations today announced to suspend the general strike for three days from Tuesday.

APHC chairman Syed Ali Shah Geelani addresses the press in Srinagar on Sunday as Mirwaiz Omar Farooq looks on. — Tribune photo by Mohd Amin War

Crowds can't assemble near UN office: Admn
Srinagar, August 17
The district administration today said they would not allow people to assemble near the United Nations Military Observer Group's office in Sonwar, which houses many mainstream politicians and some sensitive government offices.
'Address fear-psychosis among Muslims'
Jammu, August 17
The Muslim Front Jammu (MFJ) today appealed to the police and civil administration to address fear-psychosis among the community and adopt measures to defeat the nefarious designs of anti-national elements, who wanted to divide people on communal lines.
Business resumes in Sopore fruit mandi
Srinagar, August 17
Business has finally resumed in the Sopore fruit mandi. The normal functioning of transportation of fruits to the outside markets has started, officials said here today.
House of counter-insurgent ransacked
New Delhi, August 17
The Jammu and Kashmir police remained a mute spectator to ransacking of house of a person who had helped them in countering militancy in later 90's.
Three held for arson, looting
Udhampur, August 17
Even as the Kishtwar police has arrested three persons in connection with arson and looting during riots, minority community of the district has charged the local administration with shielding the real culprits, who had instigated the mob to attack property and loot shops of a particular community.
2 detainees escape from police custody
Jammu, August 17
Two arrested Bangladeshi detainees escaped from a police station in Jammu city, official sources said here today.
Jawan commits suicide
Srinagar, August 17
A gunman of the 49 Rashtriya Rifles was found dead in his sector headquarters in Ujroo in Anantnag. The police said they heard two gunshots and it was suspected that he had committed suicide. The deceased has been identified as Palwinder Singh.
Militant's body found
Srinagar, August 17
The body of a Hizbul Mujahideen (HM) militant was today recovered from the Chontimula forest area in Bandipora district.