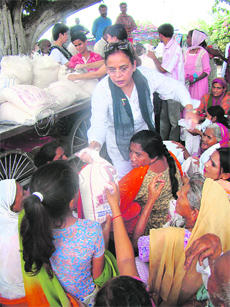 Residents of Gandhi Nagar distribute free ration among the poor in Bag-e-Bahu Locality of Jammu on Thursday. A Tribune photograph

'No shortage of medicines'
Jammu, August 21
The Jammu and Kashmir Pharma Associates (JKPA) today refuted the statements about shortage of medicines in the Kashmir valley.
Cops, protesters clash: 6 injured
Srinagar, August 21
Thousands of students and other protesters marched through the main roads of Srinagar today, raising pro-independence and Islamic slogans.
Comparison with Hurriyat shameful: Samiti
Jammu, August 21
The Amarnath Yatra Sangharsh Samiti today strongly condemned the statement made by Congress spokesperson in New Delhi on Tuesday, describing the separatists Hurriyat and the sangharsh samiti as "two faces of the same coin".
Amarnath Land Row
Govt inertia rued
Jammu, August 21
With no solution of the Amarnath land row in sight even after over 50 days of protest and 28 days of continuous shutdown, the people here now seem restive and want the government to show some urgency in resolving the issue.



Protester set vehicles on fire in Jammu's Bhagwati Nagar on Thursday. Tribune photo: Anand Sharma

Amarnath Land Row
Scenic highway presents gloomy picture
Qazigund, August 21
Though it's almost harvesting time in picturesque Kashmir, the air is filled with tension, fear, trauma and anger.
Rift in PCC over Geelani's pro-Pak remarks
Udhampur, August 21
Serious differences have cropped up among leaders of the Pradesh Congress Committee (PCC) over the provocative and pro-Pakistan statement of Sayeed Ali Shah Geelani. Jammu-based leaders of the Congress have taken strong note of the "anti-national" statement of Geelani whereas their counterparts in other side of the state preferred to maintain a soft stance on this issue.
Kashmiri migrants oppose Geelani's statement
Jammu, August 21
Kashmiri migrants living here have reacted sharply to the recent utterances made by Hurriyat leader Syed Ali Shah Geelani in Srinagar, wherein the hardliner had openly preached secessionism and termed Kashmir and Kashmiris "art and parcel of Pakistan".
Mirwaiz replaces pro-Pak men in committee
Srinagar, August 21
Distancing itself from Hurriyat hardliner Syed Ali Shah Geelani's pro-Pakistan agenda, Hurriyat Conference (Moderate) chairman Mirwaiz Umar Farooq has pulled out two of his leaders, Shabir Shah and Nayeem Khan, from the coordination committee, who were inclined towards the agenda. Mirwaiz has proposed three other leaders, who are closer to him, to replace Shah and Khan.
State Cong leaders to meet high command
Jammu, August 21
Several senior Congress leaders, including former legislators and ministers, will meet External Affairs Minister Pranab Mukherjee and other central leaders for explaining afresh the impact of the land row over the state Congress, especially in the Jammu region.
BJP warns Centre on 'peace talks'
Jammu, August 21
The BJP today warned the Manmohan Singh government not to rush to hold "peace talks" with the Kashmiri separatist leaders as it may add more fuel to the agitation being carried out by the people of Jammu.
Mani Mahesh Yatra
Muslims bid farewell to Hindu brethren
Udhampur, August 21
Bridging the communal divide in the state, large numbers of Muslims turned up at Bhallesa area of Doda district to bid farewell to Hindu brethren who were on their way to Chamba in Himachal Pradesh to participate in the annual Mani Mahesh yatra.
Lawyers to boycott courts till Aug 25
Jammu, August 21
The lawyers in Jammu today announced boycott of courts till August 25 to show their solidarity with the Shrine Amarnath Yatra Sangrash Samiti (SAYSS), which is spearheading the ongoing agitation demanding transfer of government land to the Amarnath shrine board.
Janmashtami after two decades
Srinagar, August 21
The traditional three-day long annual Janmashtami festival is being organised at Sri Kathleshwar temple in the Habba Kadal area here from Saturday.
'Eidgah chalo' march today
Srinagar, August 21
After holding massive demonstrations at Pampore and at TRC, the Hurriyat-led coordination committee has geared up for the Friday congregation at the Eidgah tomorrow.
Ban on posters in Bandipora
SRINAGAR: The district election officer (DEO), Bandipora, has banned pasting of posters and paintings on walls in the district in the view of upcoming elections.
Govt office ransacked
Udhampur, August 21
Protesters ransacked the office of the District Industrial Centre (DIC) and damaged a vehicle parked inside the office premises here today.