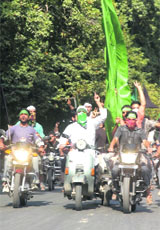 Srinagar shuts down
Srinagar, August 23
The valley observed a complete shutdown today after separatists called for a three-day bandh in their Eidgah rally yesterday. While schools, colleges and private offices were closed, government offices wore a deserted look and transport services were crippled, even as groups of protesters took out several marches throughout the day. However, there were some reports of clashes between security forces and agitators and tear shells were fired upon them in Pampore.



Youths take out a demonstration on their bikes in support of the strike. — Tribune photo by Amin War

Centre's hypocrisy unveiled: Panun Kashmir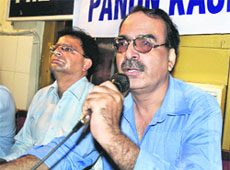 Jammu, August 23
The Panun Kashmir has said mobilisation of people under "communal banners" in the valley yesterday, had vindicated their stand that the political class in the valley continued to reject co-existence. Leaders of the Panun Kashmir - Ajay Chrungoo, Agnishekhar, O.N. Trishal and Virender Raina, said leaders like Syed Ali Shah Geelani had exposed their agenda of the final settlement of Kashmir.
Leaders of the Panun Kashmir address mediapersons in Jammu on Saturday. — A Tribune photograph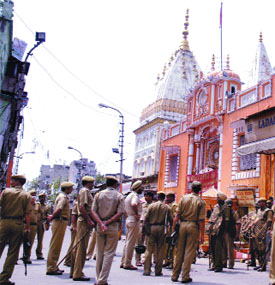 The police and paramilitary forces stand guard outside the Raghunath temple on the eve of Janamashtami in Jammu on Saturday. — Tribune photo by Anand Sharma
Entrance aspirants suffer due to protests
Jammu, August 23
The fate of hundreds of aspirants of various competitive exams hangs in balance here, as the ongoing unrest has taken a heavy toll on their preparations.
'Don't play with people's sentiments'
Jammu, August 23
Taking serious note of the "malicious and misleading campaign" launched by the Congress high command regarding the mass movement of Jammu people, the Amarnath Yatra Sangharsh Samiti today warned the Congress leadership against playing with the sentiments of nationalist forces in the state.
No shortage of medicines in valley
Srinagar, August 23
There is no shortage of drugs and medicines in private and government health institutions in the valley, a spokesman of the state Health and Medical Education Department said here today.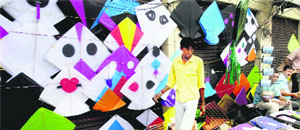 A vendor sells kites on the eve of Janmashtami in Jammu on Saturday. — Tribune photo by Anand Sharma
Mehbooba flays attacks on Gujjars
Srinagar, August 23
Expressing concern over the mounting attacks on the members of the minority community, the PDP has called for a stern action against the elements involved in the attacks.
Ban PDP: Panthers
Jammu, August 23
Jammu and Kashmir National Panthers Party (JKNPP) chairman, Bhim Singh, today demanded a ban on the PDP headed by Mehbooba Mufti for "inciting the people of Kashmir against the country".
Land row changes scenario in valley
Srinagar, August 23
The continuing unrest over a piece of land has changed the scenario of the Kashmir valley. The issue which started with the allegations against the Amarnath Shrine Board of raising permanent structures shot up to become one of the most fierce agitations, the state has ever seen.
AWWA week concludes
Jammu, August 23
The week-long celebration of the Army Wives Welfare Association (AWWA) concluded today at the Usman Auditorium, Nagrota, White Knight Corps.
Cops: Militant 'behind' Aziz's killing
Srinagar, August 23
The police believe that Hurriyat leader Sheikh Abdul Aziz was most likely killed by a militant, who was carrying a pistol and was in the large crowd, which was led by Aziz during the Muzaffarabad-chalo march on August 11.