Central Status to PU
Sukhbir fails to make announcement
Chandigarh, August 25
The hopes of the faculty members, students and the employees of the Panjab University (PU) for the Central status fizzled out today when SAD president and MP Sukhbir Badal did not make any related announcement today.
Punjab to write to Centre
Most likely, the Punjab government will send the much sought after letter regarding Central status to the Panjab University on Tuesday.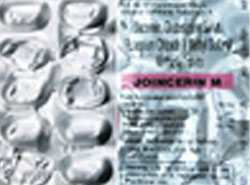 Medicine strip sans tablets
Chandigarh, August 25
Have you ever purchased medicine strip without tablets in it? The former joint director, food and civil supplies, the Punjab government, G.S. Chawla, was surprised to purchase a medicine strip - a pack of 10 - with six tablets missing.



The medical strip with six tablets missing. A Tribune photograph

Lifts stuck in PGI, district courts
Chandigarh, August 25
Patients' attendants at the PGI and advocates at the district courts today had a harrowing time when lifts at the buildings stuck.
Now, pledge your eyes online
Chandigarh, August 25
The 23rd National Fortnight on Eye Donation was inaugurated at a function held at the Advanced Eye Centre, PGI, here today. The adviser to the administrator, Chandigarh, Pradip Mehra, presided over the function.
SOS to Sonia, PM on GPA regularisation
Chandigarh, August 25
The administration's reported decision to charge hefty amount for the regularisation of the general power of attorneys (GPAs) of group housing societies has kicked up a storm.
Illegal cabins razed amidst protest
Chandigarh, August 25
A high drama prevailed at a showroom in Sector 22-B when the enforcement staff of the Estate Office tried to demolish cabins erected in violation of rules.
Water tank lying unused for 4 months
People suffer as GMADA, Public Health Dept lock horns
Mohali, August 25
Even as thousands of residents have been suffering due to shortage of water in the summer, water storage tank of 5 lakh gallon capacity has been lying unused for four months following the failure of the Public Health Department to take it over from GMADA.
Shifting of buses after construction of bays
Chandigarh, August 25
The Chandigarh Administration will shift the remaining long route buses from Sector 17 Inter state Bus Terminus (ISBT) to the Sector 43 bus stand only after constructing 15 more bays.
Gita Pustak Mela organised
Chandigarh, August 25
The Gita Prachar Samiti organised a Gita Pustak Mela at Gauriya Math Mandir, Sector-20, Chandigarh, Shiv Mandir, Kharar, Santhan Dharam Mandir, Zirakpur & Morinda Anaj Mandi with enthusiasm, today.
2 more of dacoits' gang held
Chandigarh, August 25
The Chandigarh Police have arrested two more members of the inter-state gang of dacoits and robbers, which was busted on Sunday.
Letters
Right time to sow 'sports culture'


'Our curriculum is based on concepts'
Chandigarh, August 25
"Whichever school you go to, whatever your home background is, we will help you develop your talent. The ladders are steep, but we will provide you many ladders to success and help you climb as high as you can," said Apollos Induchoodan, vice-principal of Yishun Secondary School, Singapore. Apollos is leading a 34-member delegation, which is here under an education exchange programme. Apollos talked to The Tribune about the hallmarks of an ability-driven phase of education and the teaching methodology in Singapore


Apollos Induchoodan
Singapore students visit Rock Garden
Chandigarh, August 25
Students of Yashun Secondary School, Singapore, visited Rock Garden today. A 34-member delegation of the Singapore school, which includes students, teachers and a parent, are in the ciy on an education-exchange programme.
Students from Singapore in a jubilant mood during their visit to Rock Garden, Chandigarh, on Monday. Tribune photo: S Chandan
Advanced diploma in child counselling at home science college
Chandigarh, August 25
To explore the need and significance of family relations and sensitising people to deal effectively with children in different environs, the Government Home Science College, Sector 10, has come out with advanced diploma in Child Guidance and Family Counselling.
Govt to boost education: Sukhbir
Chandigarh, August 25
A sapling-plantation drive was carried out at Panjab University today wherein SAD president and MP Sukhbir Singh Badal, along with vice-chancellor Dr R.C. Sobti, senior university functionaries and students, planted saplings on the campus. State president of the Students' Organisation of India (SOI) Raju Khanna was also present.
PU Notes
2nd counselling for B.Ed on Aug 29
Chandigarh, August 25
Panjab University to hold second counselling for B. Ed courses being offered by the affiliated colleges. The university would be holding second counselling for all eligible candidates for admission to colleges of education (government and Dev Samaj) and Bramhrishi Yoga Training College of Chandigarh for B. Ed (regular) and B. Ed (yoga regular) on August 29, 2008 at 9 am for general pool and at 1 pm for UT pool, respectively, at Law Auditorium, Panjab University, Chandigarh against the vacant seats. The details of available vacant seats for different subject combinations are available on the university's web site.
From Colleges
Seminar on tobacco's harmful effects
Chandigarh, August 25
Government College-46 organised a talk on "Effect of Tobacco on health" in the college campus, here, today. Dr. Vineet from department of psychiatry, PGI, was the keynote speaker.
Punjab DPI fined for not giving info
Chandigarh, August 25
Terming the attitude of the director, public instructions (DPI), Punjab, as "defiant", the Punjab State Information Commission asked it to pay compensation of Rs 5,000 for not furnishing information to a resident of Kharar Om Prakash Aggarwal.