Western Command sends troops to Bihar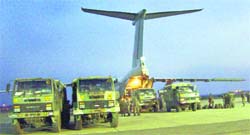 Chandigarh, September 2
The Western Command has deployed eight columns to help with the relief and rescue operations in the flood-ravaged areas of Bihar. Another five columns from here are being moved to Bihar shortly.

Troops and relief material are loaded on to an IAF aircraft at Chandigarh on Tuesday. A Tribune photograph
Fresh hope for knee arthritis patients
Chandigarh, September 2
"Uni-compartment Knee Arthroplasty has brought in a fresh hope of complete recovery for knee arthritis patients," stated Dr Edward Ross Jago, trauma and orthopaedic surgeon, who came here from the United Kingdom to conduct a uni-compartment knee surgery as part of an International Symposium on Oxford Uni-Compartment Knee Replacement today.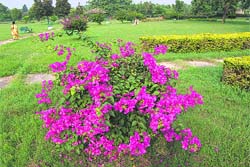 PINK HUE: Bougainvillea brighten up a garden in Sector 2, Chandigarh. Tribune photo: Karam Singh
Hospital holds nutritious cooking competition
Chandigarh, September 2
Fortis Hospital, Mohali today held a nutritious cooking competition, as part of the National Nutrition Week being observed by it from September 1 to 7.
Admn, industrialists at loggerheads
Chandigarh, September 2
The Chandigarh Administration and the industrialists, going in for conversion of plots on less than one acre of land in the Industrial Area, are at loggerhead again.
Visakhapatnam MC delegation visits city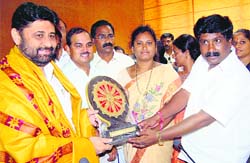 Chandigarh, September 2
To get firsthand information about the functioning of the Chandigarh Municipal Corporation, a 70-member delegation of the Visakhapatnam Municipal Corporation, led by Barala Srinivas, visited the city today.


Municipal Corporation Mayor Pradeep Chabbra presenting a memento to the delegates from Visakhapatnam Municipal Corporation on Tuesday. A Tribune photograph
Mayor visits periphery areas
Chandigarh, September 2
A team of Municipal Corporation (MC) officials, led by Mayor Pardeep Chhabra, today visited Milk Colony, Dhanas, Maloya and Sector 56 to take stock of the development works and hear grievances of the area residents.
UT cop, home guard jawans suspended
Chandigarh, September 2
A Chandigarh Police head constable, Sukhdev Singh, and two home guards Naresh Kumar and Ravinder have been placed under suspension for illegal checking of vehicles at the Housing Board Chowk last night.
Muslims at an iftar party on the first day of Ramzan at Jama Masjid, Sector 20, on Tuesday. Tribune photo: Parvesh Chauhan
PGI teacher awarded by American assn
Chandigarh, September 2
Dr S. K. Singh, professor of urology at PGIMER, received best paper award for research on 'spermatozoal immobilisation factor from staphylococcus aureus: receptor-specific interaction' during 103rd annual conference of American Urological Association (AUA) held at Orlando, Florida, USA, recently.
Mobile phone customers to pay less
Chandigarh, September 2
Coming to the rescue of thousands of customers and the CDMA mobile service providers, the Telecom Regulatory Authority of India (TRAI) has disallowed the GSM operators from charging differential tariffs on calls terminating in the two networks.
P'kula CJM to give report on mining status
Chandigarh, September 2
Taking up a petition seeking probe by an independent agency into illegal mining in the lower Shivaliks, the Punjab and Haryana High Court today appointed Panchkula Chief Judicial Magistrate (CJM) as local commissioner.
Motor claims processing hub opens
Chandigarh, September 2
For expeditious settlement of motor claims for all the motor policyholders of the National Insurance Company, a centralised motor claims processing hub was inaugurated by company general manger A.J. Kulthe, here on Monday.
Drive against encroachers
Chandigarh, September 2
The Chandigarh Municipal Corporation (MC) enforcement department on Tuesday launched an intensive campaign to challan the encroachers in the city.
Kerosene allocation rationalised
Chandigarh, September 2
Following 25 per cent cut in the allocation of kerosene quota by the Government of India to the city, the Chandigarh Administration has decided to rationalise the distribution of kerosene.
Letters
Name the roundabouts


Central status to PU
PUTA meeting today
Chandigarh, September 2
A day after Punjab Government's announcement to withdraw its no-objection letter to union government for granting central status to Panjab University, the teacher fraternity has once again woken up to the new development. While PUTA has decided to call its executives' meeting as well as general body meeting to decide further course of action, academicians did some plain speaking.
PU Notes
Kohli to be honoured at Delhi varsity
Chandigarh, September 2
Prof R. K. Kohli, coordinator, Centre for Environment, Panjab University, has been selected for felicitation during an international conference on 'biodiversity, environment and sustainability challenges for future' to be held on September 4 at Delhi University (North Campus).
PU students demand price limit on food
Chandigarh, September 2
INSO activists led by INSO PU campus president Sukhdev Kundu protested against the hostel problems faced by students on Panjab University campus today. They also protested against the high prices of food items in Students Centre and PU market.
From Schools
Saplings planted at GMSSS-19
Chandigarh, September 2
A sapling plantation drive was undertaken by students of Government Model Senior Secondary School, Sector 19-C, here in association with the Art of Living organisation today. About 500 saplings were distributed and planted by the students.
School grounds unfit for practice
Chandigarh, September 2
Inter-school tournaments have revealed the disappointing side of sports facilities, especially the grounds, in city schools. A visit to the schools is enough to bring about the truth behind the tall claims. Not more than 5 per cent of the schools can claim to have a satisfactory ground apt for one game even.
Star Voice contestant visits MCM
Chandigarh, September 2
Music department of MCM DAV College for Women, Chandigarh, organised an interactive session with Vipul Mehta, Punjab's representative in the Star Voice of India Contest, today.
Admn to honour teachers
Chandigarh, September 2
Chandigarh administration will honour eight teachers with the state award and eight teachers with the commendation certificates at a state-level function on the occasion of Teachers' Day.
NCC cadets donate blood
Chandigarh, September 2
As many as 25 NCC cadets donated blood at a camp organised by the Chandigarh NCC Group Headquarters at College of Engineering and Technology, here today.