Role on
Saassy no more
One can never get over the nitty-gritty saas-bahu issues. But with some latkas and jhatkas from the all too familiar ghar ki tu tu main main, Tuesday saw Krutika Desai, Jayati Bhatia and Manva Naik, the famous telly mom-in-laws, in the city. Ashima Sehajpal talks to the trio about the show Saas Vs Bahu… Kaun Kisse Nachayega and the latest television trends.


"Television just can't get better. We have the best things being aired to entertain audience," says Krutika. Two decades old face of television and theatre, she says, "it is after a long time that I has found something interesting to be a part of television." So how difficult is it to dance?
n Dancing her way…
n Best foot forward
Split wide open: Krutika preferred taking a break to playing saas in a number of soaps. Photo: Pradeep Tewari
On Ganesh Chaturthi, Manpriya Khurana checks out how our generation of podcasters wears piety on its sleeves
Faith as a fad? Gone are the days of our forefathers when religiosity was a personal matter. Flaunting more than following is the new buzzword for Gen Y. For, many of our brand-conscious youth like to wear their beliefs on their sleeves too, rather literally. Take Anjali Soni, a mediaperson, for example.
Photo: Pradeep Tewari
With hostel canteens closing down at 10, PU hostellers have to rustle up ideas to keep hunger at bay after midnight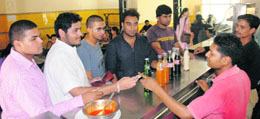 Life means a lazy evening, four friends, mild rain and unlimited cups of coffee. Life means one prep leave, one night, one book and eight duffers. And life means Maggi, a hostel room that is abuzz even at 3.25 am and loads of fun!
CLEAR THE MESS: Hostellers cook up their own fare after the mess shuts. Photo: Pradeep Tewari
The first Monday of every month has been proposed as a no-vehicle day on the PU campus. Neha Walia finds that the student response to this is mixed
The word pollution is not new to us. Nor is traffic congestion. Visit Panjab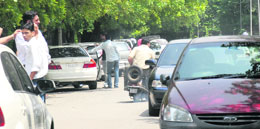 University on any day and the words take on a different meaning altogether. It resembles Delhi's Connaught Place during rush hour. Guys zipping on their bikes and scooters or showing off their SUVs. There are regular jam sessions, no not the musical type, but of the honking type.
Photo: Pradeep Tewari


Heyy Babyy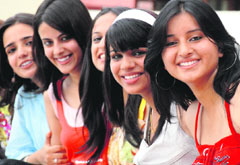 These cool chicks sure believe in grin and wear it . Photo: Pradeep Tewari

What is it about this month that inspires songs and films? Read on…
Brian Hyland makes a pledge to meet in
September and 'seals it with a kiss' in his
1962 song. A year before, Rock Hudson,
in American millionaire Robert L. Talbot's
character, breezes in early for his annual
vacation into a luxurious Italian villa. He
bumps into a group of young American girls
trying to fend off a gang of oversexed boys
in Robert Mulligan directed flick Come
September. Remember Bobby Darin's
Multiplication and the Come September theme?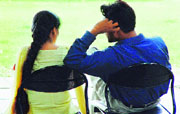 The city is bereft of a good place where couples can sit and cozy up
Not so long ago, Misha saw Prateek in front of Kiran Theatre. They knew instantly…they were meant to be together for the rest of their lives. Glances, smiles and numbers (both landline and residence address) were exchanged. And then came time for the most important question (apart from I LOVE U), which would decide the fate of their 'just beginning' relationship. Let's meet. Ok.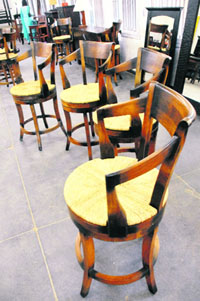 WOODEN EXPRESSION: If you are planning to redo your home decor, Panchayat Bhavan-18 is the place to visit. On display here is exquisite wooden furniture from Jodhpur.
Filmi Fizz
Cheers for coffee
Here's a piece of good news for women who love coffee. A Japanese study has found that women who drink a lot of coffee may have less risk of developing cancer of the uterus.
For Bobby's sake
Actor Bobby Deol says he would've been in a fix if Priyanka Chopra hadn't agreed to play a deglamourised role in his recently released home production Chamku, in which he has an author-backed role.

n Gate to Bollywood
n Hit me baby one more time
n Love caged
KOFFEE BREAK
Herbals, health & a haseen
How do you maintain fitness despite such a hectic work schedule?
Since I have a packed schedule, I take care of myself with homemade remedies and a balanced diet. I think working towards maintaining a healthy body should be a priority for everyone. I try and work out as often as possible; since I am traveling regularly, it becomes difficult to have a daily workout routine, but whenever I hit the gym I do cardio and light weights. I have an athletic body, thanks to years dedicated to badminton. No matter how busy my shooting schedules are, I always keep some quality time aside for my family and friends.