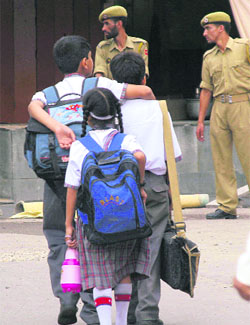 Children on their way to school in Jammu which reopened after over two months. — A Tribune photograph
Accident bridges communal divide
Kuligarh (Kishtwar), September 5
The tragic road accident here, which claimed 23 lives, has bridged the communal divide between the majority and minority communities in Kisthwar, which witnessed riots recently.
Pandits to observe Sept 14 as black day
Jammu, September 5
The Roots in Kashmir (RIK), an organisation of displaced Kashmiri Pandits, has decided to observe September 14 as a black day to pay homage to people who lost their lives during two months of the Jammu agitation. Pandits have been observing September 14 as the Martyrs' Day since 1990.
Teacher's Day celebrated
Jammu, September 5
Though Teacher's Day was today celebrated with great zeal in various schools across the city, some private schools celebrated the event for a few hours, devoting more time to studies, to help students complete their remaining syllabus.
Children's trip flagged off
Udhampur, September 5
The Army is undertaking a trip for the children of Suru - Zanskar Valley, Ladakh, studying in Army Goodwill Schools, to various places in Jammu and Kashmir, Himachal Pradesh and Chandigarh.
Conduct judicial inquiry into Kishtwar riots: Panthers
Jammu, September 5
Chairman of the Jammu and Kashmir National Panthers Party, Bhim Singh, today urged Governor N.N. Vohra to institute a judicial inquiry by a high court judge to look into the Kishtwar riots of August 12.
Custodial Disappearance
Army told to produce colonel
Srinagar, September 5
The Jammu and Kashmir High Court has directed the defence authorities to produce a colonel, allegedly involved in the custodial disappearance of a person in 2002 in Kashmir, within two weeks.
Rain dips mercury
Srinagar, September 5
A drizzle brought down the temperature in Srinagar by several degrees, giving the residents the first feel of impending winter.
Moderate quake
Srinagar, September 5
A moderate earthquake sent people scurrying outside their homes and offices today in the valley. Its intensity on the Richter scale has been measured at 5.5, but it did not cause any damage here as its epicentre was hundreds of kilometre away on the Pak-Afghan border.
Jammu division cops transferred
Srinagar, September 5
A number of senior police officers serving in Jammu division were transferred today. Udhampur SSP Ashkour Ahmad Wani has been sent to the STC, Talwara, as its principal while Surinder Kumar Gupta would replace him as Udhampur SSP. Gupta is presently serving as Ramban SSP.
Banks struggle to clear cheques
Jammu, September 5
Due to two-month-long agitation over the Amarnath land row, all banks in the district are now facing an extra burden, as the number of cheques for clearance have almost doubled.
JU students may get open choice in exams
Jammu, September 5
Jammu University (JU) has reportedly given open choice to its students appearing in various postgraduate and professional examinations. Although the JU authorities have not come out with any official statement, official sources have confirmed the reports.
Jammu hotels association asks for relief package
Jammu, September 5
The All-Jammu Hotels and Lodges Association today demanded that all the packages of relief, rehabilitation and incentives for reviving tourism related trade in the Kashmir valley be extended to Jammu also.
3 dead, 18 hurt in road mishaps
Srinagar, September 5
Three persons died and 18 others were injured in different road accidents in the Kashmir valley today.
Problem in grid station affects power supply
Rajouri, September 5
Some technical problem in Gladni Grid Station has affected the power supply to Rajouri and Poonch districts.