Hosiery industry feels Singur heat
Ludhiana, September 6
After being severely hit due to lack of demand from Jammu and Kashmir this year, Ludhiana's hosiery industry is now making attempts to bear the shock of reduced orders from West Bengal, another important market, post-Singur problem.
Guru Nanak stadium gets back power
Ludhiana, September 6
After remaining in the dark for almost eight months, the electricity supply to Guru Nanak stadium has finally been restored here today.
BSNL to do away with poles
Ludhiana, September 6
In its initiative to provide better services to its landline subscribers Bharat Sanchar Nigam Limited (BSNL) would be covering the entire city under the pole less service. Though, a few areas have been covered under this project but it would still take another two-three years to provide this service to the entire city.
Amarinder gets nod to visit UK
Ludhiana, September 6
Sessions Judge G K Rai today granted permission to former Chief Minister Captain Amarinder Singh, accused in the alleged multi-crore City Centre Scam, to go abroad for three weeks from September 10.
Two held with 6 kg heroin
Ludhiana, September 6
A team of the Directorate of Revenue Intelligence arrested two heroin smugglers with six kilogramme of the banned substance, reliable sources said here today.
Sena leader, 2 others booked
Ludhiana, September 6
The police has booked Shiv Sena (Vidyarthi Sena) Punjab president Suraj Ahluwalia, his gunman Shimmi Kumar and Happy, a taxi stand owner, in connection with the murder of taxi driver Kamaljeet Singh, who was shot dead from a point blank range in the Neelkanth Taxi Stand office situated in Upkar Nagar last night.


Residents oppose move to shift bus stand
Mandi Ahmedgarh, September 6
Residents of Mandi Ahmedgarh and its surrounding villages have opposed the move to shift the local bus stand near the Ludhiana-Malerkotla highway as announced by the transport minister.
Garbage dumps dot ward No. 1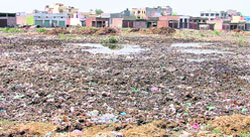 Ludhiana, September 6
When one talks about ward no. 1 in the city, the first thing that strikes mind is two garbage dumps emitting foul smell. The sites have become the new identity of the area.



Dumpyard at Dana Mandi in Ludhiana. Tribune photo: Inderjeet Verma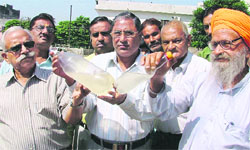 Residents getting unsafe water
Ludhiana, September 6
Need for potable water, which is suppose to be a lifeline, seems to have taken a backseat in ward Nos. 29 and 30 as residents had been getting contaminated water for the past three days.

Residents of ward Nos. 29 and 30, Ludhiana, show filthy water. A Tribune photograph



Poets from North descend on city
Ludhiana, September 6
Poets from Jammu and Kashmir, Himachal Pradesh, Delhi, Rajasthan and Haryana gathered at Punjabi Bhawan to take part in the two-day poetry recitation festival. The event was jointly organised by the Sahit Akademi, New Delhi, and Punjabi Sahit Akademy, Ludhiana. Sukrita Pal Kumar, a poet (English) from Delhi University, was unable to hide her excitement as she said, "It is a bonanza to meet contemporary poets, listen to their latest creations and recite mine."


Vijaya Thakur,
Sukrita Pal Kumar
Rs 18.17 cr for upgrading road
Jagroan, September 6
The SAD-BJP coalition government has paved the way for the upgradition of major road networks with the inauguration of the Humbran-Sidhwan Bet Road by Sharanjit Singh Dhillon, MP, Darshan Singh Shivalik, MLA, and Manpreet Singh Ayali, Zila Parishad chairman. This the first among 11 roads identified for upgradition at the cost of Rs 110.30 crore. The Humbran-Sidhwan Bet Road will be upgraded at the cost of Rs 18.17 crore.
SDO, two others suspended
Khamano, September 6
Major Singh Sandhu,SDO (Bhari) along with two other officials of the electricity Board has been suspended. An inquiry has been ordered against the three for misusing their official position.
Road construction begins
Ludhiana, September 6
Mayor Hakam Singh Giaspura inaugurated road construction work at Kartar Nagar, Atam Nagar Extension and New Kartar Nagar here on Thursday.
Workshop on cardio-thoracic nursing ends
Ludhiana, September 6
A six-day workshop on "Cardio-Thoracic Nursing" concluded today at Dumra auditorium, Dayanand Medical College and Hospital, Ludhiana. Jasbir Kaur, principal, College of Nursing, emphasised on development of efficient communication skills by nursing staff to enhance therapeutic touch with patients.


Reduced credit flow not good: Sharma
Ludhiana, September 6
Expressing concern over the reduced credit flow, the local industry has urged the government to ensure sufficient credit for small and medium enterprises at reduced interest rates.
Samita Munjal's art exhibition from Sept 12
Ludhiana, September 6
Although known as a city of traders and industrialists people here are gradually developing the taste for art. Paintings today have become the most recognised forms of artistic expressions.
Chanderi collection in city
Ludhiana, September 6
Ludhianvis have a different taste when it comes to clothing and they always keep trying something new and innovative. To add some more variety to the wardrobes of the city's young brigade, Fabindia today launched a new range of chanderi silk. The range of clothing is a result of traditional methods of sizing and hand weaving of the fabric that have been perfected over the centuries and passed down through generations in Madhya Pradesh.
PNB officers seek ban on outsourcing
Ludhiana, September 6
The Punjab National Bank Officers Association has sought a ban on outsourcing of banking services. At a meeting of the association held here today, members said the outsourcing of the banking services was affecting employment opportunities in the banks. Roshan Lal Arya, president, raised demands like compassionate employment, wage revision and regulated working hours for the officers in the banking industry.