Kashmir Valley peaceful
Protests in Anantnag
Srinagar, September 10
Barring protest demonstrations in Anantnag, the overall situation in the Kashmir valley remained peaceful today. No untoward incident was reported and shops, business establishments, schools, colleges and government offices, functioned as usual, an official spokesman said.
Kashmir: Omar welcomes Zardari's remarks
Srinagar, September 10
NC president Omar Abdullah has welcomed the statement of Pakistan President Asif Ali Zardari that some positive major developments would take place about Kashmir before the parliamentary elections in India.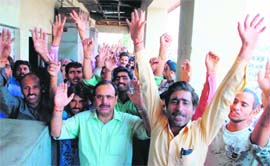 Employees of the Public Health Engineering Department hold a demonstration in support of their demands in Jammu on Wednesday. Tribune photo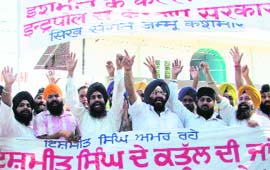 Members of various Sikh organisations plead for Interpol investigation into the death of Ishmeet Singh during a demonstration in Jammu on Wednesday. Tribune photo
A vendor ferries flowers in Srinagar's Dal Lake on Wednesday. Tribune photo: Mohd Amin War
State does well on all fronts
Srinagar, September 10
Focused attention has led to commendable progress in almost all sectors in the state during recent years. An official spokesman said today that during the last financial year, an annual plan for the state was approved at Rs 4,850 crore, which included a revenue component of Rs 88.35 crore and a capital component of Rs 3966.59 crore.
Independent new LAHDC chief
Srinagar, September 10
An Independent councillor from Yourbaltak constituency, Kachoo Ahmad Ali Khan, has been elected chairman of the Ladakh Autonomous Hill Development Council (LAHDC), Kargil, an official spokesman said here today.
Environment fest kicks off at Leh today
Srinagar, September 10
With a focus on climate change, the 'Third CMS Vatavaran-2008-Environment and Wildlife Festival' would begin at Leh tomorrow. The three-day event is a joint affair between the CMS World Wide Fund for Nature, India and the Department of Wildlife Protection of Jammu and Kashmir.
Doda civilian falls prey to Hizbul ultras
Jammu, September 10
Two unidentified militants of the Hizbul Mujaheedin gunned down a civilian at his house in Doda district, official sources said here today.
Schools in sorry state
Jammu, September 10
Think of government schools in Jammu and images of cracked walls, crowded rooms and open-air classrooms come to the mind. More so, the authorities concerned seem to have turned a blind eye towards the infrastructure maintenance of the schools.
Efforts to clear mail backlog
Jammu, September 10
Postal officials have started clearing mailbags that had piled up in Jammu during the two-month-long shutdown over the land row. Deepak Budki, postmaster-general of Jammu and Kashmir circle, said it might take another week or so to clear the unsorted mail.
15 JU dons part of Big Bang
Jammu, September 10
With people across the globe glued to their television sets watching re-enactment of the Big Bang Theory on a smaller-scale to unravel the mysteries of the universe, Jammu University (JU) has the pride of contributing its bit in the largest man-made experiment.
PoK migrants' appeal
Jammu, September 10
Expressing concern over the government's move to open cross-border trade corridors with Pakistan in the state, SOS International, a representative body of migrants from Pakistan-occupied Kashmir (PoK), has alleged the former's move was contradictory of India's constitutional claim over the territory occupied by the Pakistani army.
'Assess' crop losses
Udhampur, September 10
Tariq Bhat, president of the Reasi district unit of the National Conference, today asked the state government to conduct a survey to assess the losses of farmers whose crops have been damaged in the recent hailstorm and rain.