Groom glamour
A potli full of wedding accessories awaits the city's grooms-to-be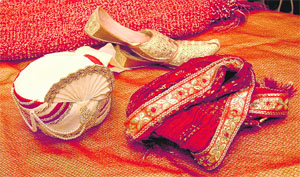 She gets ready to walk the aisle, looking as pretty as an angel. And well, the man of her dreams leaves no stone unturned either. He too wants to look his best, a Knight in Shining Armour. After all, it's the day the both have been waiting for. So, here he goes — the best designer sherwani, a silk pagdi with a kalgi, smart juttis, a small potli and there he is The dulha is ready. And, he looks so charming.
My big fat thin wedding

On a fitness trail since she got engaged. Wants to fit into size S and flaunt her body beautiful. To gym till 'the wed', this is the story of the modern-day girl, who wants to be her fittest best for D-day. And what of the figure post-wedding, ah well that's another story. We speak to some modern-day brides-to-be on taking to the gym before marriage and they are all for shaping up.
Koffee break
Twenty twenty
At 20, Adah, makes her debut with Vikram Bhatt's 1920. A charmer, an irresistible mix of the girl-next-door and blue-eyed sexy siren, she is all set to kick-start a career in Hindi films with a period suspense drama - 1920. Having mastered the art of dance and theatre, Adah is a Kathak graduate and believes a well-planned career ensures success for a debutant actor. And on the eve of her debut release, she talks to us about her first release.
Sarkar & Raj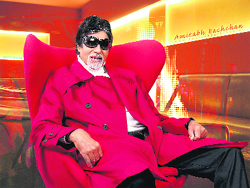 BOLLYWOOD ka badshah Amitabh Bachchan apologised for his wife Jaya Bachchan's remarks that were deemed anti-Maharashtrian by some political parties. He said that they were ready for any punishment if found guilty. "I do not think we have said or done anything negative but we will leave it to the State," he said in a news conference in Mumbai. "We will wait for the investigation report and I am prepared to go to jail if I have committed a crime. If after our apology the matter still persists it becomes a problem of law and order, it is for the administration to take care," Bachchan said.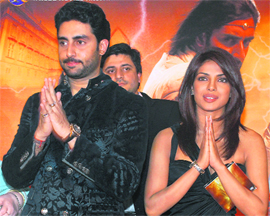 Bollywood actors Abhishek Bachchan (L) and Priyanka Chopra gesture after unveiling the music of their forthcoming movie Drona in Mumbai. The Goldie Behl-directed film features Jaya Bachchan too. Photo: Reuters

Rocking the ramp
DESIGNER Rocky S showcased his signature collection at a fashion show in Mumbai on Tuesday. The show was the last leg of eight-city round for Seagram's Blender's Pride party tour 2008. The venue was a plush hotel in Mumbai. The concept of the show was to relate fashion with party. Ramp scorchers like Carol Gracious, Candie Pinto, Bhawna Sharma and Lisa Haydon set the ramp on fire donning sheer black outfit form.
Johnny's Rango call
Actor Johnny Depp is set to reunite with the Pirates of the Caribbean director Gore Verbinski on his upcoming animated flick Rango, which is about a household pet that goes on an adventure to discover its true self, and Depp will be lending his voice to the lead character.
| | |
| --- | --- |
| | Vansh Bhardwaj and Preity Zinta during the Heaven on Earth news conference at the 33rd Toronto International Film Festival. Photo: Reuter |
Tale piece
JLo as judge
LATINO beauty Jennifer Lopez might appear as a celebrity guest judge in Project Runway's finale. According to the sources, the 39 year old star will join the ranks of guest judges such as pal Victoria Beckham, Natalie Portman and Brooke Shields, who have all weighed in on the runway looks of the show's top designers.
Room with a view
All you need is a little aesthetic sense and patience to look around for the right décor items
If you have the flair and know-how, great style doesn't always come with a price tag. So, those of you out there who have a limited budget and even more limited time, but the wish to live in style, need not worry. This philosophy is applicable to home décor as well.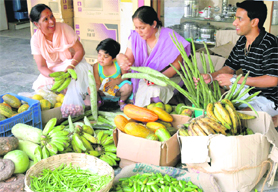 Banana (Re)public: The onset of Onam festival on Thursday had city folks making their pick of vegetables for a feast Lifestyle photo: Manoj Mahajan

Talent story 2008
Harry Baweja unwinds by promoting young artistes
His Love Story 2050 did not do well at the BO. But then Harry Baweja has no regrets. He simply wanted to make a sci-fi flick and launch his son, Harman Baweja. He did both.
Side Lanes
History engraved in stone
History is found in various places, books, nooks and a family's memorabilia stored in overflowing tin trunks. The veracity of facts found in letters, photographs, old bills and official correspondence, is based on the perspectives of people who dealt with the events mentioned therein.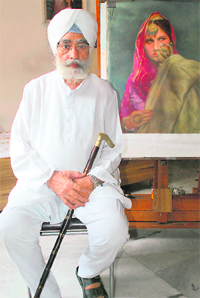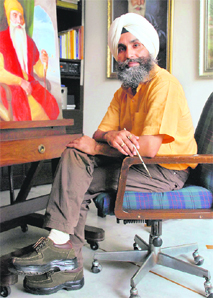 For Meher Singh (L) and R.M.Singh (R) making portraits is fascinating subject and rewarding too.

Object
D'ART
Portrait passion
When we met Kalawati a couple of years ago, she was on the verge of retiring from her modeling job at the Government College of Art. Looking at her weather-beaten, frail body, one could see why. Posing for hours without moving a muscle for all those budding artists year after year was taking its toll on her. Now, we learn that she is officially retired, giving way to the younger lot but her association with the college does not end here.
Going Global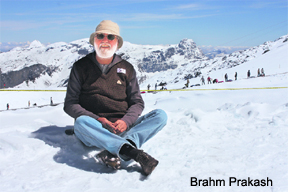 Call it the corporatisation of art or simply a trend; the traditional art workshops have undergone a total metamorphosis. No more three-day or seven-day camps where a handful of artists from the similar genre of art meet to execute a few paintings during the stipulated time. Organisers have changed from familiar Academies to big business houses, even entertainment companies. And locales have shifted from Kasauli or Kufri to Hong Kong, Russia, Mexico or Switzerland.
Rising STAR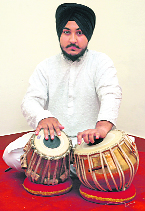 Rhythm unlimited
What makes Indian music superior to others is its poly-rhythmical nature which is perfect for playing complicated cross rhythms," feels tabla exponent Gurjinder Singh. But at the same time, it is an arduous job. Playing tabla means mastering those intricate nuances of classical notes, which is one of the reasons why not too many youngsters are coming forward to learn it. But this 22-year-old is different. For him it was a tribute to his late father and guru Karnail Singh. As a student Gurjinder had won several prizes but driven by the urge Ye dil maange more he wanted to do better. "I was lucky enough to be taught by Sushil Kumar Jain, the maestro of Punjab Gharana," says Gurjinder.