MC Meeting
Green issues top house agenda
Jalandhar, September 16
The municipal corporation officials may soon be able to handle two major environment issues in the city with ease but only if the councillors stand united in support of the cause in the forthcoming house meeting.
Get ready for a wider, cleaner Model Town
Jalandhar, September 16
Municipal corporation officials are all set to change the face of the Model Town market within 10 days. The roads of the posh market of the city that currently wears a congested look will soon be made to look wider with the encroachments getting removed and a few lanes opened to one-way traffic.
Young World
Crowning glory: Apeejay students are declamation champs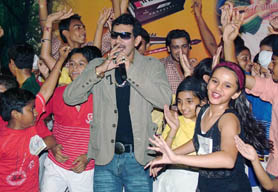 Jalandhar, September 16
A Sahodya inter-school English declamation contest was held at Police DAV Public School on September 16. As many as 26 teams participated in the competition in which the students spoke on current topics concerning our country. Vanita Singh from Police DAV Public School stood first, while Parneet Kaur of CT Public School stood second. The overall trophy went to Apeejay School.
Indi-pop singer Shanker Sahni enthralls students of St Soldier School in Jalandhar. Photo: S.S. Chopra

Pak suits catch city women's fancy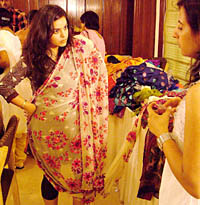 Jalandhar, September 16
To celebrate the richness of Pakistani culture and portray contemporary and traditional range of the country, Hina Anjum from Hina Creations put up a three-day exhibition of Pakistani suits, designer salwars, dupattas, sarees, rozi, screen printing, designer collection, silver jewellery at Orchid, Hotel Radisson Windsor, from September 14 to 16. Hina said the Pakistani suits had been designed keeping in mind the richness of the Indian taste. "The suits range from simple to highly ornamental," she informed.

The three-day exhibition was put up by Pakistan designer Hina Anjum. — A Tribune photograph

Day in, night out
Catwalk queen Naomi Capmbell, who has started community service in a soup kitchen after her assault on police personnel, worked hard during the day but partied at night with boyfriend, Russian tycoon Vladimir Doronin.
Cong recruitment drive
Jalandhar, September 16
Youth Congress chief Vijay Inder Singla flagged off vehicles highlighting the achievements of the Congress, besides appealing to the youngsters to join the party to help build a stronger nation.