Army athletics championship from Sept 24
Bathinda, September 19
The Chetak Corps would be hosting the South Western Command Athletics Championship from September 24 to September 27. Eight teams from various formations of the Chetak Corps would be participating in the grand meet. The championship would conduct track and field events, walk events and decathlon.
Ban on pressure horn takes a blow in Bathinda
Bathinda, September 19
Despite a ban on the use of pressure horns for bus and truck operators in the vicinity of the corporation limits and defying the Supreme Court orders, the drivers continue to flout the norms leading to near deafness to the pedestrians and causing irreparable physical ailment.
Section 144 imposed in district
Bathinda, September 19
To maintain law and order, additional district magistrate Upjeet Singh Brar has imposed section 144 of the CrPC in the district from September 18 to November 11.

Taking AWWA to new heights
Bathinda, September 19
Aasha, Wishwas, Aastha is how the Army Wives Welfare Association (AWWA) terms itself and Rashmi Sujlana, president, Chetak AWWA, has added much more to it.

Rashmi Sujlana

Applications invited for free vocational training
Bathinda, September 19
The Punjab Government is providing free vocational training in computer hardware, electrician, welder and plumber courses at Baba Farid ITC, Kotshamir in Bathinda district.
BSNL to launch phone-based cable TV
Bathinda, September 19
Vexed with frequent increase in cable TV charges, poor transmission and power cuts? Bid adieu to all those problems. The Bharat Sanchar Nigam Limited (BSNL) is trying to come out with a new facility for its fixed phone services by entering the cable TV business in Punjab. The company will first try out its phone-based cable TV venture in Punjab by this year-end.
Teachers not interested in English certificate exam
Fazilka, September 19
The education department plan, under its Sarv Shiksha Abhiyan (SSA), to conduct examinations for the 'Certificate in Teaching of English' correspondence course of the Indira Gandhi Open National University (IGNOU) appears to be a failure.
Blood donations, contests mark Baba Farid's 'Aagman Purb'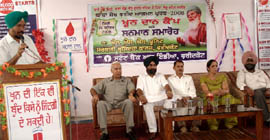 Faridkot/Bathinda, September 19
Devotional recitations marked inauguration of the five-day Baba Sheikh Farid Aagman Purb at the Gurdwara Tilla Baba Farid in Faridkot today.

Deputy commissioner V.K. Meena and other prominent persons participating in the inaugural ceremony of Baba Farid centenary celebrations in Faridkot on Friday. — A Tribune photograph

SAD to establish Dalit fronts in state, organise conferences
Ferozepur, September 19
With an eye on the forthcoming Lok Sabha elections, the SAD in an apparent attempt to woo the traditional Congress vote bank comprising Dalits and SCs, has decided to organise Dalit Sammelans and establish Dalit Fronts in all districts of the state.
SGPC nips 'mischief' in the bud
Abohar, September 19
The timely action taken by the Shiromani Gurdwara Prabandhak Committee (SGPC) helped the local authorities today in foiling the bid by some persons to exploit the sentiments of the Sikh community over demolition of a room while taking physical possession of the 3-km stretch owned by the state government.
'Mushroom cultivation can be a viable venture'
Bathinda, September 19
Mushroom cultivation could be adopted as a main occupation as it is a popular subsidiary and income-generating venture. While stating this Vikas Mehta, owner of Vikas Mushroom Farms, Solan, says at present about 400 farmers of Punjab are growing mushrooms in the state by adopting a technology standardised and recommended by the National Research Centre for Mushroom, Solan and at Punjab Agriculture University (PAU), Ludhiana.
Pass facility in pvt buses demanded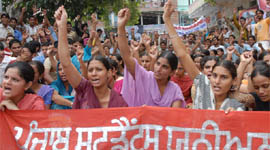 Bathinda, September 19
Students of several colleges today took out a procession to pay tributes to Shaheed Bhagat Singh. The march started at 11 am and culminated after hours at the Arya Samaj chowk here. Students of Rajindra College, ITI Regional Centre, Polytechnic College and Malwa College took part in the procession.
Students under the banner of the Punjab Students Union protesting in favour of their demands in Bathinda on Friday. — Tribune photo by Malkiat Singh

How fresh is mid-day meal?
Fazilka, September 19
How fresh is the mid-day meal? This question haunts the minds of the tiny tots, who get the meal, and their guardians.
Camps to assess special needs of children
Barnala, September 19
To assess the special needs of children belonging to 0-14 years age-group, assessment camps would be organised in the district. This camp would be held as per the directions issued by Krishan Kumar, director general, school education-cum-project director, Sarv Sikhya Abhiyan, Punjab. 
Cops of 3 states meet
Abohar, September 19
Senior officials of the Rajasthan police regretted that the Punjab police was not taking due cognisance of the bodies and the same reached the tail-ends floating unchecked in the canals of this sub-division. This continued to increase the burden of fishing out and disposing of the unclaimed bodies besides maintaining a record of identity proof on the police in Sriganganagar and Hanumangarh districts.
One killed in road mishap
Barnala, September 19
One person was killed while five others sustained injuries, two of them seriously, in a road mishap at village Mehalkalan today.