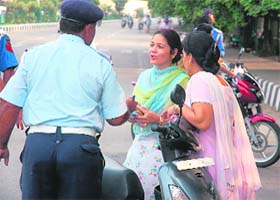 A policeman fines two women drivers for violating traffic norms in Jammu on Friday. Tribune photo: Anand Sharma
BJP blames NC, PDP for Jammu ills
Jammu, September 19
The state BJP's top brass today held the "mainstream" political parties responsible for all ills plaguing the Jammu region and its people.
Thrust on irrigation facilities
Srinagar, September 19
In order to upgrade and increase irrigation facilities in the state a considerable thrust has been given to boost up this sector for which various projects have been launched in the state.
Schools short of teachers
Jammu, September 19
Most government schools in Jammu are facing a shortage of teachers. For instance, in Government Ranbir Higher Secondary School, the student-teacher ratio is 80:1. For 4,000 students there are only 50 teachers in the school.
Ban on SMS continues
Jammu, September 19
While it is now over a fortnight since normalcy returned to Jammu, the ban on SMS imposed by the Supreme Court in the wake of the Amarnath land row in the first week of August, continues to remain in force.
Nod awaited for more battalions
Jammu, September 19
The state government is yet to give its nod to the plan of raising five additional battalions of police in Jammu and Kashmir. The matter has been pending for the last five months. The official sources today said the Centre had sanctioned raising of five additional police battalions five months ago.
Cong caused delay in rail line: BJP
Jammu, September 19
The BJP has alleged that uncertainty over the Udhampur-Katra-Qazigund railway line was another instance of the Congress government surrendering to subversive persons and militants.
BJP 'making' false charges
Jammu, September 19
Taking strong exception to the utterances of BJP leaders Chaman Lal Gupta and Ashok Khajuria, the NC has accused the saffron brigade of dividing the Jammu and Kashmir regions during the gitation over the Amarnath land row.
Poor BSNL services rued
Jammu, September 19
The services of Bharat Sanchar Nigam Limited (BSNL) are causing great inconvenience to its customer base in the region.
No clue to theft of artefacts
Jammu, September 19
Despite the lapse of five months, the police and the Archeological Survey of India (ASI) are still clueless over the theft of some precious artifacts from an ancient Shiva Temple in Baramulla district on April 17.
Forward post fired upon
Jammu, September 19
An Indian forward post was fired upon from across the border in Poonch district of the state. "There was firing from the Pakistan side across the LoC on our forward post at Copra in the Sabzian sub-sector of Poonch district last night", a senior Army officer said. However, no loss of life or injury to anyone was reported.
Army search for militants
Rajouri, September 19
The army's search-and-destroy operation, following reports of four militants roaming around in the forest area of Lerya near Sunderbani, came to an end without any success today. The operation which started last evening continued today as well.
Deputy SPs transferred
Srinagar, September 19
DGP Kuldeep Khoda today ordered the transfers and postings of officers with immediate effect. Deputy superintendent of police (OPS), Srinagar, Sheikh Zulfikar Azad, has been transferred and posted as SDPO, Kothibagh, against an available vacancy.
Govt to rehabilitate child labourers
Jammu, September 19
The children, who do not have a roof over their head, will soon get a shelter to call their own, as the Department of Labour would soon be launching a scheme under the National Child Labour Project (NCLP) to rehabilitate the homeless child labourers.
2012 Committees formed for effective PDS
Srinagar, September 19
In order to keep a check on the misuse and black marketing of Public Distribution Supplies (PDS), the state government has constituted 2012 vigilance committees in the state.
Hajis to depart on Oct 30
Srinagar, September 19
The departure of intending annual Haj pilgrims from the state would commence on October 30 and conclude on December 2, divisional commissioner, Kashmir, Masaud Samoon, said addressing a meeting at Haj House in Bemina.
Accountant held for graft
Srinagar, September 19
The state vigilance organisation (VO) today caught an accountant red-handed, while demanding and accepting a bribe of Rs 8,000, for the release of land compensation.
Government wheat seized
Rajouri, September 19
The police seized 20 quintals of wheat grain belonging to the consumer affairs and public distribution (CAPD) department from a private truck in Nowshera area today.
2 held with 50 kg poppy
Jammu, September 19
Two persons were arrested and 50 kg poppy straw was recovered from their possession at Sapwal under the jurisdiction of the Samba police station today.
Beating of students
FIR lodged against teacher
Rajouri, September 19
The police has registered an FIR against Vinod Gupta posted in Government Higher Secondary School (Boys) for allegedly beating up two of his students, Javed and Asraeel, for not doing home work, a senior police officer said.