Comfort mode to risk road
What's the one thing that you expect from a job-a handsome salary, comfortable working ambience, an inspiring boss, and the most important, job security. There are people who like to stick to such a set-up for ages, out of a fear of displacement or loss of comfort.
Mad…rush
The Mad Men and women grabbed not only the top Emmy but eyeballs too. The Nokia Theatre in Los Angeles, the venue of the 60th annual Primetime Emmy Awards, considered television's equivalent of the Oscars, was a star-studded spectacle on Sunday night.
| | |
| --- | --- |
| | |
| Designs, dazzle and divas: Actresses Maggie Siff, January Jones, Elisabeth Moss and Christina Hendricks (L-R) from Mad Men pose backstage after the show won the outstanding drama series award | HANDSOME TWOSOME: Actors John Slattery (L) and Jon Hamm from Mad Men pose make a classic style statement in black. |
| | | |
| --- | --- | --- |
| | | |
| PRETTY PLUM: Actress Brooke Shields, star of Lipstick Jungle, is all fuschia and frills | PURPLE HAZE: Anya Monzikova arrives for the Emmy Awards afterparty in a flowing evening gown | STYLE REDEFINED: Executive producer Tom Hanks accepts the award for the outstanding mini-series, John Adams. |
Brides beauties & blends
The chic chicks may love to sport western attire and boys may go for ultra low-waist jeans and cool tees to make for a high style quotient, but when it comes to marriages ethnic wear scores a high.


Beyond bluetooth
You have just got a mobile phone that makes you proud -- amazing voice clarity, mind- boggling picture precision and just a wee bit thicker than the sim card. But hold on. That's not what Aamir Khan is promoting these days and it looks older than what your niece just imported from America.


Gaurav Gupta, Vaibhav, Prabhjot and Akshay
— Photo: Manoj Mahajan
Second Thoughts
Like it was easy to keep up with the blink-and-miss like change in fashion, now another esential for being a part of the 'with-it' generation is running in the fast lane. Well, we are talking about the latest, coolest and flashiest gizmos. Flaunting the newbies in the gadget market surely adds a star or two to our status.


Shore enough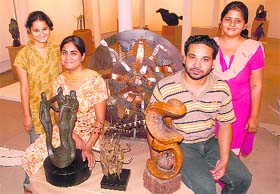 Sculptors — Paraminder Singh, Bhumika Sharma, Mamta Bisht and Anjali Sharma — join hands under the banner 4Shores to sculpt an island at Government Museum and Art Gallery-10 on Monday. Lifestyle photo: Vinay Malik
High 5
The popularity of gadgets has spawned a huge industry, resulting in introduction of new gadgets every day. With so much to choose from, it can be really hard to decide which one is important and which one is not. Gadgets have different uses for different people.
Tête-à-têa
No more a mechanised routine, ingestion is an indulgence worth spending. And having come over the atypical call of ek gram chai ki pyaali ho jaye, the latest to join the food couture is our very humble tea. Though sidelined for a while by its more contemporary sibling coffee, tea is back in a new avtaar and in a complete makeover.