Visits school at Bassi Pathana
Bassi Pathana/ Sirhind, September 22
On the first day of his tour to the state, AICC general secretary Rahul Gandhi today visited Bassi Public School at Bassi Pathana and interacted with children.
4 gamblers booked for beating up scribes
Rajpura, September 22
The police today booked four gamblers for beating up scribes of some language and electronic channels. The scribes had gone to take stock of the gambling going on in some parts of the city in the alleged connivance of some influential people of the area.
Unbundling of PSEB opposed
Patiala, September 22
Council of Junior Engineers of PSEB has opposed the state government's proposed move to unbundle the board, and threatened to go on lightning strike in case the government went ahead with the move.
Traffic diverted, commuters harassed
Kharar/ Morinda, September 22
The maiden visit of AICC general secretary Rahul Gandhi to the area left commuters harassed and Congress workers asking for more.
1 held with fake notes worth Rs 3.7 lakh
Kharar, September 22
Rajwinder Singh, alias Titu, a resident of Ghumman Nagar, in Patiala was held today with Rs 3.70 lakh counterfeit currency near Sante Majra village on the Kharar-Banur road. This is a record seizure of fake currency in this part of the region.


Fake gallantry certificates for admissions
High Court summons applications and documents
Chandigarh, September 22
Taking cognizance of the controversy generated over some armed forces personnel submitting false certificates to gain admission for their wards in engineering colleges under the gallantry awards quota, the Punjab and Haryana High Court has summoned the admission records.
Issue of graft in judiciary appalling: Chatterjee
Chandigarh, September 22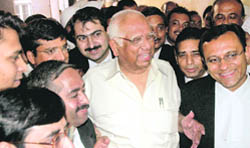 The cash at judge's doorstep case has left Lok Sabha speaker Somnanth Chatterjee agonised. Describing it as a "tragedy", the Speaker today said he was in "great agony" over the recent developments.


Lok Sabha Speaker Somnath Chatterjee with the Punjab and Haryana High Court Bar Association members in Chandigarh on Monday. Tribune photo: Manoj Mahajan
Show-cause notice to newspaper
Chandigarh, September 22
Issuing notice to Prem Kumar Gupta, who runs a local newspaper Bhrashttantra, the Punjab and Haryana High Court today asked him to show cause why contempt proceedings be not initiated against him for allegedly "lowering the authority of the judicial setup".
ICICI Bank, Lombard told to pay Rs 50,000
Chandigarh, September 22
Holding ICICI Bank and ICICI Lombard General Insurance guilty of unfair trade practice, the District Consumer Disputes Redressal Forum has directed them to pay a sum of Rs 50,000 to a resident of Darua.
Bail denied to 2 financiers
Chandigarh, September 22
Additional district and sessions judge R.S. Attri has declined the anticipatory bail of financiers Sant Kumar and Hari Krishan keeping in view the "seriousness of their crime." An FIR was registered against them 28 days back by city residents, who accused them of committing forgery.


4 cyber cafe owners held
Chandigarh, September 22
The police has arrested four persons running cyber cafes from various parts of the city on the charges of not maintaining registers of Internet users at their cafes.
Man held with stolen car
Chandigarh, September 22
With the arrest of 25-year-old Sandeep Kumar, a Sector-23 resident, the local police today claimed to have worked out two cases of theft and recovered a stolen Maruti car and two motorcycles .
Tantrik dupes woman of Rs 16,000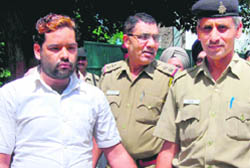 Chandigarh, September 22
The police arrested a tantrik (faith healer) on the charges of duping a woman of Rs 16,000 on the pretext of eliminating obstacles in her marriage with his occult powers.





Tantrik Sartaj, co-accused in the case of duping a woman, being taken by the police at the Sector 22 police post in Chandigarh on Monday. A Tribune photo
Man found hanging from tree
Chandigarh, September 22
A 22-year-old man found hanging from a tree in phase I, Industrial Area, here, this morning. Though no suicide note was found, the police ruled out any foul play behind the death, terming it a suicide case.


Kabaddi match charms him
Mohali, September 22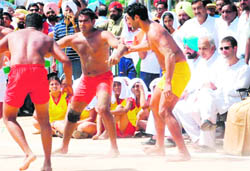 A popular rural sport, kabaddi, fascinated Rahul Gandhi, a scion of the Nehru-Gandhi family, who was in the city to launch a campaign to boost Youth Congress' membership drive in the state.




Readying for political kabaddi: Rahul Gandhi watches a kabaddi match in Mohali on Monday, the first day of his three-day tour of Punjab. Tribune photo:Vicky Gharu
Saurav Ganguly fails to impress crowd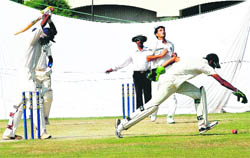 Chandigarh, September 22
With his average knock of 33 runs in 59 balls and two wickets for 38, Saurav Ganguly could not live up to the expectations of the local crowd as well as his LIC team.





Ganguly gestures after throwing a no-ball delivery at PCA Stadium, Mohali, on Monday. A Tribune photo
Navika-Mehak win b'minton title
Chandigarh, September 22
Second seed Navika and Mehak Sood proved a better combination as they upset top-seed pair of Rahsmi and Shreya by 21-12, 21-13 in the girls under-16 doubles final of the 20th Yonex Chandigarh State Badminton Championship being conducted by the Chandigarh Badminton Club under the patronage of the Chandigarh Badminton Association at the Sector 42 Badminton Hall here today.
Chandigarh XI shock J&K Police by 5-1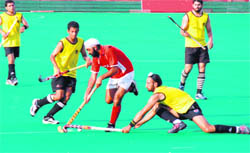 Chandigarh, September 22
Showing scintillating performance hosts Chandigarh XI made it a one-sided match and thrashed J and K Police by 5-1 on the second day of the 38th S.N. Vohra's Gurmit Memorial Hockey Tournament here today at Sports Complex, Sector 42.
A match in progress between Chandigarh XI and J&K Police during the 38th S.N. Vohra's Gurmit Memorial Hockey Tournament at Sports Complex, Chandigarh, on Monday. Tribune photo: Pradeep Tiwari
GNPS beat Jalandhar team
Chandigarh, September 22
Guru Nanak Public School claimed an outright win over Sain Das Senior Secondary School, Jalandhar, by 8 wickets in the second semifinal match of the Boost Cricket Cup 2008-2009 to register their berth in the final, played at the GNPS, Sector 36, here.
SGGS College win
Chandigarh, September 22
SGGS College, Chandigarh, won the Panjab University inter-college kabaddi (NS) men championship for the session 2008-09 here on Monday at the PU ground. DAV College, Chandigarh, Government College, Muktsar, and Panjab University bagged second, third and fourth positions, respectively. — TNS