A portal with a global art show
Tribune News Service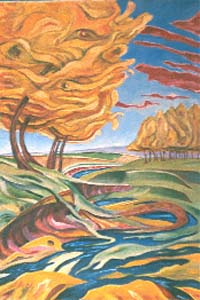 'Creek' by Andrew Raputo
New Delhi, September 22
Want to buy a piece of global art at rock bottom prices which can go with your home décor? Or further, want to exchange a piece of art which has gone old as per the décor of your home or office? Well yes, there is a solution to it all at The Fuschia Tree, a state-of-the-art web gallery.
The Fuschia Tree would be announcing its entry into the art world on Wednesday by creating a unique mélange of stylishly conceptualised artistic variety in its very first art and décor show titled Mint Green. The show would be on from September 24 to October 8 at The Attic at Regal Building in Connaught Place here and can also be viewed simultaneously on www.thefuschiatree.com.
Says Chanda Chaudhary Barrai, director, The Fuschia Tree, "International trends suggest that Mint Green is the next colour of the season and, therefore, we bring a heady blend of classical, contemporary and cutting edge art and décor elements with international sensibility. By combining the diversity and integrity of art and design, we aim to bring forth enormous creative energy which is unique and irreplaceable in nature. This exhibition fuses the old and the new and crosses over to a new dimension where Indian and international art from Russia, Peru, Botswana, Africa, Pakistan and Thailand, a few to name, will be showcased in a single space."
Since Mint Green is the hottest colour of décor worldwide, the forthcoming exhibition showcases selected 40 artworks from across the globe…all in varying hues of the colour 'green'. And the best part is one can exchange the artwork with another as the season or style changes, with a 100 per cent authenticity and resale assurance guarantee!
What also sets this show apart is that The Fuschia Tree showcases most of the international art in Giclee (or digital) prints which are authentic, affordable, and exchangeable. Jose De La Barra's Relax (Peru), Andrew Raputo's Creek (Russia), Ilyas Phaizulline's Outcast (Russia), Dane Willers' Elephant Bull (Botswana), Anthony Okello's Anonymous Couple (Kenya) and Irena Shklover's Harlequin and His Mask (Canada) are few examples to be noted.
Giclee is the result of advancement in imaging technology to facilitate the art print-on-demand revolution. The term is derived from a French term that means 'to squirt'. The printer squirts the ink out onto the canvas, giving it added texture and depth that was missing from previous forms of printing.
Many museums have used this technology to make the works of classical masters more accessible and cheaper. Giclees have proved their mettle by providing high-quality prints to art lovers who want to have their favorite art hanging on their walls, without blowing their budget.
The Fuschia Tree has taken great precautions to ensure that an artist's oeuvre remains authentic and he retains exclusive rights to his own work, being one of the few galleries to invest in Lock Lizard, a state-of-the-art anti-piracy software. An artist can upload high-resolution images and nobody can make prints out of them unless authorized by the gallery. The gallery also has web tools to ensure that not more than a thumbnail size of an image can be saved by any website visitor, onto their computers.
A brainchild of Chanda Chaudhary Barrai, The Fuschia Tree is a curated online gallery that has channelled the power of the internet to create a dynamic online space for emerging artists, design professionals, art lovers, and art collectors to come together harmoniously. All an artist needs to do is to simply upload their images on www.thefuschiatree.com and make himself instantly accessible to people the world over. TFT empowers artists by providing them with a profile page and a personalised URL that they can use on their business cards.
TFT promises to be a one-stop-solution for artists, art collectors, design professionals or art enthusiasts. While emerging artists can showcase and sell their works (the price range is affordable between Rs 3,500 and Rs 50,000), art collectors can browse the works of these artists and buy authentic art with a resale assurance.
Not only this, art lovers can explore the gallery, communicate with the artists, browse The Fuschia Tree store for many art - in - utility product extensions, enjoy creating their own 'art' and read about latest art and decor trends from the art resource directory
"Over a hundred registrations have already been received from all over the world, including Europe, the UK, the US, South America, Africa, East, and of course, the Indian subcontinent. The response has been amazing and we already have a varied collection. The gallery has increased options for people who want to purchase exceptional works of art at a reasonable price," says Barai.
With the website in place and registrations pouring in, a group of curators is on board to screen works submitted by the artists and scout for talent and traditional artifacts from across the world.