Hoax bomb call at Barakhamba Road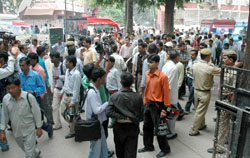 New Delhi, September 15
The police circle and the public were panic-stricken when an anonymous caller informed about a bomb planted in a multi-storeyed building on Barakhamba Road in Central Delhi. However, it turned out to be a hoax call.

Office workers gather outside the New Delhi House building at Barakhamba Road in Central Delhi after a hoax bomb call was received on Monday morning. Tribune photo: Manas Ranjan Bhui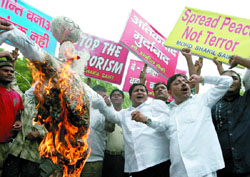 Activists of the Akhil Bharatiya Muslim Yuva Ekta Committee protest against terrorism in New Delhi on Monday. Tribune photo: Manas Ranjan Bhui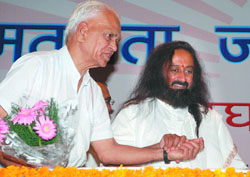 Ravi Shankar, founder, Art of Living Foundation, welcomes Gandhian S.N. Subha Rao during the voter awareness drive, organised by the Akhil Bharatiya Jan Chetna Manch at Mavlankar Hall in New Delhi on Monday. Tribune photo: Manas Ranjan Bhui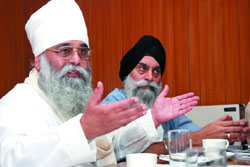 Jatinderpal Singh, president of Quest for Knowledge Foundation, addresses a press conference in New Delhi on Monday. Tribune photo: Manas Ranjan Bhui
Red alert at Metro stations
New Delhi, September 15
A red alert has been declared at all 62 Delhi Metro stations and the Delhi Metro staff have been instructed to continuously monitor the Metro premises.
Pellet from brain, likely evidence in blast
New Delhi, September 15
The Delhi Police would not only have evidence from the bomb blast sites in connection with the Saturday's blast but also from the brain of the victim.
Delhi L-G calls for greater vigilance
New Delhi, September 14
Lieutenant Governor Tejendra Khanna has directed deputy police commissioners (DCPs) to prepare a detailed master plan on the security of the national Capital.
Securitymen keep vigil on vital spots in Noida
Noida, September 15
Following serial blasts in New Delhi, high alert was sounded in NCR including Noida and Greater Noida. Alert security personnel were seen guarding the important public places and vital industrial installations in the area.
Govt clears 5 proposals worth Rs 475 cr
New Delhi, September 15
The Expenditure Finance Committee (EFC) of the Delhi government has cleared five proposals worth Rs 475 crore.
Global system to reduce traffic congestion
New Delhi, September 15
About 40 per cent of Capital's main roads will be covered by intelligent transportation system (ITS) which will reduce growing traffic congestion, said experts at a convention organised by the Institute of Engineers, Delhi State Centre.
Sketches of bank robbers released
Noida, September 15
Noida police has released the sketches of possible robbers of two bank loots in the city during the last four days. Besides, the police has rounded up some eight suspects who are being interrogated.
Cloth merchant fined for filing frivolous case
New Delhi, September 15
Gauri Shankar, a cloth merchant and owner of M/s Gauri Shankar and Sons Co, in Cloth Market of Fatehpuri was fined Rs 5,000 by the Tis Hazari Court today for filing a frivolous suit against BSES Yamuna Power Limited (BYPL) and suppressing the material facts of the case.
IP varsity gets HC notice on migration
New Delhi, September 15
Guru Gobind Singh Indraprastha University has run into trouble with the Delhi High Court. The latter has issued notice to three engineering colleges affiliated to it on a plea seeking transparency in its migration rule for students.
Amity student shoots self with father's gun
Greater Noida, September 15
An Amity student committed suicide by shooting himself in the head with the licensed gun of his father.
4 criminals held after encounter
Noida, September 15
"If there is nothing to do, we take it easy, enjoy ourselves and kill and loot people to fulfill our desires" was the shocking philosophy of four young men nabbed by the Sector-58 Kotwali, Noida, after an encounter in Sector 63 late on Saturday night.
Baby girl found in bushes
Noida, September 15
A one and a half year old girl has been recovered from the bushes on the bank of Noida drain flowing between Delhi and Noida. She was picked up by a rickshaw-puller who heard her crying and handed her over to police.