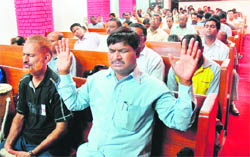 Christians pray for peace at a Sector 18 church in Chandigarh on Monday. A Tribune photograph

Shubhwant a 'kind, brave teacher'
Dowry harassment cases on the wane
Chandigarh, September 15
The arrest of the husband of a Ryan schoolteacher, Shubhwant Kaur, in an attempted murder case today notwithstanding, the city has seen a sharp decline in dowry harassment cases this year.
Jinxed: Work on Tagore Theatre halted
Chandigarh, September 15
Renovation work on Tagore Theatre may not be completed on time as the contractors have stopped work.


Bomb hoax at Punjab mini secretariat
Chandigarh, September 15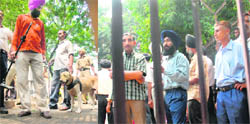 Panic gripped the Punjab Mini Secretariat in Sector 9 this morning when the police evacuated the building following recovery of a letter threatening to blow it up.

A dog squad of the UT police carries out search at Punjab mini secretariat, Sector 9, Chandigarh, and (right) employees await anxiously outside the building on Monday. Tribune photos: Pradeep Tewari
Terror threat to city real, says SSP
Chandigarh, September 15
With Chandigarh fast emerging as another centre for IT and multinational companies and a tourist hub, the city is increasingly becoming vulnerable to terrorist threat.
Anti-Encroachment Drives
MC staff struggle sans security
Chandigarh, September 15
The Chandigarh municipal corporation's enforcement staff seem to be facing a stiff resistance from encroachers in various parts of the city.
CHB shies away from paying relief
Chandigarh, September 15
While the Chandigarh Housing Board doesn't bad an eye while charging penal interest to the tune of 30 per cent from the allottees of Sector 49 self-financing one-bedroom and two-bedroom scheme, 2005 and 2006, for delayed payment, it is shying away from paying compensation to the allottees for delayed possession.
Conversion Policy
Finally, admn has second thoughts
Chandigarh, September 15
Stung by criticism, the Chandigarh administration seems to have finally spared a thought for infrastructure development in the Industrial Area here. For, the administration is apparently having second thoughts on the extension of conversion policy beyond September 18.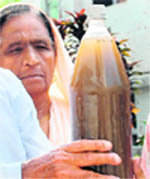 Phase X residents getting dirty water
Mohali, September 15
Residents of Phase X have complained of muddy water being supplied in the area. In a complaint to the local authorities, the residents have lamented that despite repeated complaints there was no improvement in the quality of potable water.




A resident shows muddy water that is being supplied by the public health department in Phase X, Mohali. Tribune photo: Vicky Gharu
City retains top slot
Chandigarh, September 15
Chandigarh continues to lead the country in per capita income. As against an all-India per capita income of Rs 29,642 per annum in 2006-07, the city has a per capita income of Rs 99,262 per annum at the current prices.
Financial coordination conference at Chandi Mandir
Chandigarh, September 15
A financial co-ordination conference of senior officers from the Western Command and the controller of defence accounts was held for the first time at Headquarters Western Command, Chandi Mandir.
Protest by youth federation members
Chandigarh, September 15
Members of the Democratic Youth Federation of India (DYFI), Punjab and Chandigarh, today organised a rally and a march in protest against the unemployment and anti-youth policies of the government.
BSP holds dharna outside MC office

Chandigarh, September 15
Activists of the Bahujan Samaj party (BSP) led by their leader Harmohan Dhawan staged a dharna outside the municipal corporation office today against the enforcement department's campaign to remove roadside vendors.


Activists of the BSP stage a dharna against the MC drive to remove roadside vendors in Chandigarh on Monday. A Tribune photograph
Fresh suspected dengue cases
Panchkula, September 15
With five more suspected cases of dengue reported at local hospital, the number of patients of the disease has reached to 11 in the district here today. The cases reported today were from rural and urban areas of Sectors 4 and 21.
Telemedicine project to start in Patiala
Chandigarh, September 15
The Gian Sagar Charitable Trust, which runs a hospital and medical college in Banur, will soon start a telemedicine project in Patiala district. The Trust is in a process of equipping the satellite centres.
Chandigarh, September 15
He is no spiritual guru but a modern age avatar, who serves people gripped in pain and grief with his collective energies of mind and soul. For people, he is the ultimate source of positive energy. He teaches the pleasurable experience involved in the moments of dying to people with terminal illness or the ones waiting for their death. A man who cures people by his healing touch and spiritual energy, Patrick San Francesco was in the city today to bless the stressed people.


Patrick San Francesco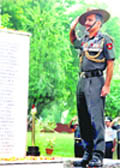 Western Command observes 61st Raising Day
Chandigarh, September 15
A solemn memorial-cum-wreath laying ceremony marked the commemoration of the 61st Raising Day of the Western Command — the army's sword arm — at Chandimandir military station today. It was on this day 61 years ago that the Western Command came into being in Delhi.


General Officer-Commanding-in-Chief, Western Command, Lt-Gen T.K. Sapru, pays homage at the Veer Smriti war memorial in Chandimandir on Monday. A Tribune photograph

Admn nod to open-air sculptures
Chandigarh, September 15
Installation of open-air environmental sculptures at various nodal points — pedestrian plaza in front of Neelam Cinema, square in front of DC office in Sector 17, State Library in Sector 34, airport and Rose Garden — has been approved by the Chandigarh administration.
Three-day Punjabi drama bonanza begins
Chandigarh, September 15
The fifth 'Gursharan Singh Naat Utsav' organised by the Suchetak Rang Manch Mohali in collaboration with NZCC, DPR Chandigarh and Punjab Arts Council will start at the Randhawa auditorium here tomorrow.
Provide bus service

Re-carpet roads

No ECG on weekends
Irked by PU authorities, warden resigns
Chandigarh, September 15
Irked over university authorities stand of not owning up decision to conduct checks and raids in the girls' hostels for the intervening night of September 10 and 11, Seema Vinayak, warden of the Sarojini Hall (hostel no. 3) submitted her resignation today, to the dean Students Welfare (women), prof Nishtha Jaswal.
PUTA rejects Ronki's resignation
Issue to be discussed at general body meeting
Chandigarh, Sept 15
Panjab University Teachers Association's (PUTA) executive body today declined to accept the resignation of PUTA's newly elected president Ronki Ram. Ronki had submitted his resignation yesterday. The issue would be discussed now in the general body meeting of PUTA slated for tomorrow.
Student flunked for not signing attendance sheet
Chandigarh, September 15
Deepak Sood, a first year student of Government College Sector 11, is the latest victim of Panjab University's laidback attitude. While he faired well in all his exams, held couple of months back, he has been declared failed and repeated pleas and continuous visits have born no fruit in getting the error rectified.
3 pc schoolchildren suffer from depression
Patiala, September 15
At least 3 per cent school going children suffer from emotional disturbances such as severe depression, suicidal thoughts, psychosis, attention problems, and excessive compulsive neurosis. "There is a need for creating more awareness about the adolescent health problems," said Dr Kusum Mahajan, professor and head of the department of Paediatrics of Gian Sagar Medical College and Hospital, while speaking at a continuing medical education programme on adolescence, organised at the Gian Sagar Medical College and Hospital today.