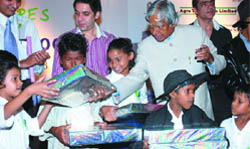 Former President A.P.J. Abdul Kalam distributes gifts to children during the launch of Childscape Street to School, an NGO, in New Delhi on Thursday. Tribune photo: Manas Ranjan Bhui
Train detained after hoax call
New Delhi, September 18
Saturday's serial blasts that sent harrowing waves among the Capital dwellers have not spared the Delhi police and the search squads from their usual share of constant vigilance. Spurious calls have kept the police and the search teams on their toes since the blast evening. They have been running around searching every nook and corner of the suspicious place to prevent any untoward incident.
Muslims to ask Congress for more tickets
New Delhi, September 18
Muslim intelligentsia attached to the Congress has decided to meet the party high command and demand 10 tickets for Muslims in Delhi assembly elections.

Cell for DU-industry interface launched
New Delhi, September 18
In a move that will go far in getting students a much-needed platform for an interface between the industry and the varsity, Delhi University launched its Central Placement Cell today.
Delhi University vice-chancellor Deepak Pental at a press conference in New Delhi on Thursday. Tribune photo: Mukesh Aggarwal
Standing Committee discusses security
The building houses MCD headquarters
New Delhi, September 18
The Municipal Corporation of Delhi's (MCD) Standing Committee members today discussed the safety and security of Town Hall that houses the MCD headquarters.
NCR needs 2 lakh security forces in 2 yrs: Assocham
New Delhi, September 18
Rising incidents of security threats have created huge demand for qualified security personnel in all industrial locations, especially in the National Capital Region (NCR).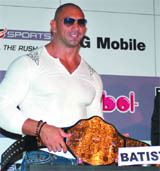 WWE wrestler Batista at a press conference in New Delhi on Thursday.
Tribune photo: Manas Ranjan Bhui
Blueline kills biker at Gole Market
New Delhi, September 18
A biker was run over by a recklessly driven 'killer' Blueline bus in the Capital, taking the number killed by the killer fleet to 70 this year, police said today.
Fire at Sena Bhawan
New Delhi, September 18
Sena Bhawan, headquarters of the Indian Army in Central Delhi witnessed a minor fire today afternoon. Nobody has been reported injured in the incident.
Couple burnt by girl's family
Greater Noida, September 18
Enraged over her growing intimacy with a boy, family members of a teenaged girl mercilessly beat up the couple and then burnt them alive in a field in this satellite township today.
Dengue claims 2 more lives
Ghaziabad, September 18
There is no way to check the dengue menace in Ghaziabad, it appears. Two women in Modi Nagar, reportedly suffering with dengue succumbed to the scourge.
Newly wed woman stabbed repeatedly in Gurgaon
Gurgaon, September 18
A woman who got married less than six weeks ago was stabbed over 20 times today by two youths when she was alone at her home here.
Utsav's bail rejected
New Delhi, September 18
A city court today rejected the anticipatory bail plea of Utsav Bhasin, 19, who allegedly rammed into a motorcycle last week while driving his BMW car, killing one and injuring another.
4 cops suspended in Noida
Noida, September 18
Four policemen were suspended on Wednesday for cremating an accident victim's body in this Delhi suburb, without waiting for the mandatory 24 hours to allow the relatives to claim it, an official said.
Student pierces classmate's eye with pen
Ghaziabad, September 18
A class IX student thrust a pen into his classmate's eye during a scuffle, causing severe damage that required the teenager to undergo surgery, the victim's relative said here on Tuesday.
Woman killed by husband
Greater Noida, September 18
The GB Nagar police claimed to have solved the murder of Kavita. According to police, Kavita's husband had killed her last Wednesday with the help of his cousin, suspecting her of illicit relations.
Chef awards to be announced on Oct 18
New Delhi, September 18
The Indian Culinary Forum (ICF) and PHD chamber and the Indian Federation of Culinary Association (IFCA) will jointly host Chef Awards 2008 on October 18 that is the International Chefs' Day. The award function will be held at Hotel Ashoka in the city.
Eunuchs donate for flood victims
New Delhi, September 18
With help pouring from across the world for 2.8 million people affected by Bihar floods, a group of eunuchs in the Capital has donated Rs 31,000 for carrying out relief work in the marooned districts.