Learning Curve
Creative learning is the newest buzzword on the curve, writes YOSHITA SHARMA
MOST modern educationists have their apprehensions about rote learning: Some consider it out of style, ghastly boring and mindless while others look down on it and compare it to a form of child abuse!
Career Hotline
Go for hardware technology
Q. I have completed my first year BCA. What kind of jobs will I get after completing my course? I want to become a computer software or hardware engineer. Please suggest some job-oriented courses I should do.
The world is your oyster
Money no bar
Stand Out!
The résumé is your first impression on a prospective employer and could open and shut many doors. Here's how to make it lasting
IN today's stiff competition in the field of employment, it is difficult to track down the right job. It requires tremendous hard work and methodical planning. The first and foremost point in searching your desired job is the creation of appropriate curriculum vitae or résumé .
Careercature
Sandeep Joshi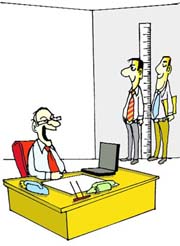 This is the latest way to measure our employees' growth

How about more Hindi, mate?
With 70,000 Hindi speakers in Australia, Indians in the country are demanding that the language & its literature be given the recognition it deserves in educational institutions
THE number of Hindi speakers has doubled since 1996. An increasing number of Indian origin students in Australia are choosing Hindi as a subject for the High School Certificate (HSC) or Class 12 exam to improve their overall percentage and seize the opportunities offered by India's economic growth. But while the demand for it is growing at the Class 12 level, some Australian universities are cutting down courses, citing lack of interest and funding cuts. "Learning Hindi has opened up many opportunities.