Go for hardware technology
Pervin Malhotra
Q. I have completed my first year BCA. What kind of jobs will I get after completing my course? I want to become a computer software or hardware engineer. Please suggest some job-oriented courses I should do.
— Ramit Ahluwalia
A. By itself, a BCA will only get some data entry, page-making type of work. To get you into hardcore software programming, you need to do an MCA from a good university or a course in advanced computing or database management or specialise in certain computer languages such as Java, .Net etc. If you wish to get into networking, you need to do a basic course in hardware technology and acquire relevant certifications such as MCSE, MCSD or CCNA.
Q. I am an aspiring IT professional. Could you please tell me the difference between a database programmer, a database administrator and a database architect?
— Arvind Purkayastha
A. Although each of these positions typically requires more or less the same academic qualifications, they vary in job content, hierarchy and salary (larger companies pay more).
Database programmer: Responsibilities include writing efficient/optimal code to communicate with the database; writing server and user interface programs to handle business logic.
Qualifications: MCA/ BTech etc with 0-3 years.
Database administrator: Optimises the database, tunes applications, takes backups and ensures security.
Qualifications: 1-2 years work experience on Sybase, SQL Server or Oracle DBA after BTech/BE /MCA/MSc (IT)/PGDCA.
Database architect: Consults with project teams, designs optimal and efficient databases, suggests database configurations and security schemes (5-8 years).
Qualifications: BE/ BTech/ MCA for all. Knowledge of Oracle and Oracle Apps/Sybase/MS SQL/Mainframe DB2 / UDB DB2 etc.

The world is your oyster
Q. I am a student of class 12. My favourite subjects are computers and geography. What good opportunities can I get in these subjects? Please guide me.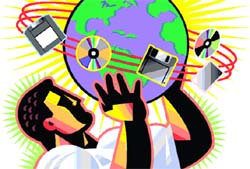 A. You are lucky. There is a field that combines your love for both subjects: Geographical Information System (GIS). It is a high-tech computer-based system capable of capturing, assembling, storing, manipulating and displaying locationally defined geographically referenced data. GIS is used for digital map making, site selection, finding the best route, solving environmental problems, exploring natural resources, urban planning and solutions for other problems.
Application of GIS in India has matured with GIS software being used in various mission critical national projects including those pertaining to the environment, forestry, land records, and utilities.
Map and satellite information sources can be combined in models that simulate the interactions of complex natural systems. GIS allows planners to calculate the emergency response time in the event of a natural disaster like the floods in Bihar. It also helps the police track down criminals.
The Department of Space, National Informatics Center, state forest departments, the Survey of India, Ministry of Environment and Forests, Geological Survey of India and educational institutions like IITs, IIMs, universities and their affiliated colleges use GIS software.
GIS is becoming indispensable in business. Recently, corporate giants have made significant investments in this technology. For instance, Reliance Digital World deploys GIS as a strategic IT tool in their network planning and execution. Besides utilising its potential in operations and maintenance, they are extensively using GIS in various projects including Infocom, retail outlets, hydrocarbon exploration and gas pipeline execution.
Remote sensing is yet another related area of specialisation you could consider at the postgraduate level.

Q. I started working 10 years ago (I am 30) after completing my B.Com. Although I have picked up considerable know-how and managerial skills, I feel I need an MBA to move up to the next level in my career. But if I start working towards an MBA now, I will be 32 when I am through. Won't that be too late?
— Rohan Soin
A. You'll be 32 in two years anyway. So the only question is would you rather be 32 with an MBA or without one? Moreover, you're never too old to learn so your age shouldn't stop you from pursuing an MBA.
The only question you may need to consider is whether you need a full-time MBA or will a part-time program fulfil your requirement. With your varied experience, even a good part-time or 1-year Executive MBA like the ones offered by the Indian School of Business or the IIMs would be a good bet.
You could even consider an online programme of the kind offered by some of the top B-schools like the IIMs, SP Jain and XLRI for instance. Not only will it "propel" you to the next professional rung, but it will also give you a valuable edge over the 26-year olds who are already eyeing your current position.
Besides, what's age got to do with learning? It may comfort you to know that internationally, the average age of top B-school graduates is 28 plus and that of those enrolled in executive MBA programmes is 38 plus.
Indians, unlike their western counterparts, traditionally prefer to acquire the right qualifications before stepping into the job market. But business management is essentially a functional hands-on science, not merely an academic discipline. Your extensive work experience will be a positive asset to help you make the most of the course. You will be able to relate to what is being taught and discussed as compared to the freshers who opt for the course straight after graduation.
I am not saying that an MBA degree is the only route to success in the corporate world. But if you can manage to pack in one without wasting too may years, it will certainly be a great value addition. An MBA is an investment – even if it doesn't provide you immediate financial or career returns, a few years down the line as you wade through an increasingly complex and competitive business scenario, the fact that you are armed with an MBA degree will give you tremendous confidence

Money no bar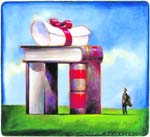 Q. My son is doing B.Tech third year. He wants to do MBA after B.Tech but I can't bear the high expense. He got 72% in 1st year and 78% in 2nd year. Please tell me how much it costs in Delhi University or Lucknow University or any deemed university. Is it right to do the course from a deemed university?
— Harsh Bidani
A. I would advise your son to work for a couple of years before going for an MBA. Besides gaining valuable work experience, which is an asset for pursuing a good MBA, it will also help him earn and save some money to pay for his MBA programme. Not that lack of funds should be a problem for getting into the IIMs or FMS or LU.
Every year, almost half the students admitted to IIMs apply for loans. Banks like State Bank of India, Allah bad Bank and PNB come to campus for offering loans. Some banks may require you to have (or make) an LIC policy of the amount applied for and a couple of other things. Overall, the banks are quite helpful with the loan sanctioning procedure. The loans cover your fees and mess bills and an optional computer.
Moreover, you can easily get an unsecured loan of up to Rs 4 lakh from any nationalised bank in India. Collateral is only required for higher denomination loans of Rs 7 lakh.
While private B-schools do not offer financial aid, IIMs have a policy of not denying any deserving candidate admission due to lack of funds. However, it is still easy to get financial aid for doing an MBA, especially if you are going to any of the top AICTE-approved B-schools. Banks are willing to give student loans to aspiring MBAs. The loan has to be repaid only after your son starts working. Considering that your son will be going to a top B-school, finding a high paying job should not be difficult at all.
The fee payable at the time of admission to FMS, Delhi University (www.fms.edu) is Rs 9950. Similarly, for Panjab University, the fees would be equally modest as compared to other B-schools. The exact figures are listed on their respective websites.