M A I N N E W S
Now, it is Lt-Colonel Kapil Dev
Vijay Mohan
Tribune News Service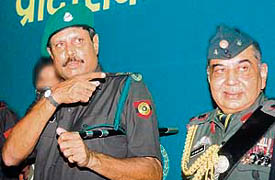 Lt-Colonel Kapil Dev: AVMS winner and former union minister K. P. Singh Deo, a Brigadier in the Territorial Army, with former cricketer Kapil Dev, after he voluntarily joined the Territorial Army, during a ceremony in New Delhi on Wednesday. Kapil was given the rank of Lt-Colonel. — Photo by Mukesh Aggarwal
Chandigarh, September 24
A few days before the citizen's army - as the Territorial Army (TA) is referred to - observes its 59th anniversary, it inducted into its cadre a sports icon who years ago had won a battle of a different kind for India.
Cricketer Kapil Dev has been granted an honorary commission as a lieutenant colonel in the TA who will be affiliated with the Delhi-based 150 TA (Punjab) Battalion under the Western Command. Kapil was captain of the Indian team during its historic win at Lords in 1983.
"It is a great privilege for me and I consider donning the uniform as something out of the world," Kapil told The Tribune. "A sportsperson is also like a soldier who does his bit for the country, but the contribution and sacrifice of those in uniform is beyond comparison," he added.
Kapil said that discipline, for which the armed forces are known for, is a common factor for both, those on the battlefield and those in the sports arena. "Being with the army would give me an opportunity to learn more about discipline, which can then be applied to the sports field," he said.
He, however, declined to say what kind of army related work he would do, saying that this was not the appropriate time for such comments.
Kapil's association with the TA would be largely ceremonial, being restricted to official events or visits, Army officers said. "It would be a morale booster for officers and troops to see a noted personality associated with them," an officer said.
"For example, if he visits troops in the field, he would be wearing a uniform and it would have an inspiring impact on the rank and file," he added. He could also do his bit as an ambassador for the forces.
Though in his capacity as an honorary officer, Kapil is not likely to undergo combat training or undertake operational duties, sources said that he would be required to undergo a basic orientation course to familiarise himself with the TA.
"He would have to learn the correct way of wearing a uniform and also how to salute and acknowledge greeting and salutations the military way," an officer said. "It would also be helpful to know service traditions, ethos and etiquettes," he added.
Many prominent personalities have been TA volunteers in the past. The list includes former union minister Brig K.P. Singh Deo, Brig Kapil Mohan of Mohan Meikins, former chairman ONGC Maj Subir Raha, chairman, Railway Board, Col R.K. Singh and several sitting MPs, ministers, MLAs, members of royalty, industrialists, professionals and civil services officers. Many of them have taken part in military operations. The list of honorary commissioned officer-volunteers of the TA includes Col Naval H Tata, Capt B.D. Sanwal ICS, Lt Col M.L. Khaitan and Maj Raj Bahadur Birendra Bahadur Singh.
The TA is a citizens' force comprising volunteers who are otherwise professionals in civil vocations but spend a few days of their spare time with the Army every year so that they can bear arms for the nation's defence in national emergencies and wars. The TA provides a platform for civilians to be a part of the overall system of defence of the nation by providing military training to gainfully employed and self employed professionals.