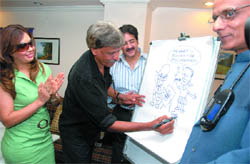 Cartoonist Sudhir Tailang draws for the forthcoming MTNL health mela during a press conference in New Delhi on Wednesday. Also seen are Dr K.K. Aggarwal, president, Heart Care foundation of India; Sandeep Marwah, director, Asian Academy of Film and Television and pop singer Vandna Vadhera. Tribune photo: Manas Ranjan Bhui
Poll Preparation
Congress launches 'Aam Aadmi Ka Sipahi'
New Delhi, September 24
he Congress has chalked out a programme, "Aam Aadmi Ka Sipahi", to bring the youth in contact with the general people in their hour of need. Rahul Gandhi has launched this programme.
Escorts checks women inmates at Tihar
New Delhi, September 24
The Escorts Heart Institute and Research Centre yesterday held a free heart check-up camp in Tihar Jail. The camp was inaugurated by Dr Aparna Jaswal, consultant cardiologist and electrophysiologist of the institute.
Haryana to give health insurance, free travel facility to labourers
Gurgaon, September 24
Lauding the pioneering role of the Haryana government for formulating welfare schemes for the labour class and implementing them, union secretary of the labour ministry Sudha Pillai today asked the other northern states to emulate the Haryana model.
Selja pulls up officers for omissions in BPL list
Faridabad, September 24
The union minister for housing and urban poverty alleviation, Kumari Selja has cautioned the officials to redress the grievances of the public about their exclusion from the Below Poverty Line (BPL) list, at the earliest.
DUJ demands interim relief
New Delhi, September 24
The Delhi Union of Journalists (DUJ) in an emergency meeting today called upon the centre to announce 40% interim relief for working journalists to mitigate the hardships caused by low wages and spiralling inflation.
Knowledge series for entrepreneurs held
Noida, September 24
ICICI Bank, India's second largest bank, and Cyber Media, Asia's largest specialty media house, conducted a nation-wide SME CEOs knowledge series programme in Noida today.
CEO's Killing
2 cops transferred
Greater Noida, September 24
Two senior police officers have been transferred for their inability to prevent the lynching of L.K. Choudhary, CEO of a multinational firm, in this industrial township near Delhi.
Two workers killed in accident
Ghaziabad, September 24
Two workers were killed as the earth foundation dug up for an under-construction tower basement near crossing Republic on NH-24 came crashing on them late last night. About a dozen labourers were buried under the debris.
1 killed, 2 injured as truck overturns
Noida, September 24
One person was killed and two were injured when a truck in which they were travelling hit a road divider and overturned here on Tuesday.
Thieves held with 33 stolen vehicles
Ghaziabad, September 24
The special operation group (SOG) and the police from three police stations of Ghaziabad, in a night-long operation on Monday, arrested three interstate vehicle thieves. The criminals were nabbed from Ganga Canal culvert near Dhaulana.
Criminal held
New Delhi, September 24
The special squad of Delhi police apprehended a wanted criminal Rajesh, alias Fauji.
Osho meet held
New Delhi, September 24
A special congregation was held at the Sirifort auditorium here yesterday to spread the message of Acharya Rajneesh, better known as Osho internationally. The congregation was addressed by his three senior disciples Osho Siddhartha, Osho Shailendra and Maa Osho Priya. A large number of professionals, including doctors and government officials, attended the congregation. — TNS