Killing of CEO: Labour unrest augurs ill for NCR
Gt. Noida, September 23
Lalit Kishore Chaudhary, 47, CEO of Cerlikon Graziano Transmissioni India, Greater Noida, who was beaten to death by sacked workers had been staying in the factory for the past one month and his wife brought food and other things required to office daily.
BJP ex-MLA, councillors join Cong
New Delhi, September 23

Former Bharatiya Janata Party (BJP) MLA Dayanand Chandela; his son municipal councilor, Megaraj Chandela and Megaraj's wife Meenakshi Chandela, also a municipal councillor, who had resigned from the BJP, today joined the Congress Party.
Chief Minister Sheila Dikshit welcomes former BJP MLA from Vishnu Garden, Dayanand Chandela, his son and daughter-in-law to Congress during a press conference in New Delhi on Tuesday. Also seen is DPCC president J.P. Agarwal. Tribune photo: Mukesh Aggarwal

Major reshuffle in Delhi police
New Delhi, September 23
With Lieutenant Governor Tejendra Khanna ordering transfers and postings of some senior Indian Police Service (IPS) officers, a major reshuffle has taken place in the Delhi police.
A rose day for cancer patients
New Delhi, September 23
The Cancer Patients Aid Association (CPAA) celebrated National Cancer Rose Day, a patient-oriented annual event yesterday at Select Citywalk here. Rose day is celebrated to give emotional support to the cancer patients. On this day, the cancer patients are taken for a day out of the hospital environment to have quality time free from all kinds of stress. People from all walks of life are invited to greet the patients with roses and to tell them that we all care, and are with them in their time of need.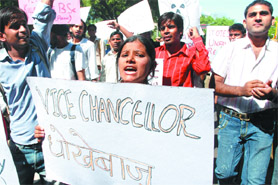 Students of Delhi University demonstrate against the vice-chancellor at Parliament Street in New Delhi on Tuesday. Tribune photo: Manas Ranjan Bhui

15 yrs on, Tunda still at large
Ghaziabad, September 23
The mastermind of terrorism in western UP, Abdul Karim Tunda continues to be an enigma for the police.
1 killed in tiff during gambling
Gurgaon, September 23
One person was shot in a fight in the Arjun Nagar area here last night. The deceased identified as Mahesh alias Chhotu, a resident of Basai Road, was shot with his own pistol. The incident took place around 10.30 p.m. when the deceased along with the accused, Baba alias Montu and six others were gambling in the house of Om Prakash in Arjun Nagar.
3 arrested for melting coins
New Delhi, September 23
The crime branch of the Delhi police has claimed to have busted a network of criminals allegedly running a coin melting unit. A furnace used for melting of coins was also seized.
Yamuna level continues to rise
New Delhi, September 23
The Yamuna's level continued to rise even on second consecutive day today. Floodwater has entered many houses in low-lying areas like Shastri Park, Usmanpur, Wazirabad, Batla House and Chilla Village.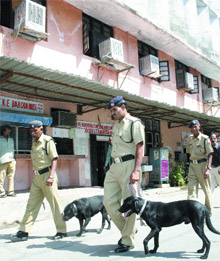 Bomb disposal squad personnel carry out a check at the Northern Railway headquarters, following a hoax bomb call, in New Delhi on Tuesday. Tribune photo

7 RBI cheque cheats held
New Delhi, September 23
The bank securities and fraud cell of the Central Bureau of Investigation (CBI) today registered a case of fraudulent encashment of Reserve Bank of India (RBI) cheques of Rs 14.55 crore. The case was registered on the basis of a complaint received from the RBI. Seven persons were apprehended in spontaneous raids conducted by the CBI.
NDPL, IBM tie up
New Delhi, September 23
North Delhi Power Limited, a Tata Power and Government of Delhi joint venture company, which distributes electricity in North and North-West Delhi, today announced that it had joined hands with IBM to become a member of a global Intelligent Utility Network (IUN) coalition convened by IBM.
Shastri asks MCD to check malaria, dengue
New Delhi, September 23
Medical experts in health department of the Delhi government today appealed to the citizens to wear full sleeve dress as ades mosquitoes generally bite below the knee.