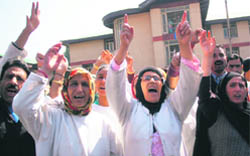 Paramedical staff protest in Srinagar on Thursday, demanding the resumption of medical supplies to the Kashmir valley allegedly blocked by Jammu distributors. Tribune photo: Mohd Amin War
Killing of two youths in Samba firing
Book SSP within 24 hrs, orders court
Jammu, September 25
A court in Samba today pulled up the Jammu and Kashmir police for failing to register a case on its direction against SSP Prabhat Singh in connection with the death of two youths in police firing during the Amarnath agitation and ordered the crime branch to do so.
BJP to oppose cross-LoC trade
Jammu, September 25
The BJP today accused the Congress-led UPA government of bartering away the national interests by accepting the demand of Kashmiri leaders to start cross-LoC trade with Pakistan via the Uri-Muzaffarabad and Poonch-Rawalakot routes.
Ask ex-ministers to vacate official residences: Panthers
Jammu, September 25
Panthers Party president Prof Bhim Singh today alleged that former chief minister Ghulam Nabi Azad and other ex-ministers of the previous coalition regime were still occupying their official residences despite the fall of the Azad government.
Raghunath Bazar to be developed as heritage site
Jammu, September 25
The administration plans to convert Raghunath Bazar here into a heritage site by year-end.
Rs 2.25-cr plan to upgrade police stations
Jammu, September 25
A sum of Rs 2.25 crore has been earmarked to upgrade police stations in the state. As many as 20 police stations will be upgraded as model ones in the first phase.
Nod to 1,433 new traffic posts
Srinagar, September 25
Concerned over the frequent complaints of traffic jams in Jammu and Srinagar, the government has created 1433 posts in the Traffic Department and 2,625 in railway wing of the police.
Scheme to promote ayurvedic medicines
Jammu, September 25
A scheme for the promotion and development of the Indian System of Medicines (ISM) is being formulated in Jammu and Kashmir.
Cancer detection camp held
Jammu, September 25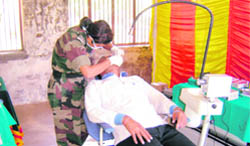 The Tiger Division in collaboration with BN General Hospital and Army School Jammu kicked off a 10-day cervical and breast cancer detection camp here today. Relevant screening tests would be carried out to detect two most common cancers in women above 35 years of age. For the camp, Army School Jammu collected and contributed approximately Rs 1.5 lakh. Statistics show that out of 100 cancer patients, 60 suffer from cervical and breast cancer. Rupa Sharma, President, Army Wives Welfare Association , Rising Star Corps at the Tiger Division, inaugurated the camp.
A doctor examines a patient during a medical camp at Rajinderpura village organised by the Army's Sunrise Brigade under Operation Sadbhavana. Tribune photo
Burnt shops: NC for higher compensation, soft loans
Jammu, September 25
The National Conference (NC) has demanded adequate compensation, besides soft loans, to the aggrieved families whose shops were burnt during communal clashes in Poonch on August 23.
BAMS exams rescheduled
Jammu, September 25
The semester examination for Bachelor of Ayurvedic Medicinal Studies (BAMS) has been rescheduled by the Jammu University.
PDP leader shot dead in Baramulla
Srinagar, September 25
Unidentified gunmen shot dead PDP leader Ghulam Mohammad Mir in Baramulla district today.
Kid among 3 killed in mishap
Jammu, September 25
Three persons, including a one-year-old child, were killed and six were injured when their vehicle met with an accident at Nagrota on the city outskirts late last night, police sources said here today.
Amarnath land set aside for yatra
Srinagar, September 25
The state government has conveyed its decision to the Amarnath Shrine Board to set aside 800 kanal of land at Baltal and Domail for use during the period of the annual yatra, as per the agreement reached between the government panel and the Sangharsh Samiti.
Tourism-hub Pahalgam gets new club
Srinagar, September 25
Governor N.N. Vohra said today the new club and convention centre at Pehalgam would provide upgraded facilities to tourists and serve as ideal venue for conferences and important functions.
Raina new Advocate-Gen
Srinagar, September 25
D.C. Raina has replaced Altaf Ahmad Naik as the Advocate-General of the state. The State Administrative Council (SAC) in a meeting, chaired by Governor N.N. Vohra, here yesterday approved the appointment of Raina and accepted Naik's resignation.
Internet plays truant
Srinagar, September 25
The Internet service being provided by the Bharat Sanchar Nigam Limited (BSNL) remained down for the second day today in the Kashmir valley. Sorry your server is not responding was the only answer the Internet users were getting in the Kashmir valley since yesterday. The frequent failure of the Internet service of the BSNL has badly affected students, professionals, mediapersons and financial institutions.
Omar: Include all sorts of commodities
Srinagar/Poonch, September 25
The National Conference has appreciated the move to initiate cross-LoC trade and hoped that it would be hassle free episode. NC president Omar Abdullah advocated inclusion of all sorts of commodities including cottage and agricultural produce in the trading list and has desired consulting trade unionists and Chamber of Commerce agencies existing in both parts of Jammu and Kashmir.