Tax tips
If there is gain, there is tax
S.C. Vasudeva
Q. One of my friends got a six marla plot in HUDA through lottery draw in 1995. He was not very financially sound and so he gave the plot to me through a power of attorney empowering me to pay dues, installments, sell or gift in any manner. On getting the power of attorney, I sent a copy of GPA to HUDA office and they accepted it. I continued to pay all installments but later on came to know that GPA is valid only till the executor of GPA is alive. Therefore, I sold this plot to my wife for a premium of Rs 16 lakh plus the arrears till October 2006 paid by me (total sale price of plot Rs.20 Lacks). Please advise on:
n My wife intends to sell this plot for about Rs 40 lakh. With the proceeds, which will be considered as STG, she plans to construct a new house in Ambala City on another plot owned by her. Will my wife have to spend Rs 20 lakh STG on the new house construction or the entire Rs 40 lakh to avoid any tax liability? Also, it is my understanding that the construction needs to be completed in a timeframe of three years.
n My wife already has a house in Panchkula. Can she construct another one from the sale proceed of the plot as mentioned in the previous question or are there any legal restrictions to construct second house in Ambala City?
n If at all, my wife does not construct a new house in Ambala City; will she have to invest the STG of Rs 20 lakh in REC or NHAI bonds or does the entire proceeds of Rs 40 lakh have to be invested in bonds? What is the rate of taxes for STG?
— G.S. Bhatia
A. The answer to your queries is as under:
n The profit on sale of the plot intended to be sold by your wife within a period of three years from the date of acquisition thereof will be a short term capital gain. Such a gain will be clubbed with the other income of your wife and would be taxable at the slab rate applicable to the total income of your wife. No exemption from the taxability of such a gain is available, even if the entire sale proceeds are invested in the acquisition or construction of a residential house within the specified period.
n Your wife can construct one more residential house inspite of her owning one residential house as on the date of construction of a new residential house. However, in view of the fact that short term capital gain cannot be considered for exemption, the buying of capital gains tax saving bonds or constructing a residential house within the specified period would not entitle her to claim any exemption from the taxability of the short term capital gain. As explained herein above, such an amount of the short-term capital gain will be added to her other income and taxed at the prevailing slab rate applicable to her.
Q. I had received an advance of Rs 5 lakh towards the selling of my residential house in Gurgaon and purchased a residential flat in Delhi. I am informed that for the purposes of computation of capital gain, the circle rate will be taken as the rate for computing capital gain. Is the information so given to me correct?
— Sher Singh
A. Section 50C of the Act provides that where the consideration received or accruing as a result of the transfer on the capital gain being land or building or both is less than the value adopted or assessed by any authority of state government for the purposes of payment of stamp duty in respect of such transfer, the value so adopted or assessed shall, for the purposes of Section 48, deemed to be full value of consideration received or accruing as a result of such transfer.
Therefore, the information given to you is correct and the capital gains on the sale of your house will have to be computed on the basis of the circle rate if any, notified by the state government in case the consideration received by you is less than the value adopted or assessed for the purposes of the payment of stamp duty.
Q. In 1974-75, I purchased a plot in Shimla for Rs 7,500 and sold the same for a sum Rs 6 lakh on June 06, 2008. I have put the amount in one year FDR as I wish to purchase land with it later. Kindly advise on capital gain and capital gains tax liability on this amount. How much must I invest and by what time to avoid capital gains tax? 
— Shishu Patial
A. On the basis of facts given in the query, it is evident that you purchased the plot in 1974-75. For computing capital gains you have the option to adopt fair market value of the plot as on April 1, 1981 instead of cost incurred in 1974-75. AS the figure has not been provided in the query, the computations have been made on the basis of the cost of plot incurred by you.
On such basis, the indexed cost would work out at Rs 43,650. The long-term capital gain after deducting the said indexed cost from the net sale consideration would work out to Rs 5,56,350. The capital gains tax @ 20% plus education cess @ 3% thereon would work out at Rs 1,14,608. The above amount of tax could have been saved if you had invested the amount of net sale consideration (i.e. Rs 6 lakh in this case) in the acquisition of tax saving bonds within six months of the date of transfer.
You now have an option to buy a residential house within two years or construct a residential house within three years of the date of transfer of the plot and invest the above amount of Rs 6 lakh in such acquisition or construction. However, so much of the above amount of Rs 6 lakh as is not utilised for either of the above-prescribed investments before the date of filing the income tax return should be deposited with a bank in a capital gain scheme account to avail the benefit of above exemption.
Q. We are a partnership concern and are manufacturing plastic materials for household needs. The factory building and machinery was completely destroyed by a fire that broke out due to a short circuit. Is the amount received from the insurance company with regard to the destruction of these assets exigible to capital gains tax? I am advised that there has been some change in law, which brings such an amount to taxability.
— V.S. Negi
A. In Vania Silk Mills Private Limited vs. CIT, the Supreme Court had held that insurance claim received on account of destruction of asset is not chargeable to tax as the destruction does not amount to a transfer. The judgment has been nullified to some extent by introduction of a new sub section (1A) to section 45 of the Act w.e.f. assessment year 2000-01. According to the said sub-section where a person receives during the previous year, any money or other assets under any insurance from an insurer and the compensation has been received because of damage or destruction of a capital asset and such damage and destruction is as a result of following circumstances:
n flood, typhoon, hurricane, cyclone, earthquake or other convulsion of nature; or
n riot or civil disturbance; or
n accidental fire explosion; or
n action by any enemy or action taken in combating an enemy (whether with or without a declaration of war)…
…then any profit or gain arising from the receipt of such money shall be chargeable to income tax under the head "capital gains". The amount received from the insurance company shall be the deemed full value of consideration received or accruing as a result of the transfer of the asset.
Accordingly, in your case, the amount received from the insurance company on account of destruction of factory building and the machinery will be treated as full value of consideration accruing as a result of the transfer of such capital asset. The amount received in excess of the written down value of such capital assets would be taxable as a short-term capital gain in view of the provisions of Section 50 of the Act.
You have a strong case
Q. I belong to Haryana and my parents own some agricultural land there. It comes from my grandfather and he received it from his father. My father sold some 20 acres approximately 15 years back and also purchased around 15 acres land same time from sold money. We are four sisters and three brothers. There is no love lost with my brothers.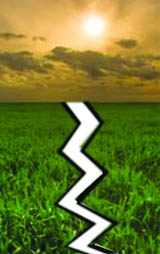 Now, the government has acquired some of the land for Rs 2 crore. My brothers control my parents and have divided the money amongst themselves. My aged parents wanted us four sisters to get a share of the money but were helpless. I fear that my brothers might have got land worth Rs 25 crore willed in their names.
Currently, my parents have some property in their name, some is my brothers' name and the remainder in their grandchildren's name. My grandfather and grandmother had also directly willed some land to my brothers' children.
My question is that if I go to court, will I get a share in land or cash even though my brothers don't want to give it? I am a normal housewife but if you think we have a case, my sisters and I are willing to move court.
— Balwant Kaur
A. In accordance with the provisions of Hindu Succession Act, 1956, you are a legal heir. You and your sisters are entitled to a share in the property of your father equivalent to your brothers. However, the right to such a property will be available only after the death of your father. This position applies to self- acquired property of your father.
In case land inherited by your father from his ancestors is a joint Hindu family property, you can claim the partition of such joint family property in view of the amended provisions of the Hindu Succession Act, 1956. You are entitled to a share equal to your father, mother and brothers in such property.
This column appears weekly. The writer can be contacted at sc@scvasudeva.com