10 killed, 26 hurt in road mishaps
Udhampur, September 29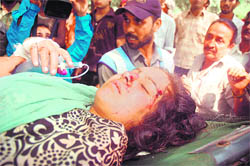 At least seven persons were killed and 25 wounded, some of them critically, when a passenger bus skidded off the road near Pranu on the Jammu-Bhadarwah road in Doda district this morning.



One of the injured being shifted to the Government Medical College and Hospital in Jammu on Monday. Tribune photo: Anand Sharma
Mufti hails PM's address at UN
Srinagar, September 29
PDP patron and former chief minister Mufti Mohammad Sayeed has welcomed Prime Minister Manmohan Singh's statement in his address at the UN General Assembly on resolving all outstanding issues between India and Pakistan, including Jammu and Kashmir.
Assembly Poll
Samiti asks political parties to unite
Jammu, September 29
Several political parties, which had supported the Amarnath Sangharsh Samiti's agitation against the revocation of land order, planned to come under one umbrella for contesting the next Assembly elections.
BJP, Panthers seek delimitation of Assembly seats
Jammu, September 29
Even as the possibility of delimitation prior to the Assembly elections seems bleak, the key political players in the Jammu region have gone all out to raise the issue of delimitation of constituencies to "put an end to Kashmiri dominance" in state politics.
Dharna outside EC on Oct 6
Jammu, September 29
Alleging fraud in the revision of electoral rolls, Jammu and Kashmir National Panthers Party president Prof Bhim Singh today said his party would stage a dharna outside the Election Commission's office in New Delhi on October 6.
4 held for giving SIM cards to militants
Jammu, September 29
Four persons were arrested for providing SIM cards to militants in Rajouri and Poonch districts of Jammu and Kashmir.
No check on traffic violations
Jammu: "Gross violation" of traffic norms continues in and around Jammu.
Vohra underscores role of media
Srinagar, September 29
Governor N.N. Vohra has described Jammu and Kashmir as a glowing model of unity in diversity, where the people of different faiths and cultures had lived in harmony for centuries.
Nai Basti a picture of utter neglect
Jammu, September 29
With no roads, potable water, crumbling health and education infrastructure, Nai Basti - a border village in Marh Block of the district and home to refugees of 1965 - presents a picture of utter neglect.
Labour market faces severe crunch in valley
Srinagar, September 29
With the exodus of migrant labourers from the valley following the agitation for right to self determination by separatists, the daily wages of unskilled labourers have skyrocketed for the past few months, in some cases they have gone up even by 100 per cent.
Girls outshine boys
Jammu, September 29
Boys' outshone girls in the medical stream, while they lost to them in the engineering stream as results of the CET for MBBS, BDS, BVSc and BE courses were declared today.
Students' body rues official apathy
Jammu, September 29
Accusing the state government of ignoring merit during the selection of contractual college lecturers, the Jammu Joint Students Federation (JJSF) today enforced closure of colleges to register its resentment here today.
Katra decked up for Navratras
Jammu, September 29
Like every year the state government would mobilise all its resources to display the grandeur of the state during the nine-day-long Navratra festival beginning here tomorrow.
Gunners Day celebrated
Srinagar, September 29
The Gunners fraternity of Chinar Corps of the Army celebrated its 182nd Gunners Day on September 27 and 28 at the BB Cantonment, Baramulla, Drugmulla and other stations in the Kashmir valley.
Residents rue poor BSNL services
Jammu, September 29
Resentment is brewing among BSNL customers who complain that the leading service provider in the state has "failed to provide quality services."