Punjab fails to provide details of police equipment
Chandigarh, October 2
The Punjab and Haryana High Court wants Punjab to furnish the details of equipment purchased by it for intelligence and other wings of the police. But the state has so far failed to provide the court with the particulars. The details were sought by Justice Ranjit Singh on September 16. After passing a comprehensive order in the matter, Justice Ranjit Singh had fixed October 1 as the next date of hearing.




LS Polls
Bairagis seek Sangrur seat from Cong
Sangrur, October 2
Bairagis have about eight lakh votes in Punjab and the association of a large number of Bairagis with the Congress is well known. Despite this at the time of allotment of tickets for the Lok Sabha (LS) and the Assembly elections, they always feel that they are an ignored lot in the party. As Bairagis have reportedly about 80,000 votes only in Sangrur district, they want Congress ticket for a person from their community for the Sangrur LS constituency in the ensuing LS elections.
Redefine working of House: Khaira
Chandigarh, October 2
Saying that time spent by the Vidhan Sabha to debate issues concerning people is too meagre, Congress legislator from Bolath Sukhpal Singh Khaira has sought the intervention of the President of India. He has stressed the need for redefining the working of the Punjab Vidhan Sabha.
Bir Devinder 'playing' into Akalis' hands
Gurdaspur, October 2
A section of Congress leaders from Majha region today came in the support of former Chief Minister Capt Amarinder Singh and alleged that Bir Devinder Singh had levelled false and baseless allegations against him, as the latter had been playing into the hands of the Akalis.


Farmers block rail traffic over police inaction
Ajitwal (Moga), October 2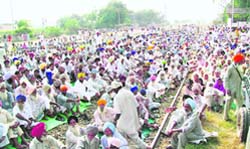 Hundreds of farmers staged a protest outside the police station and also blocked rail traffic on the Moga-Ludhiana railway line, levelling allegations of sheltering a commission agent who had forcibly snatched the tractor belonging to a poor farmer of the area.



Farmers block the Moga-Ludhiana rail line at Ajitwal in Moga on Thursday. Photo by writer
Farmers offer free cellphones to lure Bihari workers
New Delhi, October 2
Agriculturists in Punjab seem to be struggling this season to hire migrant farm workers from Bihar and are believed to be using novel ways, like offering free cellphones, to lure them.
Over 5 lakh tonnes of paddy procured
Chandigarh, October 2
Over 5 lakh tonnes of paddy has been procured within first three days of kharif marketing season 2008-09. The procurement has mainly been made from western Punjab.
Computer syllabus supplied, but where are books?
Gurdaspur, October 2
The Education Department seems to have been playing a joke with the careers of school students as they are yet to be supplied with computer books though half the current academic session has passed. Interestingly, the department has supplied the revised syllabus of computer education to all schools in time.
Teachers without salary for six months
To demonstrate against education minister
Jalandhar, October 2
Nearly 10,000 teachers and other employees of 484 government-aided, recognised private schools, who have not got salary for the past six months, will hold a demonstration against education minister Upinderjit Kaur at Sultanpur Lodhi, the minister's home town, on October 4.
Few takers for BDS seats
Patiala, October 2
The startling fact that a large number of seats in dental colleges of Punjab are lying vacant came to light during the second extended counselling session for admissions, which was completed three days back.
Govt to implement Central job scheme soon
Hoshiarpur, October 2
The state government will soon implement a new scheme, Prime Minister's Employment Generation Programme, which has recently been introduced by the Centre by merging already existing two schemes, Prime Minister's Rojgar Yojana (PMRY) and Rural Employment Generation Programme (REGP).
Association to honour industrialist
Rajju Shroff awarded for his contribution to the farming community
Chandigarh, October 2
An industrialist who lowered the prices of weedicides to benefit Punjab farmers to the tune of Rs 50 crore, is set to get the annual 'Dr Amrik Singh Cheema award' for his contribution to the farming community of Punjab as well as the national agro-chemical industry.


Rajju Shroff
Trust Scam
Ex-secy refutes charges
Jalandhar, October 2
Former secretary of the Vidhan Sabha Nachhattar Singh Mawi, who is facing allegations of record tampering in the Amritsar Improvement Trust scam, that resulted in the expulsion of Capt Amarinder Singh from the Assembly, said today that he was not involved in the case in any manner.
No pressure, says kidney donor
Amritsar, October 2
"I have no pressure and just following my conscience for donating my kidney to Kirpal Singh, additional deputy commissioner, Tarn Taran", said Sunny (23), the prospective kidney donor, who arrived here from Chandigarh today.
Woman accuses DSP, SI of torture
Chandigarh, October 2
A resident of Zirakpur, Monica Masih, has complained before the Punjab State Human Rights Commission against deputy superintendent of police (CIA Staff), Balwinder Singh, sub-inspector (CIA staff) Tejinder Pal and one Kewal Krishan Garg, a resident of Sector 9, for torturing her and misusing their official positions.


10-kg heroin seized
Pathankot, October 2
Sleuths of the Directorate of Revenue Intelligence (DRI) seized 10 kg of heroin from a youth at Jodian village alongside the Indo-Pak border today.