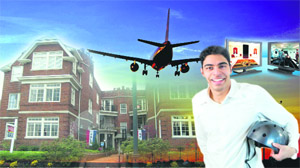 Developers take the sop route
The slump in the real estate sector has now forced developers in the region to go for desperate measures. From offering concessions on EMIs (EMI to be paid only after the possession is granted), freebies like foreign trip to Singapore, Malaysia and Thailand and "Navratra special discounts", developers in the region are going all out to woo the elusive buyers. The party being offered to the buyers does not end here. Builders are now promising to furnish the house/apartment free of cost, while still others are offering plasma televisions or washing machines.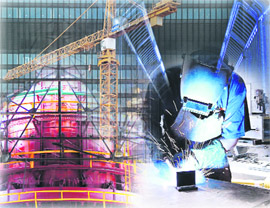 Engineering SEZ to push exports
The special economic zone (SEZ) to come up on 255 acres at a premium location in Gurgaon adjoining Industrial Model Township (IMT) Manesar is the first-ever engineering SEZ to get notification in northern India. This SEZ project will involve an investment of around Rs 4500 crore. The SEZ will be launched in phases and the first phase is expected to get completed within three years. Being an engineering SEZ, it would cater to all international and national engineering companies.
How to lay pvc flooring
Recent times have seen a renewed interest in people for using PVC sheet or tile flooring in parts of their residential, non-residential or commercial buildings. Though marble, wood, vitrified tiles and ceramic tiles are the most commonly used materials, PVC flooring becomes an attractive choice with lesser time involved in its laying and ease of cleaning it with a wet. However, choosing and laying PVC flooring demands special attention towards certain aspects to enjoy its long-term maintenance-free use. Here are a few guidelines:
Tax tips
Exemption from tax on capital gain
Q. I own a residential house which is insufficient for my family. I intend buying another house and have selected the same which would be sufficient for the needs of my family. I have, however, not been able to find a suitable buyer for the house where we are presently living. In case I borrow money and pay and acquire the new house with the borrowed money and pay off such borrowed amount from the sale of the old house, can I get any exemption from tax on the capital gain likely to arise on the sale of the old house?
Determining agricultural land
Q. What are the tests for ascertaining whether a particular land is an agricultural land? — K.K. Arora
A. In order to qualify for agricultural land in India, it is not necessary that land was once an agricultural land. It must be agricultural land at the time of the sale thereof. The true test to be applied for the purpose of determining whether a particular land is agricultural or not is to ascertain in the first instance the purpose for which such land is being used.