How to lay pvc flooring
Jagvir Goyal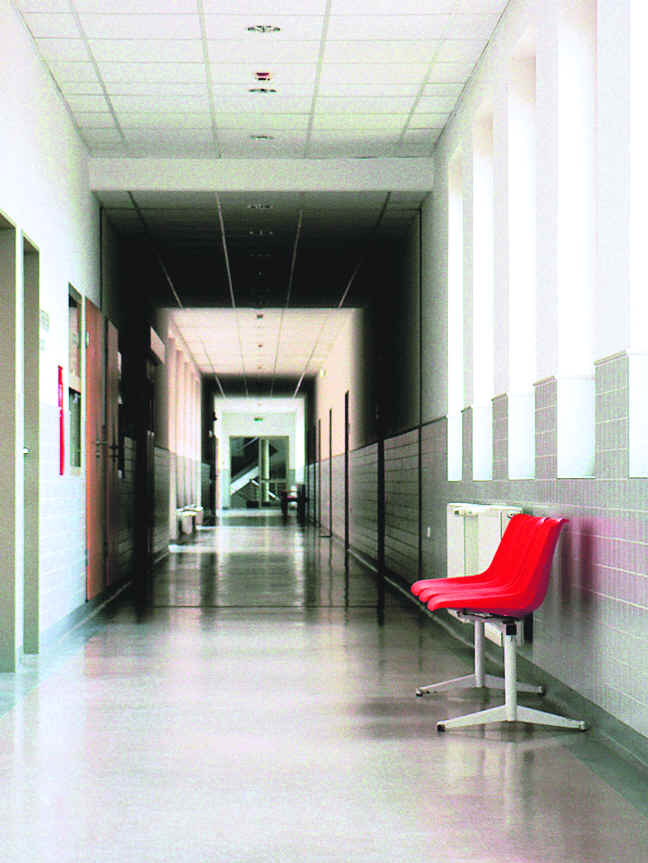 Recent times have seen a renewed interest in people for using PVC sheet or tile flooring in parts of their residential, non-residential or commercial buildings. Though marble, wood, vitrified tiles and ceramic tiles are the most commonly used materials, PVC flooring becomes an attractive choice with lesser time involved in its laying and ease of cleaning it with a wet. However, choosing and laying PVC flooring demands special attention towards certain aspects to enjoy its long-term maintenance-free use. Here are a few guidelines:
The base: Before using PVC tiles or sheets for some portion of your house, provide a concrete floor in that portion, cure it well and allow it to dry. See that the concrete floor is perfectly even. As the thickness of PVC tiles or sheet is very less, any unevenness of the base will be easily visible after the laying of tiles or sheet over it. Not only that, it will cause damage to the tiles. A metal or wooden base can also be provided but concrete base remains the best choice and proves most durable.
PVC material: See that the PVC flooring is 3462 marked irrespective of it being supplied in sheet, tile or roll form. Choose PVC tiles or sheet of reputed make. While selecting tiles, see that these tiles are not curled up and there are no cracks, breaks or folding wrinkles in them. Take a sample and check it for right angles. Chances are there that the cutting of a batch of PVC tiles is not in right angle. Such tiles will cause problems in the rooms, leaving small uncovered triangles near the walls.
Thickness: PVC tiles and sheets are available in thickness varying from 1.5 mm to 4.0 mm. Choose 1.5 mm thickness for residential purposes. Check the thickness of tiles carefully by using a dial gauge. A scale will not give the right thickness.
Size and texture: PVC tiles are available in many sizes, the most common sizes being 12"X12" and 16"X16". The sheets are available in widths of 1000, 1500 and 2000 mm. Their length is 10 metres or more. Prefer to choose tiles of 16"X 16" size. These are produced in many colours, textures and designs. Choose such a pattern and color that may hide scratch marks as PVC tiles are susceptible to scratches.
Adhesive application: Prefer to use a rubber adhesive for fixing of PVC tiles to the base. Fevicol SR 998 and Dunlop S 758 are some of the really good adhesives. For best results, a notched trowel should be used to apply the adhesive on the floor. It gives a good grip to the tile. Apply the adhesive both on the base as well as back of the tiles. Take care that after its application, the adhesive takes some time for setting. Generally this time varies between 15 to 25 minutes. Test for checking it is that the adhesive will feel sticky to fingers but will not come off. This is the time to fix the tile on the floor. Don't allow too much time to pass otherwise the adhesive will get set fully and a bond of the tiles with the base will not be developed.
Laying of tiles: Don't start laying tiles from a wall onwards. Begin laying tiles from the center of the room towards the sides. Best method is to move along the diagonal of half of the room i.e. lay first tile at corner of center line and side wall. Now lay tile 2 and 3 on each side of tile 1. Next, lay tile 4, 5, 6 covering the sides of tiles 2 and 3 and so on. For skirting on the walls, use pieces from same tiles as on the floor by keeping the width anywhere between 3" to 6".
Laying along walls: To lay cut pieces of PVC tiles along the walls and corners for covering the space left between the last line of whole tiles and the wall, follow this special method: Consider first row. Lay a tile 'X' exactly over the last laid tile in the row. Lay another tile 'Y' over it and push it to the wall. Mark the cutting line on the tile X. You will get the piece that fits exactly in to the space left. Do this for each row of tiles. If a corner is to be covered, you will have to draw two lines on tile X and you will get an L shaped cut piece to fit in to the corner. This method will not leave any crevices near the wall (occurs when tile piece is under cut) nor will create a ridge near the wall (occurs when tiles are over cut) and the space shall get filled in a perfect manner.
Precautions: Never lay the tiles on a damp base. If done so, the moisture will not be able to evaporate and tiles will curl up after a passage of time. During laying, leave no gap between the tiles. Always run a hand roller of about 5 kg over the laid tiles to drive out any air between the tiles and the base. Specially keep checking the tiles for any undulations in them and squeeze out such undulations before the adhesive gains grip.
Exposed edges: Always provide metallic edge strips to the exposed edges of PVC tiles. Such exposed edges will be found in doorways, staircases etc. The edge strips protect the PVC tiles from damage. Fasten the metallic edge strips securely to the base.
Putting to use: Allow 24 hours to pass after the laying of PVC tiles or sheets. Prohibit walking over the floor during this period. For final cleaning of tiles after their laying, mop them with lukewarm soap solution. Don't use water for their washing.
Finer points: Prefer to engage skilled persons available with PVC tile supplier for laying of tiles. Good quality PVC tile flooring costs around Rs. 30 to 35 per sq.ft (excluding the cost of concrete floor below it). As these tiles are just 1.5 mm thick, these may sometimes be laid over any other flooring in concrete or stone or wood that has not come up to your liking.
Go ahead. Happy flooring!
The author is Deputy chief engineer civil PSEB, and can be reached at www.jagvirgoyal.com