IT expo draws rural youth
Jalandhar October 6
Turning slowly into brand conscious customers, hordes of anxious rural youth displayed a keen interest in information technology (IT) products and peripherals like laptops, desktops, printers and LCDs at the four-day AMBUOR-2008 (all mega brands under one roof) IT expo concluded at here on Sunday.
Forum issues warrants against SBI Card officials
Jalandhar, October 6
Following non-compliance of its orders, the district consumer disputes redressal forum has issued a conditional warrant against two Gurgaon-based officials of SBI Card and Payment Services for November 6.
Health Hazard
8 sweet shops, restaurants served notices
Amritsar, October 6
As the festival season is on, the health department here has sent notices to eight sweet shops and restaurants of the city for improving hygiene and providing quality products to customers.
Seminar on communalism from October 11
Amritsar, October 6
Communalism and terrorism would be the main issues which the various political leaders and eminent personalities would deliberate on during a two-day seminar to be held in Jalandhar from October 11.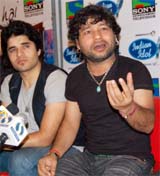 Kailash Kher goes gaga over Sufi music
Amritsar, October 6
The great tradition of Sufi music continues to mesmerise people across the subcontinent and has survived in spite of many adaptations. Famous Bollywood playback singer Kailash Kher, who was here as a judge of Indian Idol along with three of the 30 top singers who have been shortlisted during several months' auditions, said he loved to sing Sufi kalam as the chord of the music connected with the Almighty and gave tremendous satisfaction to the singer and the audience.

Bollywood singer Kailsh Kher interacts with mediapersons during the promotion of realty show Indian Idol 4 in Amritsar on Monday. Photo Vishal Kumar
BSP chetna rallies against UPA 'misrule'
Hoshiarpur, October 6
How can we be sure about safety of the country if the Capital itself is not safe from terrorists. This was stated by Bahujan Samaj Party general secretary Narendra Kashyap while addressing a gathering at its "janhit chetna" rally at Rahimpur here on Sunday evening.
Husband, in-laws held
Hoshiarpur, October 6
The demand for more dowry by her husband and in-laws compelled a young woman of Pandori Araiyan village in this district to commit suicide here on Sunday evening.
Two women held with 2 kg opium
Tarn Taran, October 6 The Khalra police has nabbed two women with 2 kg opium from the border area. A case under sections 18, 61 and 85 the NDPS Act has been registered.
Kanungo held taking bribe
Amritsar, October 6
The vigilance bureau has nabbed Himat Singh, a kanungo of Dera Baba Nanak, for demanding a bribe of Rs 10,000 from Dalip Singh of Patti Talwandi, Dera Baba Nanak tehsil, for permanent allotment of a custodian land.
Woman kills self
Phagwara, October 6
An old woman allegedly committed suicide by hanging herself in her house in Bhanoki village, near here, on Sunday. The woman, Rajinder Kaur, reportedly took the extreme step due to mental depression. Her body was handed over to the family after conducting a post-mortem examination. — UNI