Every Wednesday and Friday

Khalsa College controversy comes to an end
Vice-principal post abolished
Jalandhar, October 7
Bowing to the dictates of Guru Nanak Dev University, the governing council of Lyallpur Khalsa College today abolished the post of vice-principal and relieved Gurpinder Singh Samra as acting principal of the college with immediate effect.
Renal Care
Soon: Dialysis wing at civil hospital
Jalandhar, October 7
Patients suffering from chronic renal diseases in this part of the region will not have to travel to Amritsar or Chandigarh now or bear the exorbitant charges of private hospitals as the Jalandhar civil hospital is going to introduce a dialysis wing on its premises shortly.


Mann Power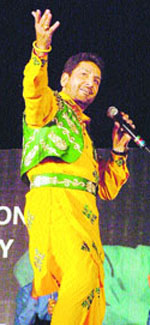 Gurdas Mann performs at Lovely Professional University in Phagwara on Monday evening. — A Tribune photograph
Mann magic on Monday night
Jalandhar, October 7
Remembering the almighty in his every song legendary Punjabi singer Gurdas Mann made Monday evening exceptionally memorable with his hit numbers leaving everybody enthused with youthful energy, love for Punjabi music and excitement.
Refund case: Warrant against ICICI Bank
Jalandhar, October 7
The District Consumer Disputes Redressal Forum has issued conditional warrant against ICICI Bank for October 15 for non-compliance of its orders in a refund case. The forum had directed the company to refund Rs 2.9 lakh at 12 per cent rate of interest and pay Rs 5,000 compensation and Rs 500 as cost of litigation to Kapurthala resident Surjit Singh.