100 of wedding party taken ill after lunch at city hotel
Fatehgarh Sahib, October 8
In a suspected case of food poisoning, over 100 people of a wedding party, including the bridegroom and the bride, were taken ill after allegedly consuming contaminated food at a hotel in Sector 35, Chandigarh, on Sunday.
| | |
| --- | --- |
| Tiny-tots of Gian Jyoti School in Mohali celebrate Dussehra on school premises. Tribune photo: Vicky Gharu | Children of Gian Jyoti Public School dressed as Lord Rama and Hanuman during the Dussehra celebrations in Phase II, Mohali, on Wednesday. Tribune photo: Vicky Gharu |
'Officer crunch' may worsen
Chandigarh, October 8
Top positions in the UT administration seem to be jinxed. Even as the Chandigarh administration awaits Union Government's nod for the post of the managing director of the Chandigarh Industrial and Tourism Development Corporation (CITCO) and replacement for special secretary finance and DPI (colleges) Raji P Srivastava, the "officer crunch" is likely to aggravate in the days to come.
More Cops
UT tries its luck again
Chandigarh, October 8
Close on the heels of the rejection of its ambitious proposal to modernise the police by inducting 3,080 police personnel, the Chandigarh Police is again trying its luck at the ministry of finance.
Setback to Congress
Zila parishad chief defects to INLD
Panchkula, October 8
Plagued with factionalism, the ruling Congress suffered a setback when zila parishad chairman Umesh Sood shifted his loyalty by joining the Indian National Lok Dal (INLD) here today.
Staff threaten to burn Rodrigues' effigy
Chandigarh, October 8
The coordination committee of the Chandigarh administration and the municipal corporation employees today threatened to burn the effigy of UT administrator Gen S.F. Rodrigues in Sector 17 on October 10 if he failed to give them time to meet.
Traffic awareness camp begins
Chandigarh, October 8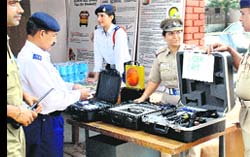 The Chandigarh Traffic Police is organising traffic awareness camps at various sectors. "Drive safely to save others" is the motive of the camp, said Superintendent of Police (Traffic), H.S. Doon.



Equipment on display during a traffic awareness camp at Community Centre in Sector 15, Chandigarh, on Wednesday. Photo: Himanshu Mahajan
Lizards, insects found in water tank
Not cleaned for the past 20 yrs, says Mohali citizens' council
Mohali, October 8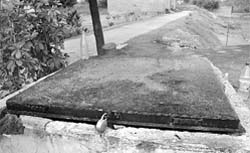 The Citizens' Welfare Council, Phase X, Mohali, alleged that a team of the council had inspected a water storage tank in the area, having a capacity of 30 lakh gallons, and found lizards and insects in it. However, the authorities concerned have denied the allegations.


The broken sides of the water storage tank in Phase X, Mohali. Photo: Vicky Gharu
Spiritual fervour permeates Durga Puja celebrations
Panchkula, October 8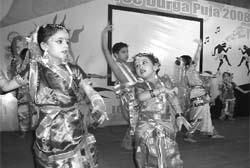 "Ya devi sarv bhu teshu…" the chants invoking the bliss of goddess Mahakali, melted into spell of ecstatic dances and musical renditions at the Durga Puja celebrations, by ICON, Panchkula, in Sector 20 here today.






Children perform during the Durga Puja celebrations in Panchkula on Wednesday. A Tribune photograph
Security beefed up for Dussehra
Chandigarh, October 8
The Chandigarh Police has beefed up security in view of Dussehra celebrations in the city. Leaving no stone unturned, on the eve of Dussehra, the police carried out flag march in the city yesterday, which started from lake and Sector 19, at 5 pm and made a round to the market places and other important places, said Sudhanshu Srivastva, SSP UT Chandigarh.
Rodrigues greets people
Chandigarh, October 8
UT administrator S.F. Rodrigues greeted people on the auspicious occasion of Dussehra today.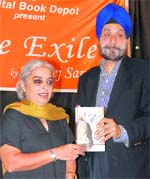 Book on Maharaja Duleep Singh's life out
Chandigarh, October 8
A novel based on the life of Maharaja Duleep Singh, authored by Navtej Sarna, former spokesman of the ministry of external affairs, was released in the city today. The novel titled "The Exile" presents a sordid tale of intrigue, treachery and cold-blooded murders that greeted the end of the Sikh kingdom and the exile of the last Maharaja, Duleep Singh, to England. Sarna has told the unusual story of the last Maharaja of Punjab.

Navtej Sarna at the book release function at Panjab University on Wednesday. A Tribune photograph
Air Force marks 76th anniversary
Chandigarh, October 8
The 76th Anniversary of the Indian Air Force (IAF) was celebrated with traditional gaiety and enthusiasm in all Air Force units located in Chandigarh. An oath-taking ceremony, with the air warriors reaffirming their dedication to duty, and a bara khana, marked the day.
Make cities child-friendly, say experts
Chandigarh, October 8
In continuation with the earlier international conference held in February this year, another conference on "Child Friendly Cities" was held today at the Panjab University, which was jointly organised by the Canadian Studies Centre and department of public administration, Panjab University in collaboration with the University of the Fraser Valley (UFV), Abbotsford, British Columbia, Canada. Prof B.S. Ghuman, coordinator, Canadian Studies Centre and dean, faculty of arts, said that recognition of children as equal citizens was important from public-policy perspective in India.
SMO, docs found absent
Mohali, October 8
The SMO of the Civil Hospital, some doctors and members of the paramedical staff were found absent during a surprise check conducted by senior officials of the Health Department here today.
Man run over by truck
Panchkula, October 8
A 55-year-old resident of Alipur village was crushed to death by a speeding truck on the Panchkula-Barwala road here today. Three persons were killed near the spot in an accident yesterday also when a truck hit an overloaded autorickshaw.
Snarl-up on Yadvindra Bridge
Zirakpur, October 8
Thousands of motorists were stranded in a traffic jam on Yadvindra Bridge on the Zirakpur-Kalka highway for over two hours this evening.
Conversion
Building bylaws for theatres notified
Chandigarh, October 8
The Chandigarh administration today notified building bylaws for the conversion of cinemas halls into shopping malls-cum-multiplexes.
Symposium on plastering techniques
Chandigarh , October 8
The North Zone Indian Orthopaedic Association (IOA), along with the Department of Orthopedics, PGIMER, organised a one-day symposium on plastering techniques called "Plastercon 2008" in the PGI here.
Auto-truck collision: Death toll mounts to 4
Panchkula, October 8
Two more persons succumbed to their injuries received in yesterday's accident involving a truck and an auto rickshaw that took place on the Ramgarh Road in Panchkula, raising the toll of dead persons to four.
Letters
Preserve real heritage


NAAC team to visit PU campus on Oct 20
Chandigarh, October 8
An eight-member team of the National Assessment and Accreditation Council (NAAC) will visit Panjab University on October 20. The team will also inspect other city colleges during its three-day visit.
City students celebrate Dussehra with zeal
Chandigarh, October 8
Dussehra was celebrated with fervour across the city schools. The Gurukul, Mani Majra, celebrated the day with children of Bapu Dham slums, emphasising the need to spread happiness among not-so-fortunate ones. Advocate General of Punjab H.S. Mattewal presided over the festivities and inspired the students to fight against the evil inside them.
Education City
3 cos sign MoUs with admn
Chandigarh, October 8
Decks have been cleared for setting up Education City in the Sarangpur institution area with parties concerned signing MoUs with the Chandigarh administration here today.