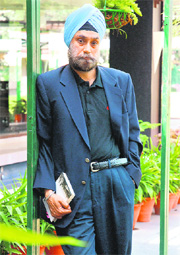 Facts & fiction
In Navtej Sarna's latest book The Exile, Maharaja Duleep Singh's emotional and psychological upheavals come in first person account
Just when chic-lit literature and junk genre seemed to dominate the literary scene, here comes a reassurance, a hope that all is not lost. A book is the culmination of thorough insight, immaculate research and exhaustive resources and is not produced in a day. Nor was this. The Exile authored by Navtej Sarna, a renowned name not just in the literary field but the diplomatic circle too, is based on the life of Maharaja Duleep Singh, as fascinating as the subject is the concept behind the book. We talk to the man to know what went behind the scenes, know more about the outcome.
Navtej Sarna. Photo by S. Chandan
Say it with orchids
Silver plated dinner set, swatch watch, chocolates, wine bottles .... .Do you think you have forgotten something? What about a bunch of exotic, fresh smelling, dainty flowers? Sounds good, but who gives flowers on Diwali or Dusherra? We thought it was only meant for Valentines or Birthdays. This year surprisingly, exotic flowers have come up as a good gifting item.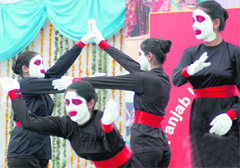 Epi(c)logue
Rangtaal is the only theatre group in the country that performs human puppet shows and thus is making efforts to revive the forgotten traditions
We have heard the phrase; action speaks louder than words. But for this bunch of artists from Kolkata, it's their silence that speaks, often screams, louder than words. Meet Rangtaal, a theatre group that performs mime and believes in the power of expression.
Sizzle on the table
Food lovers of the city have a reason to cheer up - Manor-26 has introduced a fine selection of American and European sizzlers. A survey done by the concern led to the conclusion that the city youngsters were keen to experience different kinds of food. And Munish Bajaj, director of the restaurant, found a solution in chef Peter Gomes, an expert in European cooking.
Bebo blogging
Celebrities from the tinsel world of Mumbai are increasingly getting net savvy! After Aamir Khan, Amitabh Bachchan, Anurag Kashyap and Kunal Kohli, the latest to use the net to keep in touch with fans and admirers is Bollywood's diva Kareena Kapoor.
Dragon Dussehra
All pervading dragon phenomenon has entered our desi festival circuit s well, read Dussehra, with introduction of Chinese masks for the festive occasion in the market. It's the time of the year when children are after their parents to buy gada, teer kaman and Ravana masks. Now add to it the masks of kid icons Spiderman, Batman and Tom and Jerry.
BAZZAR BUZZ



Chairing the session:

Mayor Pradeep Chabra gets a feel of the newly inaugurated spa studio at Oleega, Sector 7.


TIME WRAP: A model showcases the Raga Diva collection at Sector 17 on Wednesday.